WavebreakmediaMicro - Fotolia
Cohesity CloudSpin serves up test/dev data
Converged secondary storage vendor Cohesity brings copy data management into the cloud for DevOps with CloudSpin and public cloud snapshot API integration.
Cohesity's DataPlatform for secondary storage has a new plank for application testing and development.
The vendor today unveiled Cohesity CloudSpin to provide developers with quick access to backup data in the cloud for testing and development (test/dev) purposes.
CloudSpin is designed to make it easy for IT organizations and developers to move data from on premises to the cloud and back. The vendor claims Cohesity CloudSpin will instantly convert backup data stored on DataPlatform into a virtual machine for test/dev in the cloud. That means developers will no longer have to request data copies for storage and IT administrators.
Cohesity CloudSpin will be a separately licensed feature, and it's expected to be available around August. Cohesity also plans to enable its DataProtect backup software to integrate with Amazon Web Services and Microsoft Azure public cloud snapshot APIs.
CloudSpin and the cloud snapshot API integrations -- also expected between now and August -- will automatically convert data in virtual machines to its native format in the cloud or on premises.
Cohesity's goal is to provide one platform to store and manage all secondary data. Its DataPlatform runs on scale-out appliances branded by Cohesity or hardware partners Hewlett Packard Enterprise and Cisco. DataPlatform software includes DataProtect, CloudArchive and CloudReplicate, and it runs analytics on data under management. DataPlatform Cloud Edition runs in the public cloud to manage files and object storage for backup, archiving and disaster recovery.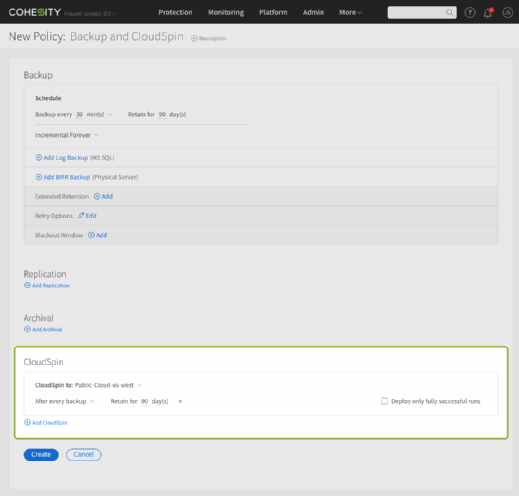 Customers seeking to 'use data in better ways'
Sameer Nori, director of product marketing at Cohesity, based in San Jose, Calif., said the goal of CloudSpin and the cloud snapshot API integration is to speed the process of using the cloud for test/dev. They can also reduce the number of data copies required.
Provisioning data copies for test/dev can take a lot of time, and VMs are not always compatible between cloud and on-premises storage.
They're looking at this from a DevOps perspective and saying, 'You can have this data immediately available to you regardless of where it resides.'

Steven Hillsenior storage analyst, 451 Research
"We envision this as a one-click workflow from the time the data being moved through CloudSpin, provisioned for test/dev, protected in the cloud and then moved back on premises," Nori said. "It's all done off one unified platform and management layer. As opposed to today, where it's a number of steps and hurdles, and the time to market for development is much longer than it should be."
Cohesity CloudSpin and the vendor's public cloud API integration will extend DataProtect's auto-discovery and auto-protect features to work on data stored in the cloud. Administrators can set backup policies for tiers of cloud VMs.
"They're looking at this from a DevOps perspective and saying, 'You can have this data immediately available to you regardless of where it resides,'" said Steven Hill, senior storage analyst at 451 Research. "The other thing they're doing is a conversion process, because they store data in the native format wherever it is.
"People are realizing they need to use data in better ways. If they're paying to store it and back it up, they need to know what they've got and how they can make better use of it."
Despite the value of Cohesity CloudSpin for test/dev, Nori said IT and storage administrators remain the target buyers for DataPlatform.
"Our core buyer is IT and storage or backup people," he said. "The inherent value is in what we provide them to serve internal customers. There's a test/dev angle to this for them, because they can provide more self-service to developers and application owners."