Fotolia
Cohesity backup further integrates with Azure and Office 365
Cohesity cozies up to Microsoft with deeper support for Office 365 Exchange Online, the ability to protect data in Azure Data Box, and DR capabilities in Azure cloud.
Cohesity today provided greater integration with Microsoft cloud technology, adding backup for Office 365 Exchange Online and support for Azure Data Box.
The new features are part of the Cohesity Pegasus 6.1 release. The Office 365 Exchange Online integration enables backup of the cloud-based mailbox application. Cohesity backup allows for granular recovery of emails and mailboxes, and the copies can be stored on the Azure cloud or on Cohesity clusters on premises.
The Pegasus 6.1 integration with Azure Data Box cloud data transfer appliances lets customers use the Cohesity backup interface to set Data Box as an external target for archive data. Data Box lets customers move large data sets quickly to Azure by cloud seeding.
Pegasus 6.1 also introduces failover and failback capabilities to the Azure cloud. Cohesity backup customers will be able to fully use the cloud in the event of catastrophic failure on premises, running workloads on virtual machines in Azure until the disaster ends and workloads can be transferred back to the original location.
Sameer Nori, director of product marketing at Cohesity, said a large number of customers have deployed integrated Microsoft Azure and Cohesity backup products over the past six months. "Our partnership and momentum with Microsoft is exponentially growing," Nori said. "We're starting to see large enterprises that have big Microsoft [enterprise license agreements] adopt us in big numbers."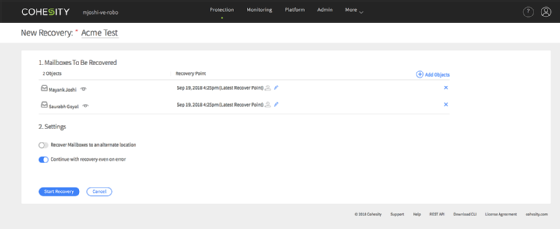 Chris Menard, lead storage administrator at Brown University, cited deep integration with Microsoft as a key reason he chose Cohesity for data protection. Menard said he switched to Cohesity's integrated appliances from Dell EMC software and hardware.
Our partnership and momentum with Microsoft is exponentially growing.

Sameer Noridirector of product marketing, Cohesity
"We were backing up to EMC NetWorker with Data Domain replicating to a secondary Data Domain that we had at an off-site facility. No tape involved whatsoever, but also no cloud involved. That was very cumbersome; we had a lot of moving pieces," he said.
Menard said he was impressed by how easy it was to set up Cohesity to connect with the Azure cloud. "Having seen how well [Cohesity] integrated with Azure just made it that much better to us," he said.
Nori said Cohesity plans to support more Microsoft products in the future. "Somewhere down the road, we're going to broaden out. ... We'll move to SharePoint, OneDrive, etc.," he said.
The Cohesity backup integration with Office 365 Exchange enters beta today, and all of the Pegasus 6.1 capabilities are expected to become generally available by the end of the year. However, Azure Data Box integration and Azure cloud failover are available immediately.
Dig Deeper on Cloud backup