vali_111 - Fotolia
Cohesity backup available as a service on Google Cloud
Cohesity backup software is available as a service on Google Cloud Platform. The partnership simplifies purchasing and implementing backup for workloads in Google Cloud.
Cohesity partnered with Google to bring its enterprise-class data protection to Google Cloud Platform and sell it as a service.
The Cohesity Cloud Backup Service launched today integrates Cohesity's snapshot and global deduplication capabilities with Google Cloud Platform (GCP) and uses Cohesity's Helios interface to manage data. The service is also integrated with GCP's Identity and Access Management, letting customers define user and access rules to their liking.
The release of Cohesity Cloud Backup Service marks the first time Cohesity backup is sold as a service in a public cloud. Cohesity sells its software on appliances, but now can also offer cloud-only data management without requiring on-premises infrastructure. Customers subscribing to Cohesity Cloud Backup Service through Google Cloud are charged through their Google bill.
"The core benefit is if you run a service, you don't need to deploy and manage any legacy backup software infrastructure," said Christian Paulus, vice president of product marketing at Cohesity, based in San Jose, Calif. "You just get there through your browser and consume the service."
Citing RightScale's 2019 State of the Cloud Report, Paulus claimed public cloud adoption is increasing, and enterprises are moving more workloads to the cloud. He reasoned that, as more of these critical business processes are being carried out on the cloud, customers need ways to back them up -- especially because the cloud service providers usually won't do that for them.
"For SaaS applications, there are several misconceptions. But the reality is that SaaS providers typically don't back up customer data, and they typically also don't provide any backup capabilities," Paulus said.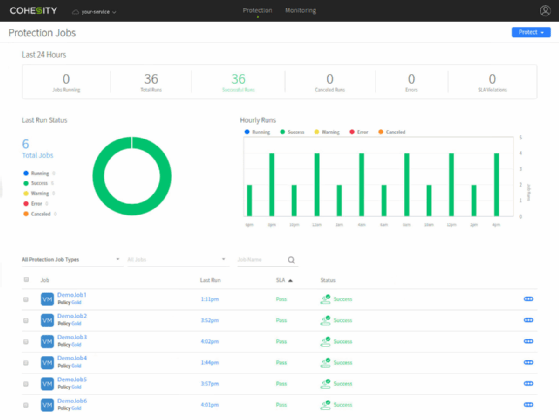 Why SaaS backup, and why Google
For SaaS applications, there are several misconceptions. But the reality is that SaaS providers typically don't back up customer data, and they typically also don't provide any backup capabilities.

Christian PaulusVice president of product marketing, Cohesity
Unprotected cloud application data can be lost if the cloud service goes down or through human errors, such as if users accidentally overwrite or delete something. Service providers also don't retain data for extended periods of time, which could put some customers out of compliance.
Paulus said Cohesity backup, as well as other third-party cloud backup vendors, would guard against these scenarios, but customers need to recognize they need this type of protection in the first place.
Steven Hill, senior analyst at 451 Research, said the cloud is changing the way vendors deliver data protection, disaster recovery and business continuity products. Because organizations are trying to take as much of their infrastructure off premises as possible, he said it's logical that Cohesity backup is pushing the as-a-service model where it can.
"With more and more workloads running outside the traditional data center and businesses that can now exist in the cloud alone, it makes perfect sense to offer data protection as a business-critical service that's as easy to consume and administer as any other cloud product," Hill said.
Given that GCP's adoption rate among enterprise customers is lower than both AWS and Microsoft Azure, and Cohesity has already integrated its software on all of the big three public clouds, why start with Google for the backup service?
Paulus said Google Cloud is rapidly growing its enterprise base and approached Cohesity about creating a backup-as-a-service offering. AWS and Azure already have such services, the former of which acquired CloudEndure just to build it.
Paulus declined to say if Cohesity plans to integrate Cloud Backup Service with AWS or Azure.
"GCP is a somewhat underserved market when it comes to backup and BC/DR [business continuity and disaster recovery] applications," Hill said, adding that Cohesity is a natural fit for building a cloud-based backup service for it.