everythingpossible - Fotolia
Cohesity Runbook simplifies DR failover
Cohesity Runbook is billed as a simple way to orchestrate disaster recovery failover and create best practices, but it can be used to automate workflows beyond DR.
Cohesity launched a workflow automation application through its Cohesity Marketplace called Cohesity Runbook, with the goal of simplifying disaster recovery to the cloud.
Cohesity Runbook's interface lets administrators easily drag and drop processes, helping them assemble workflows in a logical order. The interface can point out potential errors.
Douglas Ko, director of product marketing at Cohesity, said that disaster recovery (DR) workflows are traditionally done on paper in a checklist-like format. Administrators must create that checklist with the correct sequencing and then test it to see if it leads to a successful failover. Failover from on premises to cloud adds a layer of complexity due to different formats, providing an extra challenge for admins as more organizations adopt hybrid infrastructure.
"Seeing it on a visual canvas lets you easily see where things could go wrong and provides a validation process," Ko said. "Once you've designed it, you want to save it and maybe tweak it -- it's useful for designing best practices."
Cohesity Runbook isn't the only software to automate DR failover, but Ko said Cohesity doesn't focus on one platform and is designed for hybrid environments.
All applications from Cohesity Marketplace run on the Cohesity DataPlatform, which consolidates secondary data and applications running in a data center or in a public cloud.
Christophe Bertrand, senior analyst at IT analysis and strategy firm Enterprise Strategy Group based out of Milford, Mass., said performing a successful recovery or failover is, "akin to reassembling a puzzle" because of the interdependence of all the different technologies, data sets and applications within any given IT environment. It's not as simple as finding the proper order of which processes to bring back online, as there are also boot times to factor in.
Anything you can do to make DR simpler and more automated is a win.

Christophe BertrandSenior analyst, Enterprise Strategy Group
"A significant amount of mapping and understanding of the sequence of events and processes is necessary," Bertrand said. "Anything you can do to make DR simpler and more automated is a win."
Bertrand said the concept of runbooks, workflows and automation isn't new, but he noticed newer products entering the market today focus heavily on the simplicity angle. He said Cohesity Runbook, in combination with Cohesity DataPlatform, does an excellent job delivering on simplicity and is a key differentiator from its competitors.
Ko said formal pricing for Cohesity Runbook hasn't been finalized. Customers will need to update Cohesity DataPlatform to version Pegasus 6.4 in order to run Runbook, which can be installed from the Helios interface.
Cohesity Marketplace officially launched in February 2019 with a trio of internally developed applications plus third-party applications. The vendor also released a software developer's kit at launch and developed a robust vetting process before third-party apps are made available on Marketplace.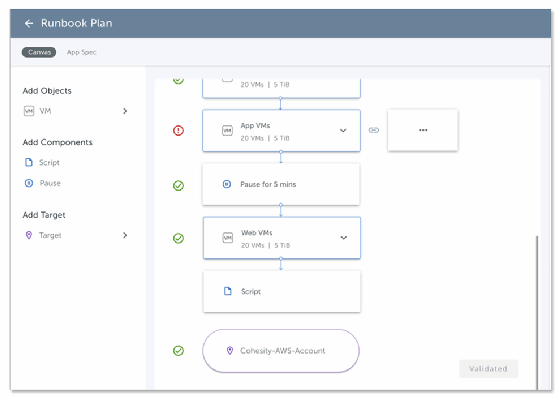 Third-party applications Splunk, SentinelOne, ClamAV and Imanis Data (which Cohesity acquired in May 2019) were available since Marketplace's launch, and the lineup hasn't changed since then. Ko said Cohesity will add third-party apps to Marketplace by the end of 2019.
All applications on the Cohesity Marketplace draw from the same pool of consolidated secondary data on Cohesity DataPlatform, so customers don't have to create separate pools of data to feed individual applications.
"It is a modern approach that keeps applications or services close to the data," Bertrand said.
Cohesity Runbook currently supports AWS, but Ko said support for other public clouds is in the works. Workload migration to public clouds for DR purposes is only one use case for Runbook, and support for other data management capabilities like test/dev and cloud bursting are also currently being developed.
"Our broader vision is to automate anything anywhere," Ko said.