everythingpossible - Fotolia
Cohesity applications available through Cohesity MarketPlace
Cohesity MarketPlace includes Cohesity applications for secondary storage management, along with third-party choices, such as SentinelOne and Imanis Data.
Cohesity wants to make shopping for applications for its DataPlatform as easy as browsing the Google Play store or the iOS App Store.
Today, secondary data backup and management vendor Cohesity launched Cohesity MarketPlace, which sells applications that run on its flagship DataPlatform. The vendor also released a software developer's kit (SDK), allowing independent software vendors (ISVs) to develop Cohesity applications.
Cohesity MarketPlace is a big push toward allowing customers to do more with their secondary data. It is launching with three internally developed Cohesity applications, called Insight, Spotlight and EasyScript, which provide indexed search, anomaly detection and script management.
Christophe Bertrand, senior analyst at Enterprise Strategy Group in Milford, Mass., said IT organizations want to use backup data for more than just backup and recovery.
He said Cohesity is following an industry trend by providing analytics, test/dev and e-discovery over a unified platform.
"Customers not only gain operational efficiency by unifying data under one roof, but also Cohesity's now providing a full kit of APIs and applications that run directly on the platform," Bertrand said. "And, obviously, [customers] want to harvest the data for business purposes or technical outcomes."
Cohesity DataPlatform includes applications such as DataProtect backup and recovery, Helios software-as-a-service application management and others that handle features such as security and compression. These Cohesity applications, as well as third-party apps, will be available through the MarketPlace.
Cohesity is making a handful of third-party applications available at launch, including antivirus software from SentinelOne, big data search and analysis from Splunk Enterprise and NoSQL workload backup from Imanis Data.
Raj Dutt, product marketing director at Cohesity, based in San Jose, Calif., said Cohesity internally vets every third-party app before it gets posted on the MarketPlace, putting them through a robust approval process.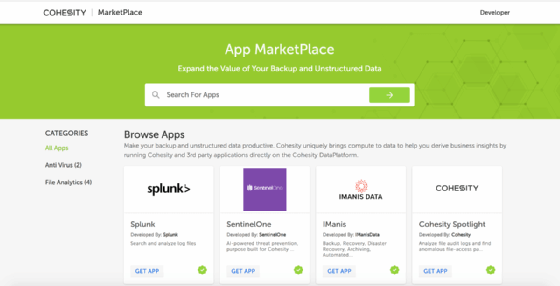 Customers can access Cohesity MarketPlace through the Helios interface and through a public website. The Developer Portal on Cohesity's site has been updated to host MarketPlace's SDK.
"The goal is helping businesses get to the outcome they are concerned about," Dutt said. "Things around compliance, security, e-discovery and data protection: Those are the top categories we're working on and customers are asking for."
Cohesity did not have a set schedule for releasing more apps, which will launch as they become ready, after passing the approval process.
Other backup vendors similarly develop apps for their platforms and make SDKs of their platforms available to developers to grow an ecosystem of ISVs. Bertrand said the key differentiator is how Cohesity makes apps available to customers.
"What they're doing is really embracing the concept of data intelligence and data being an asset. The mechanism through which they do this is through a well-accepted, consumer-like store," Bertrand said. "I think this makes it more interesting than a number of other solutions, which are still very focused on technical integrations with APIs. Let's see how it does in six months."