michelangelus - Fotolia
Cohesity SmartFiles tackles object and file storage
Cohesity SmartFiles sets its sights on traditional NAS by unifying data and adding cybersecurity, integrated apps through Cohesity Marketplace and global search.
Cohesity is making a play to protect and manage data traditionally stored on NAS systems with its new SmartFiles, which pulls files and objects into its DataPlatform.
By migrating files from NAS systems, Cohesity SmartFiles can free space on the files' original servers. The files are deduplicated on the DataPlatform, where users can run global search. Applications from Cohesity Marketplace for tasks such as antivirus and anomalous access detection run directly on the platform. Cohesity SmartFiles bears similar data lifecycle management capabilities to the recently released StorCycle software from Spectra Logic and IBM InfoSphere.
Cohesity has pushed for consolidating secondary data silos to eliminate data sprawl with its backup- and data management-focused products. The Cohesity DataPlatform includes a SpanFS file system, which supports file and object storage. Cohesity SmartFiles is the vendor's foray into the primary NAS world, pulling data from those environments onto DataPlatform. Before SmartFiles, data would only end up on DataPlatform as a result of replication during backup processes, with the original data left intact at its source.
Cohesity SmartFiles supports NFS, SMB and S3 protocols. It scales by storing data in the cloud, where users can also run global search of those files and objects.
Christophe Bertrand, senior analyst at Enterprise Strategy Group, said the object storage capability is also a key piece of SmartFiles. Bertrand brought up that the recent partnership between Cohesity rival Rubrik and NetApp as a move with similar motivations.
"It's not just backup and recovery anymore," Bertrand said. "It's really about unifying all this data to provide data intelligence."
Bertrand said that Cohesity SmartFiles can reduce the cost of managing large NAS deployments. Despite pulling data out of NAS environments, Bertrand said the product is more about improving NAS than replacing it.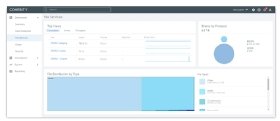 "They're wedging themselves into the environment and providing a way to unlock value out of a hodgepodge silo," Bertrand said.
He said ESG research shows that organizations want to unlock value from inactive data. Pulling everything onto a single data management source that supports multiple protocols and multiple environments both on- and off-premises helps make intelligent data management possible. Bertrand summed up Cohesity's move as part of a logical progression: the company is already providing data protection and secondary data management to its customers, so it's now proposing to help them improve their file and object environments by providing a platform for data reuse.
Cohesity SmartFiles is compatible with NetApp, Isilon and Pure Storage devices and is available for Cohesity DataPlatform customers.