Saktanong - stock.adobe.com
Cohesity Helios gets a mobile app for on-the-go alerts
Cohesity launched a free mobile app version of Cohesity Helios. It delivers key features such as monitoring and ransomware alerts to users who are away from a workstation.
There is now a mobile app for customers who want Cohesity Helios in their pockets.

The new Cohesity Helios mobile app gives users a direct line to their Cohesity infrastructure from their smartphones. The app lets users view the health and storage capacity of all the VMs, applications and databases under Cohesity's protection. They can also view support cases and receive alerts, such as when Helios' anomaly detection suspects a potential ransomware attack.

The Cohesity Helios mobile app draws directly from the SaaS-based Helios engine -- the same source that a Helios user logs into via web portal. Users can view real-time details of all registered clusters, including software version, throughput and IOPs. This allows admins to monitor cluster performance or check on the status of a job even if they aren't at their desks.

"It's visibility that's easy to digest," said Raj Dutt, senior director of product marketing at Cohesity.
Cohesity Helios is a SaaS-based management console designed for managing multiple environments under a single interface. Introduced in August 2018, Helios' key features include global search, real-time monitoring and reporting, and machine learning-powered proactive alerts and recommendations. It is accessible by any internet browser via a web portal.

Dutt said since mobile devices potentially introduce security vulnerabilities, certain measures were introduced to prevent intrusion. For the Helios mobile app to work, the user must first generate a key from the Helios account. This key is what allows secure synchronization between the mobile app and Helios. Dutt mentioned that most of the traffic is one-way -- the mobile app is doing most of the receiving.

The Helios mobile app is not the full version of Helios. It is missing some analytics and forecasting capabilities. Dutt said the goal was to make managing Cohesity simple and efficient, and including every feature on the mobile app would make it too complex.
Dutt said work on the Cohesity Helios mobile app started in late 2019 before the coronavirus outbreak, and an early version became available at the start of 2020. Christophe Bertrand, senior analyst at Enterprise Strategy Group, said the timing of the app's release is fortuitous. There has already been a trend of workloads leaving the data center as enterprises adopt cloud and SaaS applications, but the increased remote work caused by COVID-19 accelerated the exodus. He said in just a few years, infrastructure has changed such that much more can be done outside the data center.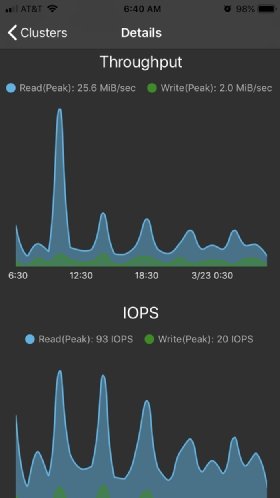 "There's a lot you can do when you're not in the data center," Bertrand said. "You don't have to be physically present anymore."
Bertrand pointed out there was market demand for simplicity well before the coronavirus outbreak -- it's unreasonable to think COVID-19 led to the development of the Helios mobile app. Citing skills shortages across all areas of IT discipline, Bertrand said it wasn't surprising that Cohesity was working on a tool that's easy to approach for IT generalists. The mobile app gives them the ability to perform basic functions and understand their IT environment.

Other data protection vendors such as Druva and Zerto have web-based management portals, but Bertrand said this is the first he's heard of a mobile app attached to enterprise data management.

The Cohesity Helios mobile app is free to download from the Google Play Store and the Apple App Store.
Dig Deeper on Data backup and recovery software