pogonici - Fotolia
Research points to IT skills shortage in data protection
It's getting harder to recruit and replace IT personnel with backup expertise, but simpler products and more automation can help companies compensate for the skills gap.
Backup know-how is drying up in today's IT workforce, but there's no reason to panic.
That's the message coming from data protection analysts and their research. When analyst firm Enterprise Strategy Group (ESG) asked IT decision-makers which areas they were experiencing a shortage of skills in, 23% responded with data protection. Cybersecurity headed the list at 44%. The overall study was aimed at identifying enterprises' IT spending intentions for 2020.

Christophe Bertrand, senior analyst at ESG, said cybersecurity and data protection are tied by a common thread -- ransomware. Cybersecurity tries to prevent an attack, while data protection recovers from one. Bertrand said an IT skills shortage in one causes a "domino effect" on the other because organizations need both to take on ransomware, which remains one of the top challenges of IT today.

"Not only do you have a shortage of backup and recovery skills, you also get additional pressures stemming from the cyber side of the equation," Bertrand said.
Automation helps fill IT skills shortage
The good news is that today's enterprise backup products are simpler to use and have more automation than in decades past, lowering the burden of backup administrators. Naveen Chhabra, senior analyst at Forrester Research, said there's enough built-in logic in software and available information that the task of administrating backup is much easier now.

"As more and more automation comes in, the operational tasks are not that heavy," Chhabra said.

However, Chhabra warned that simpler technology and smarter automation does not completely make up for lack of skill within an organization. It instead means a lesser-experienced person can enter the role and start building skills and expertise. Optimization and knowing when to use which tools can only be learned through experience.

Steven Hill, senior analyst at 451 Research, said greater automation makes enterprise products more scalable. Hill said automation is changing backup from a highly specialized task to one that can be handled by an admin whose duties extend to other IT areas.

"Automation does not reduce headcount, it just changes responsibilities of the personnel," Hill said. "Understanding all the components, understanding what tools can and cannot do, still requires people with expertise."

Bertrand shared similar sentiments: "Understanding processes, best practices, managing complex efforts -- all of this takes more than just a certification or degree."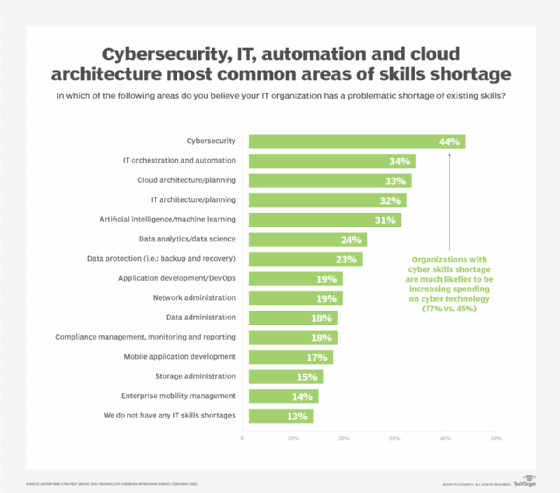 In-house IT not sexy, but pays the bills
The analysts agreed that IT is a competitive field, and there is little demand for backup administrators. They mention AI and machine learning, data scientists and business analysts as areas attracting graduates entering the workforce. There isn't enough talent in many cases to handle pressing data protection issues such as ransomware, growing data volumes and stricter security and privacy demands.
The ESG research suggested companies with a perceived lack of skill in certain IT areas are likely to increase technology spending in those areas. Bertrand said this is just one way for organizations to address the skills gap. Another way would be for organizations to invest in their workforce, either by providing training or offering competitive salaries and career paths for those with the expertise.

But Hill said the skills shortage is likely temporary. IT demands frequently shift, as do personnel responsibilities. He said the job requirements of the backup admin are changing, but he doesn't see the demand for backup expertise ever truly going away. He also noted that while it's tempting to work for technology startups tackling emergent fields such as autonomous vehicles and AI/machine learning, many of these businesses fail.

"It's not as sexy to do in-house IT, but ultimately, that's where the jobs are," Hill said.