Commvault vs. Veeam: Comparing data protection tools
Learn how Commvault Complete Backup & Recovery and Veeam Availability Suite features and functionality compare as well as what sets these data protection tools apart.
Data loss is a constant risk to organizations of all sizes, regardless of whether data is stored onsite or in the cloud. It can occur as a result of hardware failures or user errors, as well as from malicious activity, such as a ransomware infection. The only way for an organization to adequately ensure the integrity of its data is to create frequent backups.
Commvault and Veeam Software are two well-established providers of enterprise data center backup and recovery products. Both vendors offer data management and protection, but what sets their products apart? Here, we compare Commvault Complete Backup & Recovery to Veeam Availability Suite, addressing the features and functionality of each product as well as the pros and cons.
Commvault vs. Veeam features
Commvault Complete Backup & Recovery and Veeam Availability Suite are both mature, reliable and highly capable data backup products. While many features are comparable across the two products, each one has its unique features. For example, Commvault provides native deduplication capabilities and options for backing up Google Cloud, Oracle Cloud and Citrix Xen. Veeam, on the other hand, has more native options for automation -- although some automation features are only available through Veeam Availability Orchestrator -- governance and compliance.
The chart below provides a feature-by-feature comparison.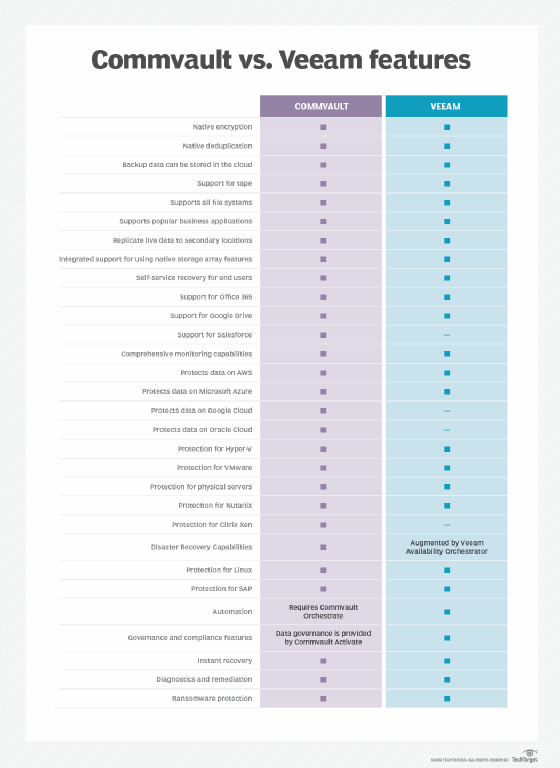 Pros and cons
Commvault's primary advantages are its flexibility, and the product's reputation for working extremely well. Commvault protects Windows, Linux, Unix and Oracle servers, in addition to a variety of hypervisors and applications.
The biggest drawbacks of Commvault Complete Backup & Recovery are its deployment complexity and initial configuration, and that an organization can only get certain functionality by purchasing add-on products. Commvault HyperScale, for example, is needed for highly scalable architectures and Commvault Orchestrate is necessary for most automation functions.
Veeam works as well as Commvault, but I've found that it is easier to deploy and use. Veeam Availability Suite was initially designed for virtualized environments, so it does a great job of protecting VMware and Hyper-V environments and supporting other hypervisors. In recent years, Veeam has added physical server and cloud backup capabilities, enabling its software to become more well-rounded.
The primary drawback of Veeam Availability Suite is that it doesn't provide protection for quite as many applications as Commvault.
Backup strategy
Commvault doesn't offer any products for smaller organizations. The company seems to focus on enterprise customers and cloud providers.
Veeam's approach to the backup market is to provide software that's geared toward various segments. The company offers software for SMBs, midrange and large enterprises. Veeam also has a free product designed for individual use.
High availability
Commvault's server package, CommServe, and the workflow engine are designed to work on a Microsoft high availability cluster. These components are normally designed to function in an active-passive node configuration, but active-active clusters are also supported. Active-active clustering works by installing multiple CommServe instances onto a single physical node. This is useful when limited hardware resources are available.
Veeam doesn't list high availability among its current features, but the company has supported high availability in the past and it's unlikely that this capability has been removed.
Physical backup support
Commvault supports physical server backups and allows for physical-to-virtual and virtual-to-physical conversions. The company also supports physical-to-cloud backups.
Veeam initially focused solely on virtualized environments. But a few years ago, the company added support for physical server backups running Windows or Linux. Veeam offers similar protection features for both physical and virtual environments.
Disaster recovery
Commvault's software supports DR to and from on-premises environments and across public and private clouds. Complete Backup & Recovery is designed to enable key DR-related functions such as failover, failback, testing and reverse protection.
Veeam provides DR functionality, including cloud portability, within Availability Suite. But it has broken out most of its DR and business continuity functionality into a separate product called Veeam Availability Orchestrator.
Support options
Commvault offers numerous manuals and knowledge base articles that can help IT pros resolve many of their issues. Additionally, the company offers four tiers of support that vary in cost and service offerings: Standard, which provides support 12 hours a day, five days a week; Premium; Proactive; and Enterprise, which offers support 24x7. The Standard and Premium tiers are considered response-based, whereas the Proactive and Enterprise tiers are service-optimized.
Like Commvault, Veeam provides extensive online resources that can help customers resolve problems. Veeam also integrates diagnostic capabilities into its products and provides automatic remediation of various issues. Veeam's support page provides options for telephone support and for submitting a support ticket.
Commvault pricing vs. Veeam pricing
Commvault doesn't disclose pricing for Commvault Complete Backup & Recovery.
Veeam offers its Availability Suite in bundles of 10 licenses. Each license protects one workload, on premises or in the cloud. Veeam protects VMware, Hyper-V, Nutanix AHV, AWS, Azure, cloud-native workloads, physical servers, workstations, enterprise applications and network-attached storage. Pricing starts at $1,500 per year for the first 10 licenses. Per-socket pricing starts at $2,070 for the Enterprise edition.
Commvault and Veeam both offer a 30-day trial.