Definition
ISV (independent software vendor)
An ISV (independent software vendor) makes and sells software products that run on one or more computer hardware or operating system (OS) platforms. ISVs typically provide software in conjunction with a hardware, software or cloud platform provider. In the case of hardware, a software producer builds software to run on a particular vendor or vendors' hardware platform and the OSes the platform supports. An ISV may also incorporate software from a software platform provider into its offering by embedding database technology from Microsoft or Oracle, for example.
As the cloud computing model has grown more pervasive, ISVs have increasingly targeted the cloud as a vehicle for delivering software by offering products on a software as a service (SaaS) basis. In this delivery method, an ISV may sell its software through a public cloud or cloud marketplace. Examples include Amazon Web Services (AWS), Microsoft Azure and Salesforce AppExchange.
Additionally, an independent software maker provides software in the form of virtual appliances that run on virtual machines (VMs).
Overall, an ISV list would include companies with a general or horizontal focus -- a software maker focusing on human resources applications, for instance -- and companies with a vertical market orientation -- an independent software producer targeting discrete manufacturing companies. There are also many ISVs providing highly specialized niche offerings, such as data migration utilities.
ISV programs
Companies that make the platforms, like Apple, AWS, Hewlett Packard Enterprise, IBM, Microsoft, Oracle, Salesforce and others, encourage and lend support to ISVs, often through the use of ISV programs. In general, the more applications that run on a platform, the more value it offers to customers. Platform manufacturers, such as IBM and Microsoft, also make applications, but they don't have the resources or, in many cases, the special knowledge required to make applications for every conceivable vertical market or niche requirement.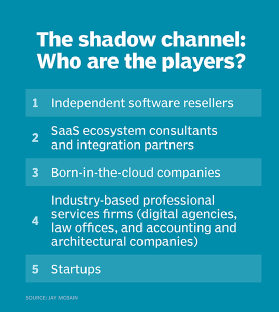 An ISV program will generally offer a mix of technical and marketing support for a software maker. Specific benefits may include technology training, briefings on product development roadmaps, ISV-specific pricing and licensing terms, product discounts and co-marketing initiatives. A platform provider may also offer ISV partners a seal of approval via software validation programs.
At times, an ISV program may operate within a platform vendor's umbrella business partner program. Such programs aim to cover a spectrum of partner relationships and interactions. While ISV partners make and sell software that is added to platforms, original equipment manufacturers (OEMs) use hardware platform components to build larger products. Value-added resellers (VARs) incorporate platform software into their own software product packages. Managed services providers (MSPs) remotely monitor and manage hardware and software platforms installed at the end-customer's location and may also keep tabs on the public cloud platforms a customer uses.
Blurring lines: Software products in the channel
One development in the ISV space is the convergence of the independent service provider business model with other IT channel business models, such as managed services and cloud consulting services.
As the MSP and cloud services markets become more crowded and competitive, companies look for new ways to differentiate their services. Some companies have turned to software development as a way to stand out from rivals. An MSP or cloud consultant that creates its own intellectual property is less likely to become commoditized than a company that offers readily duplicated services, such as server management, or one that resells the same public cloud service that many other companies can supply.
On the other hand, software development calls for skills that may be difficult for a channel partner to acquire and maintain.
ISVs and traditional channel partners
A vendor's channel partner base has traditionally comprised resellers of hardware, software and services. However, with the more recent growth of new channel business types, such as ISVs, the make-up of the IT channel is in flux. High-profile vendors are increasingly looking to incorporate more ISVs and other nontraditional partners into their channel strategies.
According to Forrester Research's Jay McBain, this emergent shadow channel includes ISVs, anything-as-a-service consultants, industry-based professional services firms and born-in-the-cloud companies.
The number of ISV businesses has seen significant growth. In 2018, McBain noted approximately 100,000 ISVs in play worldwide, compared to the roughly 10,000 ISV partners doing business in 2008. He forecast that number would reach 1 million by 2027, fueled by the ability of ISVs to provide highly customized software to their clients.
This was last updated in
October 2018
Continue Reading About ISV (independent software vendor)