Kit Wai Chan - Fotolia
Cohesity Agile Dev and Test quickly delivers clean test data
Cohesity's new feature lets test/dev teams access fresh, accurate and compliant data directly through Cohesity DataPlatform, without going through backup admins.
Cohesity wants to make it easier for developers to get copies of data quickly.
Cohesity Agile Dev and Test, released into beta this week, is an add-on to Cohesity DataPlatform. The feature makes clones of data sets stored by DataPlatform, allowing test/dev teams to freely access data on their own after IT grants permission.
Cohesity Agile Dev and Test allows DevOps teams to provision backup data without having to go through a typical request-fulfill model.
Usually when developers need a copy of the business's data for testing or development, they would have to request it from the production or backup teams. This data needs to be accurate and up-to-date for ideal test results, but it also has to be scrubbed of personally identifiable information (PII) and otherwise masked to prevent exposing the test/dev teams to compliance issues. The process could take weeks, which is too long for time-sensitive development such as Agile projects and anything to do with machine learning.
Cohesity claims its software performs data masking before it is pulled to ensure test/dev teams have a "clean" copy to work with.
Similar products that use backup copies of data for test/dev purposes already exist, such as Actifio Sky and Cohesity's own CloudSpin. The difference with Cohesity Agile Dev and Test is the data doesn't need to be stood up in its own environment -- it doesn't create a separate silo of data. Sky and CloudSpin spin up the data into another environment, such as a physical server or virtual machine, and the operation is carried out by backup administrators. Agile Dev and Test allows test/dev teams to access that data when they want, securely and already masked, without requesting it through another team.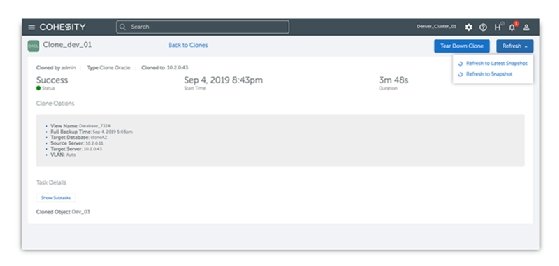 Old idea, new implementation

Christophe Bertrand, senior analyst at IT research firm Enterprise Strategy Group, said Cohesity Agile Dev and Test doesn't solve a technology problem so much as a workflow one. Making copies is nothing new, but a streamlined way to get those copies into the hands of test/dev people is.
"We've known for a very long time how to replicate data, but the workflow behind it is not really in place," said Bertrand. "This is just the next step. It's exactly what they [Cohesity] should be doing."
Bertrand said his research shows that many enterprises want to make use of copies of data, to transform from simply having backup copies toward a model of intelligent data management. Businesses want interconnectivity across the organization to ensure any IT operation can access and make use of data. Bertrand said the market is headed in that direction as organizations that can develop faster are inherently at an advantage.
The test/dev people want data that is fresh, compliant, secure and not corrupted. They want to be able to access this data quickly and independently, in order to rapidly turn around their projects. It's a different audience from the backup admin group, said Bertrand, as they're not worried about things like availability and RTO/RPO.
The DevOps person doesn't know or care about the intricacies of DR or backup.

Christophe BertrandSenior analyst, Enterprise Strategy Group
"The DevOps person doesn't know or care about the intricacies of DR or backup," Bertrand said.
Bertrand said Cohesity Agile Dev and Test's main value proposition is that it gives test/dev teams the ability to get great data instantly. They don't need to know everything about that data.
Cohesity Agile Dev and Test is scheduled for release in the Pegasus 6.4.1 update, expected in late 2019. It will be sold as an add-on capability on Cohesity DataPlatform, and customers will be charged on a usage-based pricing model.