Dell EMC backup appliance lines support GCP, Alibaba Cloud
Dell EMC backup appliances get a software update that improves speed and expands public cloud support, showing a conscious push for multi-cloud and midsize customers.
While joining the multitudes of backup vendors aiming at multiple clouds, Dell EMC is also moving to juke the performance of its Data Domain appliances.
Data Domain OS 6.2 and Integrated Data Protection Appliance (IDPA) 2.3 are available to download. The updated software for the Dell EMC backup appliance lines adds support for Google Cloud Platform and Alibaba Cloud for Cloud Tier users, as well as performance enhancements that lead to faster data recovery times. Dell EMC also updated the Data Domain Virtual Edition and added support for AWS GovCloud, Microsoft Azure Government Cloud and Google Cloud Platform.
Dell EMC is the market leader in backup appliances with the Data Domain platform. Data Domain appliances helped make data deduplication popular among backup hardware and software, and dedupe is now mandatory in data protection.
But Phil Goodwin, research director at IDC, said while the Data Domain inline deduplication produced among the best data reduction ratios, it left the door open for competitors to offer faster recovery.
Dell EMC said Data Domain can restore four times as fast from the cloud and 2.5 times as fast from appliances after the update, and it advertises that IDPA can provide 40,000 IOPS with 20 milliseconds of latency.
Although he couldn't confirm whether this update would truly allow the Dell EMC backup appliance to restore as quickly as advertised, Goodwin said slow recovery speed had always been a pain point in Data Domain products. He said the speed increase is the most interesting part of today's upgrade.
"Their competitors went to market highlighting faster recovery," Goodwin said. "That's been a competitive knock on the Data Domain devices for some time now, and they seem to be addressing it with this release by significantly improving the performance of their restore operations."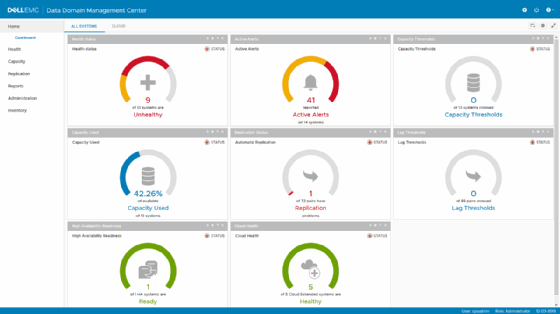 Goodwin said slower recovery speeds don't necessarily mean the Dell EMC backup appliance is inferior to its competitors' products. But there's an inherent tradeoff between recovery speed and deduplication performance. And in the past, Dell EMC's competitors have been emphasizing the speed.
Many customers are forming relationships with multiple providers, and you have to support the options that customers invest in.

Rob Emsleydirector of data protection marketing, Dell EMC
"When you get really high deduplication performance -- and Data Domain arguably has the highest dedupe performance -- the other side of it can be that it takes longer to actually restore data, because it takes longer to rehydrate it," Goodwin said. "Their competitors might have a lower deduplication ratio, but a much faster restore, and those vendors have been promoting the faster restore aspect."
Rob Emsley, director of data protection marketing at Dell EMC, said support for more public clouds is a response to a customer trend.
Emsley said disaster recovery (DR) is the No. 1 use case of cloud for Data Domain and IDPA, and Dell EMC backup appliance customers are backing up to multiple public clouds for extra insurance.
"Many customers are forming relationships with multiple providers, and you have to support the options that customers invest in," Emsley said.
Emsley said public clouds appeal to small and midsize customers for backup and DR.
"Larger customers don't need cloud as much," Emsley said. "They have multiple sites, usually."