Joshua Resnick - Fotolia
Rivals Dell EMC, Unitrends refresh backup appliance lineups
When upgrading their backup appliance portfolios, Dell EMC and Unitrends addressed continued demand for backup hardware. Both also rolled out new unified management interfaces.
With cloud adoption trending up, Dell EMC and Unitrends are saying there's still plenty of use for storing backups on the ground.
Dell EMC recently added the PowerProtect DP Series to its backup appliances lineup. PowerProtect DP Series appliances combine backup and recovery, replication, deduplication, cloud disaster recovery (DR) and long-term retention to cloud. According to Dell EMC, it offers significant performance boosts over its previous generation of integrated backup appliances, including up to 45% faster restores, 50% greater IOPS and more efficient data reduction. The DP Series will be generally available in December 2020.
With this update, Dell EMC split the PowerProtect appliance line into two configurations: PowerProtect DP integrated backup appliances and PowerProtect DD backup target appliances. The DD Series was refreshed last year and has integration with backup software from Veeam, Veritas and other third-party data protection vendors. PowerProtect DP uses Dell EMC data protection software. All the PowerProtect backup appliances run on PowerEdge servers.
Dell EMC also upgraded its PowerProtect Data Manager software, making it deployable from AWS and Microsoft Azure marketplaces directly to protect workloads in those clouds. The software can now protect modern applications with newly added support for VMware Tanzu, Amazon EKS and Microsoft AKS, and it can also protect PostgreSQL and Cassandra databases without deploying agents.
"We're seeing a trend toward integrated appliances, as opposed to deploying software and then services and targets to write to," said Rob Emsley, director of marketing at Dell EMC. "Customers are looking to do things more simply."
Dell EMC rolled out a new flexible consumption model for its PowerProtect backup appliances. Customers can pay a basic rate to manage the devices themselves or pay a premium to put backup operation and management completely in the hands of Dell EMC, which can include the vendor sending out support staff to the customer's data center. Pricing is based on how much data is protected and whether the customer opts for fully managed support.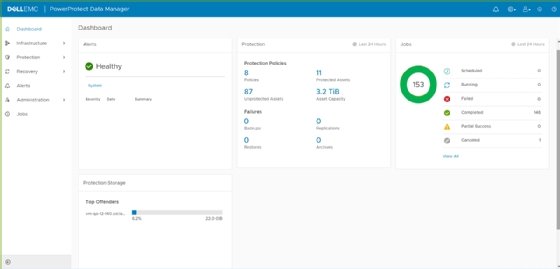 Unitrends launched its Recovery Series Generation 9 backup appliances in October, and it shared many similarities with Dell EMC's PowerProtect refresh. With Gen 9, Unitrends promised faster compute and network speed over Gen 8 thanks to hardware enhancements. It launched the UniView management console, which allows admins to search, manage and recover backups across Unitrends backup appliances, Spanning Office 365 backup and Unitrends Direct to Cloud backup. It also rolled out a new subscription pricing model for its hardware.
Adam Gabbert, vice president of data center and services at Yellow Dog Networks, an MSP based out of Kansas City, Mo., and a Unitrends partner, said his clients have been moving to Opex costs wherever they could. He said COVID-19 had spread a lot of their IT resources thin and even before the pandemic many customers' technology needs already outgrew their in-house expertise. The economic impact of COVID-19 reduced their willingness to commit cash to long-term IT investments.
"Cash spend is hard to take to the CFO. Subscription model's popular for that reason," Gabbert said.
Although Dell EMC has mainly enterprise customers and Unitrends -- along with its parent company Kaseya -- focuses mainly on mid-market customers and MSPs, Enterprise Strategy Group senior analyst Christophe Bertrand noted similarities in the recent upgrades.
He said although organizations are adopting cloud and SaaS at a higher rate, a healthy demand for backup appliances remains. Customer requirements for greater capacity and speed create a constant race for performance improvements. That's a logical growth trajectory for a vendor to take when updating its backup appliances.
But more importantly, Bertrand said, there's market demand for unification and simplification of management across cloud and on-premises environments. Customers want to put their data and workloads in the most ideal storage for them, but also be able to monitor and manage all their backups in one place. Both Dell EMC and Unitrends picked up on this trend and enhanced their appliances' management consoles in this update. Bertrand said simplifying the management, adding more use cases and supporting more environments adds greater value to the appliances than hardware performance boosts.
Bertrand saw the introduction of subscription pricing for both backup appliances as a response to an industry shift from Capex to Opex. This was an ongoing trend, but economic uncertainty caused by COVID-19 accelerated it. Bertrand said one of the ways to counter that uncertainty is with predictable costs. Even though PowerProtect and Recovery Series are hardware products, the subscription model lets customers avoid the upfront cost and commitment risk that normally comes with purchasing backup appliances.
"When you think about it, Dell EMC and Unitrends are really selling backup software with a hardware delivery mechanism. The subscription model dematerializes the hardware component," Bertrand said.