Gorodenkoff - stock.adobe.com
Dell PowerProtect line increases features and update cadence
Improvements to Dell Technologies' PowerProtect catalog at a more frequent pace show a transition from shipping boxes to meeting customer hybrid cloud expectations, experts say.
Dell Technologies' updated PowerProtect catalog now supports less compute-intensive snapshots for SQL databases, more air-gapped backup choices and improved platform replication capabilities.
The update to its data protection hardware and software line, unveiled this week, further fills out Dell's capabilities to better compete against services offered by cloud challengers and new offerings from legacy IT rivals, according to Brent Ellis, an analyst at Forrester Research.
The updates continue to push Dell away from on-premises IT into a hybrid cloud infrastructure, providing support for a wider array of workloads and offering flexible consumption models. It also shows Dell's commitment to providing more frequent updates, which will be important for Dell to remain competitive as it moves away from its Data Domain origins as a purpose-built data backup appliance to a more universal line with PowerProtect, Ellis said.
"A lot of their backup capabilities were centered around the Data Domain target or their ability to interact with VMware," he said. "Now, they're building capabilities [that are] far more broad."
PowerProtect the data center
Dell's transparent snapshot feature now supports application-aware protection for SQL databases, complementing the existing capability to back up VMware VMs to PowerProtect appliances.
These snapshots are referred to as no-stun snapshots outside of Dell branding, according to Ellis. They enable customers to back up data without causing a significant effect on performance or requiring a service outage.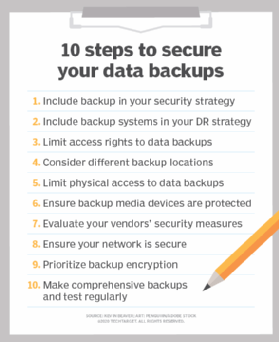 Customers can now back up data in PowerStore storage software or hardware directly to a PowerProtect appliance, providing automation and orchestration capabilities through the PowerProtect Data Manager software.
The Data Manager now supports a cyber vault capability either on premises or in the cloud, creating an air-gapped copy with retention locking, immutability and multifactor authentication by Microsoft.
Data can be replicated using the PowerProtect Data Manager to and from the cloud using PowerProtect DD Virtual Edition on premises or Dell Apex Protection Storage for Public Cloud with AWS, Microsoft Azure, Google Cloud and Alibaba Cloud.
Physical tape backups are still the most popular way of creating air-gapped copies, but increasingly, enterprises find relying on physical disconnects to be too slow of a recovery option, according to Krista Macomber, an analyst at Futurum Group.
"By the time malware has spread to your production environment, you might not have a copy you can recover to," Macomber said.
Backup vendors are starting to push cyber vault services such as Rubrik with its Cloud Vault, Cohesity's FortKnox and Clumio's SecureVault, according to both Ellis and Macomber. Still, the capability to physically disconnect data from the network without relying on additional software or specific network configurations remains a powerful draw over cyber vaults.
"Customers need to evaluate these options carefully, [but] IT operations have a degree of skepticism," Macomber said.
Air-gapping competition
The more frequent pace of product updates by Dell shows the company continuing its transition from physical hardware to multiservices in the cloud, Ellis said.
[Dell Technologies is] doing better now than in the past to make sure the feature set matches what their customers need.

Brent EllisAnalyst, Forrester Research
While the updates released this week might not convert data centers over to Dell products, existing customers are getting their feature requests met more frequently than in the past, he added.
"They're doing better now than in the past to make sure the feature set matches what their customers need," Ellis said. "They're suffering from the same problem IBM has -- portfolio gaps that need to be filled."
The interoperability of Dell's hardware and software to create a vendor ecosystem isn't an outlier in the industry, both Ellis and Macomber said, despite CEO Michael Dell's pitch of tearing down walled gardens.
But more customers are using a variety of products to protect data, Macomber said, meaning customers will likely be looking for a more one-size approach in the future.
"Most customers are multivendor," she said. "How do they reduce the number of tools to protect and manage data?"
Tim McCarthy is a journalist from the Merrimack Valley of Massachusetts. He covers cloud and data storage news.