zimmytws - Fotolia
Coronavirus decks storage and server enterprise spending
Revised IDC market forecast predicts a rise in cloud and infrastructure as a service, as organizations reallocate budgets from physical servers and storage hardware.
IT spending on servers and storage -- already slow, as organizations move to cloud data and storage services -- will drop sharply in 2020 due to financial impact of COVID-19, according to IDC.
The analyst firm this week predicted storage and server revenue will decrease 3.3% in 2020 from 2019. That compares to a 2.7 % decline in overall IT spending, inclusive of consumer products and infrastructure and communications technologies. IDC predicts IaaS -- often a replacement for on-premises servers and storage -- will grow 33.2% this year.
Storage and server revenue grew only 1.4% in 2019, while overall IT spending increased 4.8%. IaaS increased 43.4% last year.
IDC predicted all IT market sectors will increase in 2021, with the rate depending on the pace of economic recovery. Stephen Minton, a program vice president with the IDC customer insights and analysis group, said the COVID-19-induced global slowdown looks similar to the 2008-09 global recession, which also drove down IT spending.
Following that crisis, global spending on servers and storage slid nearly 14% in 2009. In 2010, the sector increased 13% en route to an economic recovery, although cumulative IT spending remained flat. Minton said companies probably will react in similar fashion this time to instinctively curb or reallocate IT dollars.
While IDC predicted 2020 IaaS spending will increase less than it did in 2019, it is the only sector besides telecom services (0.4% increase) expected to grow this year.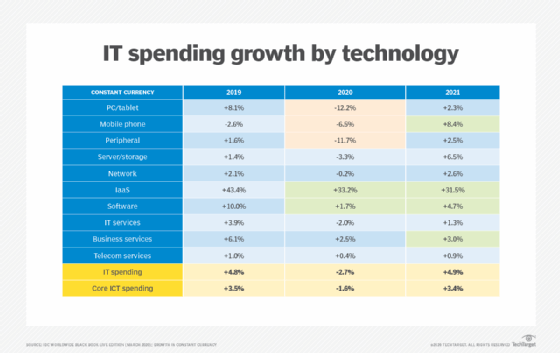 The shift to cloud storage, already comprehensive, will gain more momentum as companies adopt work-from-home policies for their employees.
"More capital spending is being concentrated in cloud service providers. This is the perfect way to ride out this kind of crisis and move some of your short-term spending from a Capex to Opex model," Minton said.
Large IT vendors have withdrawn financial guidance on earnings for this year due to the economic uncertainty. Dell EMC, Hewlett Packard Enterprise (HPE) and NetApp are among the storage and server vendors to take the step.
The dropoff in storage spending likely will be softened by increased expenditures by hyper-scalers to keep pace with cloud storage demand. "That could be a tipping point -- a thing we look back on," Minton said.
Storage vendor moves
Major storage and server vendors are grappling with how to sustain operations and supply lines during the disruption of coronavirus. All-flash pioneer Pure Storage Inc. started prepping for potential flash shortages earlier this year, said Mike Fitzgerald, Pure's vice president of operations.
"We started hearing whispers in early January coming from the Far East to China that supply chain disruptions may be in the future. We knew that speed was going to be crucial and took proactive steps to fill our pipeline, so our ability to build, test and ship wasn't constrained," Fitzgerald said.
Pure has seen a "huge uptick" in interest in its consumption-based Evergreen Storage model as enterprises roll out virtual desktop infrastructure to homebound workers, Fitzgerald said.
Hewlett Packard Enterprise this week unveiled $2 billion in financing and other measures to help customers cope with the fallout. Run by HPE's financial services division, the programs include payment relief and initiatives to enable enterprise users to reduce capital outlays and generate cash by selling their existing IT assets to HPE.
Dell Technologies said it has stepped up shipments of mobile technologies to help companies equip their remote workforces. CEO Michael Dell said this week he will reduce his salary through at least the rest of the year. A foundation started by Dell and his wife Susan also said it would pledge $100 million to fight COVID-19.