ra2 studio - Fotolia
Commvault cloud coverage expands to Alibaba
With Alibaba cloud support in its latest features update, Commvault builds towards a platform for easy workload migration across on-premises clouds and multiple public clouds.
Commvault is broadening its cloud support in preparation for organizations adopting multiple clouds for data protection.

Commvault's latest features update focused heavily on the cloud. The vendor added support for Alibaba Cloud ECS, AWS DynamoDB, Redshift and DocumentDB databases and Oracle and SQL database migration to Microsoft Azure. The update also deepened the platform's integration with ServiceNow, allowing for migration and management of ServiceNow catalog assets within the SaaS platform's interface.

Ranga Rajagopalan, vice president of product at Commvault, said Commvault's customers have asked for cloud portability. Many use multiple public clouds and seek ways to move workloads between and across them, as well as their on-premises systems. Some see cloud as an attractive replacement for tape and disaster recovery (DR), while others run applications on the cloud for easier access to compute resources.

"Cloud is topmost on customers' minds," Rajagopalan said.
As not all clouds are created equal, customers have preferred clouds for different workloads, Rajagopalan said. Having workloads spread across multiple clouds inevitably leads to greater infrastructure complexity. Extending Commvault's cloud coverage means customers can manage multiple cloud environments through a single interface -- the Commvault Command Center.

Rajagopalan said there are currently no plans to add more Commvault cloud support at this time. The platform currently supports the three most popular public clouds (AWS, Microsoft Azure and Google Cloud) along with Oracle and Wasabi.

Commvault isn't the only storage vendor making multi-cloud moves. Last month, Zerto 8.0 added support for Google Cloud and AWS Storage Gateway, while also mentioning plans to support Azure Blob in the future. Nutanix Objects 2.0 made a push to unite on-premises and cloud environments onto the same S3 interface for easier management.
Krista Macomber, senior analyst at Evaluator Group, said there are many reasons customers work with more than one cloud provider. Rajagopalan mentioned having access to specific applications or features, but Macomber said Evaluator Group's research found that business continuity and cost control are bigger drivers of multi-cloud usage.

From a business continuity perspective, customers might want the option to fail over from one cloud to another, or they may have legal or compliance restrictions on what cloud or region they use. From the cost perspective, customers want the ability to migrate to another cloud if prices change, or if a cloud provider launches a new service.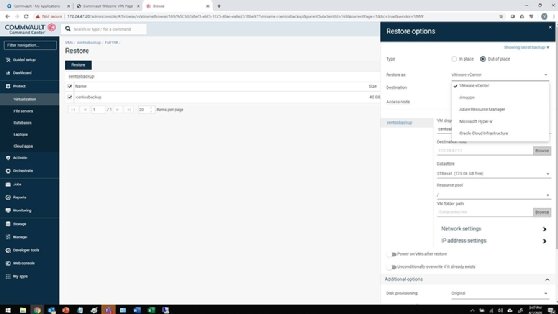 Macomber said there is an apparent need for migration across multiple clouds, but few tools make the process simple. Customers need tools that not only provide full visibility and control of their data across all their environments, but also ways to analyze the costs of migration to see if a move is worthwhile. Once the decision to migrate is made, there also needs to be tools to automate that process.

"By and large, we are not seeing that customers are in a place to be able to migrate data across multi-cloud environments easily," Macomber said. "We're entering an era that requires cross-cloud mobility, so demand is there for tools that simplify the process of hopping between clouds."

Christophe Bertrand, senior analyst at Enterprise Strategy Group, said enterprises are recognizing that being on multiple clouds gives them maximum flexibility. Cloud providers launch new services and unveil new features and applications frequently, and customers want to be ready to take advantage of them. Bertrand said it's worth the complexity cost associated with multi-cloud, which Commvault and other vendors are addressing.

"Variety may be your friend," Bertrand said. "I think the true value of cloud we'll see in time is interchangeability."

Aside from the added Commvault cloud support, Bertrand noted the vendor is now doing quarterly features updates. He said it's a significant departure from how Commvault used to develop and push out its features. It allows Commvault to be more agile and aggressive, and Bertrand expects Commvault to broaden and deepen its cloud coverage.