Nutanix Objects 2.0 lays groundwork for hybrid cloud
The latest Nutanix Objects update gives users higher capacity per namespace, but experts say the endgame is flexibility between the data center and the cloud.
Nutanix pitched its latest Objects update as scale-out object storage workloads, but experts said the hyper-converged infrastructure specialist is likely preparing for a push into the cloud.
Nutanix Objects 2.0 introduced features aimed at big data workloads. The new multicluster support consolidates Nutanix clusters to a single namespace, allowing for simpler, single-console management. Nutanix Objects 2.0 also added a 240 TB node that is larger than any other Nutanix HCI node, allowing more capacity per cluster. The update also added WORM support and Splunk certification.
Nutanix Objects, which launched in August 2019, provides software-defined object storage and is a stand-alone product from Nutanix HCI. Greg Smith, vice president of product marketing at Nutanix, said typical use cases included unstructured data archiving, big data and analytics. He also noticed an uptick in cloud-native application development in AWS S3 environments. Nutanix HCI software uses an S3 interface.
"We see increasing demand for object storage, particularly for big data," Smith said.
Supporting cloud-native development is the real endgame of Nutanix Objects 2.0, said Eric Slack, senior analyst at Evaluator Group. The new features and capabilities aren't to capture customers with traditional object storage use cases, because it's not cost-effective to put multiple petabytes on HCI. He said no one is waiting for an S3 interface before buying into HCI.
However, that S3 interface is important because, according to Slack, "S3 is what cloud storage talks."
Slack believes the enhancements to Nutanix Objects will lay the groundwork for Nutanix Clusters, which is currently in beta. Nutanix Clusters allows Nutanix HCI to run in the cloud and communicate with Nutanix HCI running in the data center. This means organizations can develop applications on-site and run them in the cloud, or vice versa.
"I think that's why they're doing this -- they're getting ready for Nutanix Clusters," Slack said. "This really plays into their cloud design, which is a good idea."
Organizations want that level of flexibility right now because they do not know which workloads are more cost-efficient to run on premises or in the cloud. Having that same, consistent S3 interface is ideal for IT, Slack said, because it means their applications will run wherever it's cheaper.
Some organizations have been burned during cloud's initial hype and moved many of their workloads there, only to find their costs have gone up. Slack said that has led to repatriation back into data centers as businesses do the cost analysis.
"Cloud wasn't everything we thought it was," Slack said.
Scott Sinclair, senior analyst at Enterprise Strategy Group (ESG), came to a similar conclusion about the importance of Nutanix Objects. HCI is about consolidating and simplifying server, network and storage, and Objects expands Nutanix HCI into covering object storage's traditional use cases: archive and active archive. However, there are growing use cases centered around developing in S3.
"We're seeing the development of apps that write to an S3 API that may not be what we classify as traditional archive," Sinclair said.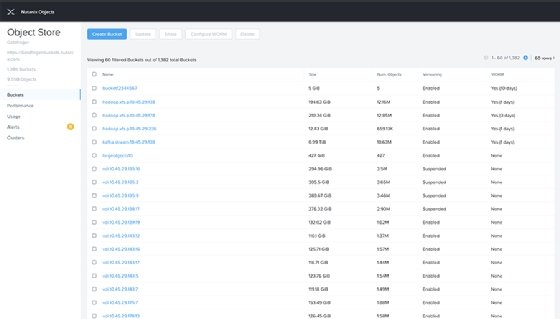 Citing ESG's 2020 Technology Spending Intentions survey, Sinclair said 64% of IT decision-makers said their IT environments are more complex than they were years ago. Coupled with other data pointing to skills shortages in IT, Sinclair said organizations are currently looking for ways to simplify their data centers, resulting in interest in HCI.
That same survey also found 24% of respondents said they needed to go hybrid, with the perception that using the cloud is easier. Sinclair said this will logically lead to an increase in the use of S3 protocols, and why Nutanix Objects is uniquely well-positioned. Right now, IT administrators know they need to be using both on-premises and cloud resources, but they don't know to what extent they should be using either. That's why businesses are taking the most flexible approach.

"Knowing that you don't know is a smart position to take," Sinclair said.