ra2 studio - Fotolia
Zerto 8 opens AWS Storage Gateway, supports Google Cloud
With the big three public clouds AWS, Microsoft Azure and Google Cloud covered, Zerto is shaping into a more complete multi-cloud platform for continuous data protection.
Zerto 8.0 has added features to help prepare for a multi-cloud world, including support for Google Cloud.

The latest update to Zerto's IT Resilience Platform featured integration with Google VMware Engine (GVE). Based on CloudSimple technology, which Google acquired in November 2019, GVE enables customers to run native VMware workloads on Google Cloud Platform. Zerto's integration allows replication to Google Cloud via GVE, as well as replication between GVE regions. Typical use cases for this include cloud disaster recovery (DR), migrating workloads to and from Google Cloud and recovering from cyber attacks and ransomware.

Although Zerto 8.0 is available, GVE will not be generally available until June 2020.

Zerto 8.0 also bolstered the platform's existing AWS and Microsoft Azure capabilities. AWS Storage Gateway can now be used as a target for secondary and archive data, allowing for potentially higher cost savings compared to storing large volumes of data on premises. On the Azure side, Zerto added support for Unified Extensible Firmware Interface (UEFI), allowing for unified large-scale DR deployments. Zerto also added support for Microsoft Hyper-V Generation 2 VMs.

Leaning on multi-cloud is a smart move for Zerto, said Christophe Bertrand, senior analyst at Enterprise Strategy Group, as he pointed out that many organizations are multiple cloud customers. The real trick for these businesses is achieving "multi-cloud balance" -- figuring out how much usage of each cloud along with data center resources has the most optimal cost while still meeting SLAs. Any vendor that can simplify this optimization is adding value.

Aside from expanding on its capabilities with the three major public cloud vendors, Zerto 8.0 also added usability features. The update added a new recovery interface, a single pane of glass for viewing the health of retained data and capacity reporting, an alert management system and a resource planning and impact analysis capability that factors in unprotected VMs.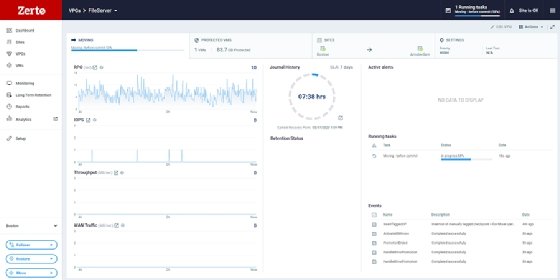 Bertrand said these are valuable features because it means an organization can manage multiple clouds without adding more complexity. This update is Zerto broadening and deepening its multi-cloud capabilities and is a clear indicator of how the platform will evolve. Bertrand said he wouldn't be surprised if future updates will involve more integration and more storage options.

"The platform is becoming more multi-cloud complete," Bertrand said.
Caroline Seymour, vice president of product marketing at Zerto, said many of the company's customers expressed interest in Google Cloud while already using another public cloud. She said AWS and Azure were undoubtedly the top two, but there was strong indication that customers wanted the flexibility of being on more than one cloud.
"Most of the customers are looking at a multi-cloud strategy," Seymour said.

Seymour added there are future plans for pointing to Azure Blob Storage as a target for secondary data.

Zerto competes with other backup vendors such as Veeam and Rubrik, and its main distinguishing feature is that its platform is built on continuous data protection (CDP) technology. Zerto has historically specialized in business continuity and disaster recovery (BC/DR), but in 7.0, it introduced Elastic Journal backup, allowing for point-in-time recovery.

Zerto, along with many of its competitors, converges backup and DR onto one platform, and Bertrand suggested the line between the two no longer matters much. There's no need to distinguish what use case constitutes backup or DR, or what is or isn't CDP, when at the end of the day, customers are just looking to go back to business as usual as quickly as possible.

"Frankly, the distinction doesn't matter. The real question is, what's your RTO and what's your RPO?" Bertrand said, referring to recovery time objective and recovery point objective.