Gajus - Fotolia
Commvault launches dedicated disaster recovery product
Commvault split off the disaster recovery capabilities from its Complete Data Protection into a separate product and added automation and recovery validation functions.
Commvault customers who only want a disaster recovery tool no longer need to buy the Complete package.
Commvault launched a standalone software product focused on business continuity and disaster recovery (BCDR) called Commvault Disaster Recovery. This software replicates data across VMware sites and automates recovery processes. It supports VMware Cloud on AWS, Microsoft Azure VMware Solution, Google Cloud VMware Engine, and Oracle Cloud VMware Solution. All BCDR tasks such as failover and failback can be managed through the Commvault Command Center dashboard, which is the same control interface found in other Commvault data protection and management applications. There are also options to customize the automated recovery and perform validation to prove that environments are recoverable.
Commvault Disaster Recovery is based on the BCDR capabilities in Commvault Complete Data Protection, which includes tools for backup and DR. According to Ranga Rajagopalan, vice president of products at Commvault, some Commvault customers used the Commvault Complete product solely for BCDR. That prompted Commvault to spin off a standalone product and sell it at a lower price. Commvault similarly decoupled backup and recovery from Complete Data Protection and began selling it separately in July.
Rajagopalan said Commvault Disaster Recovery costs around one quarter the price of Zerto, a competing DR product. Commvault Disaster Recovery also competes with Veeam and VMware Site Recovery Manager (SRM). It will be sold as a subscription based on the number of VMs for virtual environments and on terabytes of storage for physical environments. Customers can still buy Commvault Complete Data Protection if they want all the capabilities in Commvault Disaster Recovery and Commvault Backup and Recovery. Rajagopalan said the bundle would be sold at a discounted price.
Commvault Disaster Recovery is the vendor's first standalone product focused solely on the BCDR use case. Rajagopalan said the increased remote work and ransomware attacks caused by COVID-19 led to increased customer interest in BCDR.
"The trend is customers want to be as granular as possible -- of choosing and paying just for the services they want," Rajagopalan said, adding that this was why Commvault Activate, a product with various data insight tools, was split into separate products for file storage optimization, data governance and e-discovery and compliance.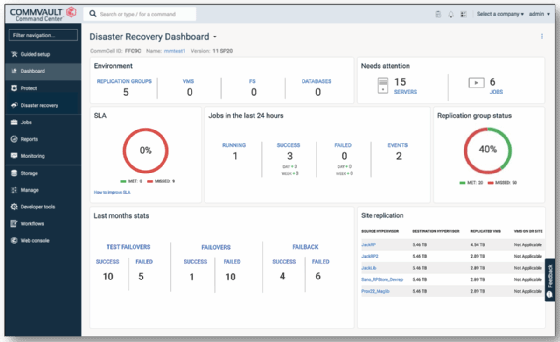 Rajagopalan said managed service providers (MSPs) and other Commvault channel partners have been asking for a standalone DR product so that they could sell DR as a service.
Christophe Bertrand, senior analyst at Enterprise Strategy Group, agreed that customers are looking for granularity, but pointed out that they also want products that are easy to consume. All vendors need to avoid the perception of nickel and diming their customers by delivering more capabilities than what customers want, but it's not always feasible to sell products for every single use case in a piecemeal fashion. Each product requires separate management and maintenance.
"People don't like paying for more than what they use, but they also like getting more than what they pay for," Bertrand said. "At the end of the day, you really have to think about what makes sense for the end customer."
Bertrand said Commvault Disaster Recovery's launch is timely because COVID-19 has made people fully dependent on IT. Work, school and entertainment all rely on functioning IT infrastructure, and as a result, the impact of downtime is more devastating. Bertrand's research found that 57% of companies want the recovery time objectives (RTOs) of their mission-critical applications to be no more than an hour. Businesses have also reclassified what applications and services are deemed critical. DR is no longer just a consideration for the most mission-critical tier, but has extended down to other tiers as well.
"We're looking at very stringent RTOs now. There is no time for downtime," Bertrand said.
Dig Deeper on Disaster recovery facilities and operations