cecs - Fotolia
XenData introduces magnetic tape backup migration service
XenData now offers a service to move magnetic tape backup data to either a newer tape format or to cloud, allowing customers with old tapes to get rid of legacy systems.
XenData has turned its tape migration capability into a service.
XenData sells archive storage systems that migrate data from older tape drives to current LTO formats or public clouds. Now it is offering that migration as a service for organizations that don't use its storage systems. XenData will either transfer data from older LTO drives to AWS, Microsoft Azure or Wasabi public clouds or on premises to LTO-7 or LTO-8 tape cartridges.
Most LTO drives can only read data going back to the two most recent LTO versions. The current version, LTO-8, is only backward compatible with LTO-7, meaning it can't read data off any tape drives manufactured before 2015.
The XenData service is a new competitor to those from Iron Mountain, Kroll Ontrack, Commvault and others. But XenData's migration feature has been around.
XenData's archive storage systems have background processes built-in for migrating old generations of tape to newer magnetic tape backup formats or to the cloud.
"We've always had the ability to very easily migrate, but our competitors don't make it that easy," XenData CEO Phil Storey said. Storey said the vendor had been approached by outside customers looking for a migration service for tape, so this new offering specifically targets customers who aren't already using the vendor's systems.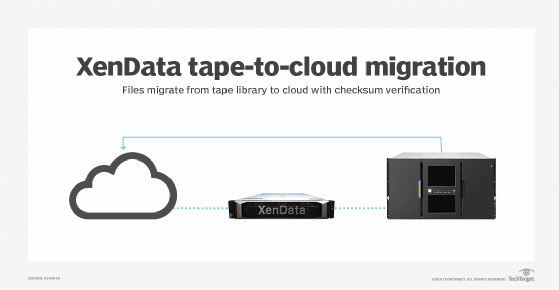 Streamlining a 'manual process'
There are many reasons why an organization would want to move off of old tape formats. Newer tape formats offer greater read and write speeds and density. In some cases, businesses want to move their backups and archives off premises and into a cloud environment. Sometimes, a merger or acquisition may prompt an organization to upgrade its archives to use the same format as the newer company's system. Whatever the reason, migrating data from magnetic tape backup is no small task.
"Any time you do that kind of conversion, there's a lot of manual process. You have to pull in a tape, convert it or restore it somehow, put it on the newer media or application, then back it up again," said Vinny Choinski, senior lab analyst at Enterprise Strategy Group (ESG). "Oftentimes, it gets so expensive that people keep the old tapes or some form of the old backup around."
Tape is not dead. As a matter of fact, something like 28% of respondents told us their tape investments have increased.

Christophe Bertrandsenior analyst, Enterprise Strategy Group
Choinski worked on legacy tape restoration earlier in his career, and said it's a tedious and time-consuming process. Much of the complication comes from compatibility problems and lack of standardization, as many older tapes have to be read using the same application that created them. "Every backup vendor has their own format," Choinski said.
Some organizations decide not to update their magnetic tape backup systems because the labor is too expensive. Choinski said any vendor that can automate or accelerate the process adds value.
Christophe Bertrand, senior analyst at ESG, said that although XenData's new offering isn't unique, it is a service many businesses seek out. According to Bertrand's research, tape still makes up 20% of enterprises' backup environments, and 67% of enterprises use tape for archive. It remains a cheap and reliable storage medium that provides an isolated, "air-gapped" option to protect from ransomware attacks.
"Tape is not dead," Bertrand said. "As a matter of fact, something like 28% of respondents told us their tape investments have increased."