pixel - Fotolia
XenData launches plug-and-play archive appliance
XenData's X1 appliance makes archiving by tape, Sony Optical Disc Archive and cloud object storage simpler and more network-friendly. It connects archives for multiple users.
What if you could share an entire archive, regardless if it's tape or a cloud object storage volume, as easily as any other folder or file volume?
XenData this month launched its X1 appliance, a small device that connects to an organization's network and allows file-based applications to move data to various archive targets. The X1 has three models: for LTO external drives, for Sony Optical Disc Archive (ODA) drives and for cloud object storage.
The X1 appliance runs on Windows 10 Pro and the archive it's connected to will appear as the X: drive, which users can share and access like any disk volume. The X1 uses XenData's FS Mirror software to synchronize files to the archive and allow users to create network drop-boxes to automatically move files into the archive.
Quantum and Spectra Logic sell similar active archive products. XenData CEO Phil Storey said the vendor set out to make X1 simpler and more network-friendly than its competitors. A connected archive would let users directly offload files to the archive target without going through administrators, streamlining the archival process.
Storey estimated that the X1 can archive about 10 terabytes per day when writing to LTO-8 tape via its Thunderbolt 3 connection. Each model of the X1 has an SSD with 1.92 terabytes of storage to enhance the device's performance and allow faster local access of data without tapping directly into the archive target.
The XenData X1 LTO and ODA models cost $5,950. The X1 for Cloud, which can write to AWS S3, Azure and Wasabi Cloud Storage, starts at $2,495. The X1 for Cloud includes a one-year subscription to XenData's Cloud File Gateway software.
Storey said he expects XenData X1 to attract many media and entertainment customers. He said professional sports teams such as the Los Angeles Lakers and Los Angeles Dodgers use XenData products, as do major media production studios such as Warner Bros. However, he also wants to tap into other use cases for archiving, such as surveillance and compliance.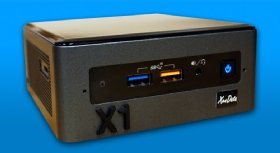 Vinny Choinski, a senior lab analyst at Enterprise Strategy Group (ESG), said most enterprises already use tape in some fashion and recognize it as cheap and reliable long-term storage. However, he saw the X1 as a potential entry-level tape appliance for smaller businesses because of its small form factor and its ease of use.
Choinski said the appliance's ability to put an archive on a network isn't unique. However, its ability to mask the archive as a file volume will make it attractive to smaller businesses. The X1's X: drive makes it easy for end users to recognize it as where archive files can be stored and accessed. He said from the end user standpoint, it's no more complicated than dragging and dropping files to Dropbox or OneDrive.
"The simplicity of an X: drive is a pretty cool feature," Choinski said. "It's like connecting a USB drive to put your pictures or videos on."
Tape continues to be relevant
Choinski said there has been a shift in the way people use tape storage. Tape "at rest" is more reliable and less prone to errors and corruption than spinning disk. However, tape can be damaged when handled by humans. Choinski said problems occurred when companies shipped their tape to off-site storage vendors.
But nowadays, the cloud typically hosts cold archiving data, Choinski said. Tape isn't moved off-site and instead used for active archiving, a tier for long-term storage that still sees some infrequent access. Choinski said prime examples of an active archive would be old clips of shows or sporting events that may need to be accessed to create a promotional video or footage in a surveillance camera required for a court case.
Christophe Bertrand, senior analyst at ESG, said the X1 could find an audience in small businesses looking to utilize tape for ransomware defense. Tape is a low-cost medium that can be taken offline, allowing an organization to create a golden, immutable copy of its data. He said the X1 is at a good price point, but it's also simple enough to use that an organization doesn't need to invest in further tape expertise. "If there's any way into tape, this would be it," Bertrand said.