Luiz - Fotolia
Catalogic opens doors to CloudCasa Kubernetes backup
CloudCasa is a SaaS platform that delivers data protection and disaster recovery for Kubernetes and Red Hat OpenShift clusters. Catalogic is testing the waters with a free beta.
Catalogic is hosting an open house with CloudCasa.
CloudCasa is a SaaS platform for protecting Kubernetes data that launched Wednesday. Customers can use CloudCasa to take container storage interface (CSI) snapshots and store them in a managed object storage environment serviced by Catalogic. It is compatible with Amazon EKS, Google Kubernetes Engine, IBM Cloud Kubernetes Service, Azure Kubernetes Service, Red Hat OpenShift and VMware Tanzu.
CloudCasa installs agents in Kubernetes clusters to connect them with the service. Customers can set policies for when CSI snapshots are taken, view all recovery points and perform restores through the CloudCasa dashboard. CloudCasa itself is built using Kubernetes and runs on AWS.
CloudCasa will go into public beta next week. Catalogic will sell it as a freemium product, with the basic free version allowing an unlimited number of CSI snapshots while capping backup retention at 30 days. Catalogic said it will add premium services such as persistent volume backups to object storage. The general availability is expected to be in the first quarter of 2021, and customers will be able to buy CloudCasa through public cloud marketplaces.
CloudCasa started as KubeDR, an open source tool Catalogic launched in January 2020. The tool is used for capturing configuration data, metadata and certificates -- all of which can rebuild a Kubernetes cluster. Catalogic COO Sathya Sankaran said KubeDR was the vendor's way of testing the Kubernetes data protection waters. He said KubeDR has over 500,000 downloads, which told him there was a need for such a product in the market.
"500,000 downloads certainly told us we're in an ecosystem with a pretty large gap," Sankaran said of Kubernetes data protection.
Events over the course of 2020 supported the growing market potential of Kubernetes and containers protection. Pure Storage bought Portworx for $370 million in September and Veeam bought Kasten for $150 million in October, which Sankaran took as signs of how hot Kubernetes backup was becoming. CloudCasa would also be competing against general data protection vendors who added Kubernetes support to their core products, such as Cohesity, Rubrik, Zerto and Druva. Sankaran said positioning CloudCasa as backup as a service for Kubernetes helps it stand out from its competitors.
Catalogic's other products include ECX copy data management software and DPX data protection software, which is commonly sold on storage hardware from IBM or Pure Storage. Catalogic CEO Ken Barth said KubeDR and CloudCasa are part of an initiative to bring the company into the "real world" by supporting modern, cloud-native workloads, removed from the world of appliances. He added that specifically with CloudCasa, he wanted an entirely separate product rather than taking some competitors' tack of "retrofitting" their core data protection product.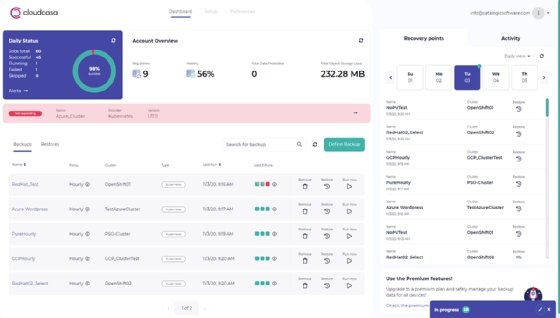 CloudCasa will be primarily aimed at developers and backup-as-a-service providers rather than backup and systems administrators. Krista Macomber, senior analyst at Evaluator Group, said this is the right move as DevOps personnel are increasingly involved in IT decisions surrounding protecting container environments. Developers and systems administrators are both part of IT, but don't always talk to each other. Macomber said CloudCasa can bridge the gap and fold container protection, which is increasingly the domain of developers, into the larger data protection framework within an organization. Ultimately, this hinges on a product that is simple enough to use for people who aren't normally responsible for backup.
"The signs we're seeing point to container protection largely continuing to reside with IT admins, but I think it's still a little early to call. Either way, DevOps, lines of business and cloud decision-makers will still carry an influential role in driving the data protection requirements and strategy," Macomber said.
Macomber added that Catalogic's SaaS approach with CloudCasa makes the product more scalable and removes the need for the customer to set up backup infrastructure. This is a break from Catalogic's norm, as the vendor has historically sold its software through storage hardware partners such as NetApp and Hewlett Packard Enterprise. While SaaS is new to Catalogic, Macomber was quick to point out there are other SaaS products for Kubernetes data protection, such as Druva.