maxkabakov - Fotolia
Trilio's Kubernetes data protection enters early access
TrilioVault for Kubernetes backs up and recovers applications within Kubernetes containers. It is one of the few third-party offerings for Kubernetes backup, but demand is growing.
A global pandemic sidelined the drive for backup for containers, but at least one vendor expects the technology will make a complete recovery.
Trilio launched early access for its TrilioVault for Kubernetes, a platform that enables simple snapshotting, backup and recovery for applications and their associated data and metadata within Kubernetes containers. In beta since November 2019, TrilioVault for Kubernetes is now offered as a 30-day free trial, a free basic edition for up to ten nodes or an enterprise edition that charges on a per-node basis. General availability is planned for the end of May, and Trilio will add features such as advanced retention policies and backup script injection.
TrilioVault for Kubernetes is agentless, packaged as an Operator and deployed as a Custom Resource Definition in Kubernetes. It enables Kubernetes to natively perform snapshotting and recovery for use cases such as backup, disaster recovery and migration of backup data between clouds and test/dev environments. The platform is compatible with any storage, whether NFS, CSI or S3, and users can point to AWS, Azure, Google Cloud, IBM Cloud or a private cloud as the backup target. It backs up applications provisioned by Labels, Helm or Operator within Kubernetes or Red Hat OpenShift. The product is OpenShift Operator certified and can be installed from OperatorHub.

There has been a growing number of organizations developing and deploying applications in the cloud, said Trilio CEO David Safaii. Trilio's first offering, TrilioVault for OpenStack, went after the cloud-native data protection market, and Safaii said there's now rising demand for a similar product for Kubernetes applications.

A report recently published by GigaOm found that Kubernetes adoption is on the rise, as enterprises are developing and testing applications in containers. This has led to more stateful applications living in containers, and a need to back them up.
Safaii said there are generally two ways companies protect Kubernetes environments, and both have flaws. Custom scripting can achieve backup and recovery, but requires a lot of maintenance and updates as cloud-native applications continually change. Legacy backup vendors deploy agents and focus on their own proprietary tools and storage. Both methods are missing what Safaii considers the two essential components of cloud data protection: an open, universal backup schema and infinite scalability.

"People are not happy with what's out there now," Safaii said.

Vendors such as Asigra, Storware, Cohesity and Storidge have products that can perform agentless backups for Kubernetes.
Data protection vendors had been getting into container backup before the COVID-19 pandemic forced them to switch focus to endpoint and remote backup. Marc Staimer, president of Dragon Slayer Consulting, said there's been movement on containers, both increased company adoption of containers and rising demand for protecting them, but nobody cares now because of COVID-19.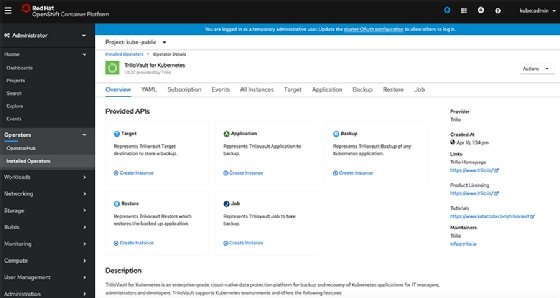 Staimer said before the pandemic, he would've seen this as Trilio going to market at the right time and addressing a market need just as momentum for it was picking up. Now, he's not so sure. While he believes containers and container backup will see greater adoption in the future, everyone is more concerned about backing up their laptops right now.

"Containers have sort of taken a backseat for now," Staimer said. "They would've been riding the beginning of the wave, but the wave's been detoured."

Christophe Bertrand, senior analyst at Enterprise Strategy Group, similarly said there was a bright future for containers. Containers are part of a trend toward agile development, and products that understand and protect container environments will be critical. Containers and Kubernetes will displace or replace some of the workloads virtualization and VMware do right now. However, Bertrand conceded that future may be delayed.

"It's definitely a hot topic that's been eclipsed right now," Bertrand said.