agsandrew - Fotolia
Trilio and Portworx showcase Kubernetes backup at KubeCon
With Kubernetes applications moving from development projects to production, Kubernetes backup vendors are making their products easier to use for the IT operations audience.
Trilio and Portworx have launched workflow and interface enhancements aimed at helping IT admins handle Kubernetes backup.
TrilioVault for Kubernetes v2.1 adds backup monitoring for Velero, a guided disaster recovery workflow called DR Plan and certifications with Rancher, IBM Cloud and VMware Tanzu. The product works with any certified Kubernetes distribution, but Trilio also formally tests TrilioVault with Kubernetes distributions to provide extra assurance for customers.
Velero is a popular open source Kubernetes backup tool that many TrilioVault customers want support for, said Trilio CEO David Safaii. Customers are "growing out of Velero" because it lacks certain capabilities enterprises require. Velero is command-line interface-driven, making it difficult to work with at scale, and as an open source product, customers rely on the community rather than a vendor for support, Safaii said.
"That's the problem with open source -- it's only as good as the people supporting the project," Safaii said.
When Kubernetes applications enter production, IT operations need a user interface for managing and monitoring backups, which is what TrilioVault for Kubernetes v2.1 provides for Velero, Safaii said. Velero does the actual Kubernetes backup "work," but TrilioVault provides much-needed visibility and monitoring into Velero's backups. IT operations need that interface as part of their backup management workflow, Safaii said.
Meanwhile, Portworx PX-Backup 2.0 introduces role-based access control, a backup activity dashboard, and an application-centric filter for setting up and managing backup policies. The software also gained native CSI integration, allowing greater support for ecosystem Kubernetes offerings such as VMware Tanzu. PX-Backup also launched on AWS Marketplace and IBM Cloud Catalog.
The product launches coincide with the start of KubeCon + CloudNativeCon Europe 2021.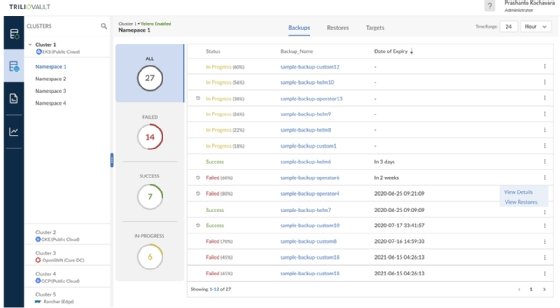 Addressing developer needs
Unlike traditional backup, Kubernetes backup is more end-user-driven rather than operated by a centralized team, said Michael Ferranti, senior director of product marketing in the cloud native business unit at Pure Storage. Although a centralized team is ultimately responsible for protecting Kubernetes data, members of that team aren't going to be as intimately familiar with what needs to be protected as the developers working directly with the apps.
The new, granular role-based access control in PX-Backup 2.0 enables self-service backups and restores for developers in a secure manner via integration with Active Directory, LDAP and other authentication systems. By defining roles such as application user, application administrator and infrastructure administrator, IT operations can control permissions and the level of access users have in PX-Backup.
That's the problem with open source -- it's only as good as the people supporting the project.

David SafaiiCEO, Trilio
PX-Backup's new Backup Activity Timeline Dashboard provides a view of all backup jobs and their status, spaced out over time. With Kubernetes entering production, customers need better ways to visually organize the thousands of objects in an environment along with their associated backup activity, Ferranti said.
"It's too big for any one person to understand now, so we need to create these levels of abstraction," Ferranti said.
With more customers recognizing the importance of Kubernetes backup, vendors have refocused their attention on making the process as visible and simple to manage as possible, said Vinny Choinski, senior validation analyst at Enterprise Strategy Group (ESG), a division of TechTarget.
As Kubernetes applications scale within an organization, IT operations get increasingly involved with managing the lifecycle of containers. Open source tools such as Velero are neither designed for the IT operations staff nor to work at production scale.
"Everyone started from that same open source square, but now you have to move that to production," Choinski said.
An ESG survey taken in the middle of 2020 found 52% of respondents were using containers. Out of those, 67% had applications in production, with the remaining 33% anticipating entering production within the next 12 months.
That data showed an acceleration of maturity that led to the massive Kubernetes adoption and re-platforming we're seeing today, said ESG senior analyst Christophe Bertrand. Kubernetes backup must transform and catch up to where the container market actually is.
"We're in the middle of that transition from the kids' table to the adults' table," Bertrand said.