ra2 studio - Fotolia
Druva backup supports AWS Snowball Edge appliances
Druva customers can perform cloud migration to Amazon Web Services more simply due to Druva Cloud Platform's integration with AWS Snowball Edge devices.
Druva backup software is integrating with AWS Snowball Edge appliances to facilitate moving large amounts of data...
Continue Reading This Article
Enjoy this article as well as all of our content, including E-Guides, news, tips and more.
into the public cloud.
The cloud backup vendor today said its customers can purchase Druva Cloud Platform software preloaded on AWS Snowball Edge appliances.
Snowball Edge helps organizations "seed" the cloud by moving large amounts of data without having to go over the network. Snowball Edge is a rack-mountable device that stores 100 TB of data and has built-in storage and compute. Organizations connect the device locally, transfer data onto it and then ship it to an AWS data center. Snowball Edge ships to customers with preconfigured Amazon Elastic Compute Cloud and Lambda functions.
Druva aims for 'plug and play'
The Druva backup integration takes advantage of Snowball Edge's native compute capabilities. Druva backup software in the device allows users to apply backup policies and back up to or restore from it. Additionally, the software performs global deduplication. Customers can then send the device back to Amazon to seed their clouds.
"A lot of the value here is around orchestration and simplifying that complete end-user experience," said Prem Ananthakrishnan, vice president of products at Druva. "It's pretty much plug and play. It has the Druva software fully embedded inside it. It's preinstalled and ready to go."
Integrating Druva backup software with AWS Snowball Edge allows the data protection vendor to shore up its SaaS portfolio by helping accelerate customers' journey to the cloud.
The Druva Cloud Platform provides data management for cloud workloads, SaaS applications, enterprise environments and endpoints on a single dashboard, all as a service. The Druva Cloud Platform includes inSync for endpoint data protection, Phoenix for data center and remote office backup, and CloudRanger to protect data stored in the cloud.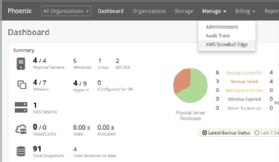 The Snowball Edge integration is available to customers purchasing the Druva Phoenix data protection service and is bundled for free in the Enterprise and Elite packages. Customers can order Snowball Edge through the Druva Cloud Platform, and Amazon will ship them a preconfigured device. The customers do not have to interact directly with AWS to purchase Druva on Snowball Edge.
"This is the first wave of innovation around Snowball Edge," Ananthakrishnan said, but he would not say what other Druva backup capabilities will be brought to the appliance. However, AWS Snowball Edge has use cases beyond cloud migration. For example, its rugged form factor allows it to provide storage and compute capabilities in harsh environments like oil rigs and manufacturing facilities.
Customer: Cloud seeding helps
This is the first wave of innovation around Snowball Edge.

Prem Ananthakrishnanvice president of products, Druva
Druva on AWS Snowball Edge is in early access to customers in North America, with an expected general availability date in early 2019.
One early access customer is Andritz, an Austrian-based industrial engineering company with branch offices across the world. Brian Bagwell, director of IT for North America at Andritz, said the firm has used Druva backup for five years. Bagwell said he uses Druva because of its low cost and ease of use, and because it is offered as a service.
Druva's SaaS aspect was especially important for Bagwell. "We have 70-plus locations in the U.S. and Canada where we're deployed. I would say 70% of those locations do not have an IT presence there," Bagwell said.
He said Andritz usually acquires one or more companies each year, and he has to conduct large cloud migrations to back up the data of the acquired company. That's where Druva on AWS Snowball Edge can help.
"The problem we ran into with Phoenix was the amount of time it takes to get that first backup," Bagwell said. "That's how we see this product helping us: getting that first backup really quick and getting the cloud seeded."