Definition
Veritas NetBackup (Symantec NetBackup)
Veritas NetBackup -- known as Symantec NetBackup from 2005 to 2016 -- is a backup and recovery software suite designed for enterprise users. When security giant Symantec acquired Veritas for $13.5 billion in 2005, the NetBackup product was renamed Symantec NetBackup. In 2016, when Symantec spun out its Veritas storage unit, NetBackup again became known as Veritas NetBackup.
NetBackup backs up and restores files, directories and raw partitions on a server. A server protected by NetBackup is known as a NetBackup client. NetBackup software installs on a server known as a media server. During backups, the client sends data across the network to a NetBackup media server, which selects the correct storage media as a backup target.
What it's used for
As an enterprise backup product, Veritas NetBackup supports major databases such as Oracle and Microsoft SQL, as well as Microsoft Windows, Unix and Linux operating systems. The product backs up data to disk, tape and public clouds, and protects popular VMware and Microsoft Hyper-V hypervisors. Key features offered by NetBackup include data deduplication, Replication and snapshot services.
After the spinout from Symantec, Veritas recast itself as a data management platform, making NetBackup the focus on the Veritas 360 Data Management Suite. A key piece of Veritas 360 is Information Map, which collects information from data managed by NetBackup, other Veritas applications and the cloud to create a global view of metrics in a management dashboard.
OpsCenter, introduced with NetBackup 7.0, is another key part of Veritas NetBackup. OpsCenter is a web-based monitoring and analysis tool that looks at a customer's backup operations. It provides reports to help track the effectiveness of backups, service usage and expenditures. Among the standard OpsCenter reports are backup, catalog, chargeback, client, cloud, media, performance, policy reports, restore and workload analyzer.
The Basic OpsCenter is free with NetBackup for single deployment configuration with monitoring and alerts. OpsCenter Analytics requires a separate license and allows for custom and chargeback reports.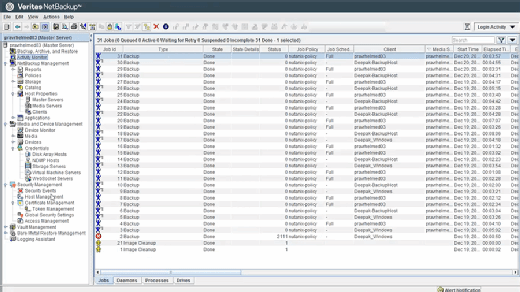 The last major Veritas NetBackup release, 8.0, came out in December 2016. Key features included support for Microsoft Windows Server 2016 and VMware vSphere 6.5. Other features are:
NetBackup Accelerator for Microsoft Hyper-V;

NetBackup Virtual Appliance for Remote Offices;
NetBackup Amazon AMI;
integrated cloud storage connectors for Microsoft Azure, IBM SoftLayer, OpenStack Swift and SwiftStack; and
enhanced NDMP backup of Dell EMC Isilon filers.
In releases 8.1 and 8.1.1, NetBackup added parallel streaming for faster backups of big data and hyper-converged clusters, scale-out backups of Nutanix clusters, database-aware backup of MySQL, instant recovery for Oracle databases from NetBackup Appliances, cloud connectors for AWS Glacier and Alibaba, and a NetBackup Rest API for tighter integration with third-party applications. Veritas NetBackup also added support for database-aware backups of PostgreSQL, SQLite and MariaDB in its 8.1.1 release in February 2018.
NetBackup Appliance
NetBackup is also available as part of an integrated backup appliance, which performs source and target deduplication, and removes the need for a separate master or media server.
Launched in September 2010 with the NetBackup 5000 Appliance, the NetBackup Appliance family includes three models and scales to 1.92 PB of maximum capacity as of early 2018. The appliance family includes the following:
The NetBackup 5240 Appliance scales from 4 TB to 300 TB of maximum capacity and fills the role of a master or media server. The NetBackup CloudCatalyst Appliance is part of the 5240 family. CloudCatalyst sends deduplicated data to a public cloud without the need for rehydrating the data. Customers can recover data directly from the CloudCatalyst Appliance to a NetBackup client server.
The NetBackup 5330 Appliance is an integrated media server that scales from 229 TB to 1.37 PB of usable capacity. The NetBackup 5340 Appliance for large enterprises scales from 120 TB to 1.92 PB of usable capacity.
The NetBackup Virtual Appliance is a software version that installs on a media or master server at a remote office, with up to 2 TB of usable capacity.
Major competitors
As both a software product and an appliance, NetBackup competes with a wide range of enterprise backup vendors. Gartner Inc. lists Veritas as a leader in its Data Center Backup and Recovery Magic Quadrant, along with Commvault, Dell EMC, IBM and Veeam Software. Gartner said NetBackup drew the highest rating for database protection of all the Magic Quadrant products and its product quality and technical support also ranked highly.
On the downside, Gartner said NetBackup's new features often require integration with other Veritas products and its field support suffered high turnover following the split from Symantec. Gartner lists NetBackup as the market share leader in enterprise backup software.
Forrester Research ranks Veritas and Commvault as the leaders in the 2017 "Forrester Wave: Data Resiliency Solutions" report. Forrester identified NetBackup as "the core of Veritas 360 Data Management." The research firm also said Information Map "helps firms create a single global view of important metrics like data center locations, storage capacity, protected data types, existing capacity, utilization levels, data ownership, data age, and cost ..." Forrester also said NetBackup can be improved by adding service-level agreement fulfillment reporting, a dashboard for application developers and an integrated eDiscovery capability.
On the appliance side, Veritas NetBackup still trails longtime disk backup leader Dell EMC Data Domain, but the NetBackup Appliance platform established Veritas as a strong second-place contender. Other disk backup hardware competitors include ExaGrid, Quantum and Unitrends, and newcomers Cohesity and Rubrik. Commvault followed Veritas into the market with its own integrated appliance, Commvault HyperScale, in 2017.
History of NetBackup
NetBackup began as a backup application written by Control Data for Chrysler Corp. in 1987. Control Data then made the software available for other customers. Control Data called the software Automated Workstation Backup System (AWBUS) and created an AWBUS business unit in 1990. The original AWBUS supported two tape drives and one robotic carousel. Control Data rebranded the software as BackupPlus in 1993.
BackupPlus became NetBackup later in 1993 when OpenVision Technologies acquired Control Data's Storage Management team that developed the product, and renamed it again.
Veritas bought OpenVision in May 1997, keeping the NetBackup name for what would become its flagship product and the backup software revenue market leader. Symantec acquired Veritas for $13 billion in 2005, and then sold Veritas to The Carlyle Group in 2015 for $7.4 billion.
NetBackup remained the enterprise market leader as part of Symantec, but the vendor's Backup Exec SMB product suffered during those years. Backup Exec 2012 was plagued by poor application support and a redesign that proved unpopular with customers under the Symantec banner.
Months after the spinout, new Veritas Technologies CEO Bill Coleman said Veritas "got lost" inside Symantec because Symantec lacked a long-term data protection strategy.
This was last updated in
April 2018
Continue Reading About Veritas NetBackup (Symantec NetBackup)