ronstik - stock.adobe.com
Commvault partners with Microsoft for joint engineering
Chart Industries, which manufactures highly engineered cryogenic equipment, is early beneficiary of joint engineering partnership between Azure and Commvault's Metallic SaaS backup.
Commvault and Microsoft are joined at the hip with a new partnership deal combining development, marketing and sales efforts for Commvault's Metallic and Microsoft Azure.
Commvault's multiyear strategic agreement with Microsoft builds on the two companies' previous relationship. Metallic's SaaS-based backup is already hosted on the Microsoft Azure cloud, and the new partnership laid down a roadmap to deepen that integration. That roadmap includes building a new SaaS offering of Metallic Cloud Storage on Azure Blob Storage, but other integrations with native Azure services are also in the works.
The partnership also focuses on making Metallic easy to discover, purchase and use. As a result of the agreement between Commvault and Microsoft, Metallic Backup & Recovery for Office 365 was introduced to the Azure Marketplace as a featured application. As a native service, the bill for Metallic will show up on a customer's Azure bill, and they will be able to use Metallic through Azure's control panel.
Data protection vendor Commvault launched Metallic SaaS backup in late 2019 as a separate brand and business unit. Manoj Nair, general manager of Metallic, said the demand for SaaS and cloud has accelerated as a result of COVID-19, and customers today have a wide range of vendors to choose from. He said as a native Azure service, Metallic can capture Microsoft customers migrating to Office 365 and shopping for backup.
"There's a need for trust today, and we're a trusted solution from two vendors," Nair said.
Nair also mentioned that this partnership feeds the global launch efforts of Metallic, as it allows Metallic to go to any market Azure is. Metallic launched only in the U.S. in 2019, and became available in Canada last month. With this agreement in place, Metallic will soon be launching in New Zealand and Australia, followed by the European market.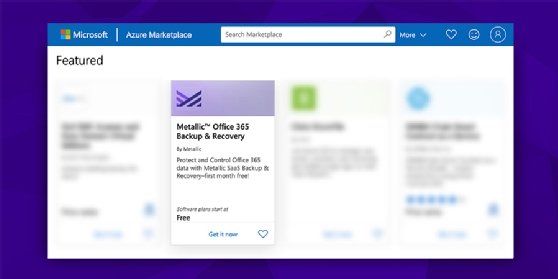 Chris Powell, chief marketing officer of Commvault, said Metallic started with Office 365 backup because there is an immediate market need. Businesses were already gravitating toward cloud and SaaS, slowly and methodically as they considered how to best optimize costs during their transition. However, Powell said COVID-19 was like a "punch in the mouth," and organizations were scrambling as they quickly found themselves in a world with more remote workers and more ransomware attacks.
"We were seeing demand even before putting Metallic in Azure Marketplace, but customers are even more cost-conscious now," Powell said. He also added that Metallic's other products, Core and Endpoint backup, will be in Azure Marketplace in the future.
Nate Hauenstein, global infrastructure manager at Chart Industries, said the Metallic and Azure partnership comes at a good time. Chart manufactures cryogenic equipment such as medical coolers used in research labs and large shipping containers found on trucks and barges. Chart also has a hand in the cannabis market, flash-freezing extracted cannabis oil, and recently experienced an uptick in orders for cryogenic freezers for medical research labs.
Six years ago, Hauenstein united Chart's data protection onto Commvault. As a result of multiple mergers and acquisitions, Chart has more than 30 sites across the globe, and Hauenstein said uniting them all on a single platform was no small task. However, he said the cost savings from heavily virtualizing IT, reducing the physical footprints of each site and bringing every site to a single vendor proved to be a winning argument with his superiors.
But Hauenstein's task of reducing Chart's hardware footprint went beyond data protection, and four years ago, he made the company cloud-first by bringing most of its workloads to Azure. He said Chart doesn't have a single large data center and described its IT as decentralized and full of continually moving parts.
Hauenstein took part in Metallic's beta and decided that, once his Commvault license was up for renewal in early 2020, he would onboard all of his on-premises backup to Metallic. However, Chart was in the middle of heavy merger and acquisition activity, and Hauenstein felt Chart's Azure cloud architecture wasn't mature enough. He said he wanted tight control over where his data was stored in Azure. As a result, he had to pause the Metallic launch.
Hauenstein said the partnership between Commvault and Microsoft will help him a great deal because it lines up perfectly with what he's working on. He is already in the process of refining his Azure architecture, so wrapping Metallic into that discussion will let him complete both IT projects.
"This partnership is in direct alignment with my objectives. It will make that transition easier," Hauenstein said.
Technology partnerships between backup vendors and cloud providers aren't new. Azure Marketplace includes a host of backup products, including Acronis and Veeam. Actifio GO for Google Cloud Platform (GCP) has similar tight integration between the two companies, with fees for Actifio showing up on a customer's GCP bill.
Christophe Bertrand, senior analyst at Enterprise Strategy Group, said the difference in the partnership between Commvault and Microsoft is its level of integration. It taps into both companies' channel ecosystems and incentivizes salespeople on both sides, aligning go-to-market between the two. Bertrand sees the deal as more than "just a logo on a website," which is how he describes most technology partnerships.
Bertrand expects the two companies to build out beyond backup and recovery, with a roadmap leading toward intelligent data management. Bertrand added that the timing of this partnership is also fortuitous, given the increased demand for SaaS and cloud.
"There's a lot of cloud adoption accelerated by the current situation," Bertrand said. "This has all the ingredients for success."
Dig Deeper on Data backup and recovery software