Torbz - Fotolia
Best practices for intelligent data management use
The intelligent data management platform helps organizations get more out of their data. Explore why this trend has taken off and three best practices for use.
Intelligent data management products have surged in popularity over the last couple of years. One of the primary factors driving the adoption of this technology is the exponential data growth occurring in the enterprise.
The global distribution of data is another factor in the popularity of intelligent data management. Data is no longer confined to the data center. It lives in public, private and hybrid clouds. This trend has historically meant that organizations were forced to adopt a collection of storage and data management tools -- none of which could manage the entirety of the organization's resources.
Intelligent data management makes it possible to break down data silos, bringing everything together under a single tool and, thereby, making data easier to manage.
3 guidelines for intelligent data management
Best practices vary, as uses for the technology are incredibly diverse. Perhaps the most important best practice, however, is to avoid viewing intelligent data management as a tool for addressing one specific business problem. An organization might adopt intelligent data management as a means of bringing all of an organization's data together for single pane-of-glass management. However, the countless secondary uses can be just as beneficial to an organization, including backup and disaster recovery, data analytics, and regulatory compliance.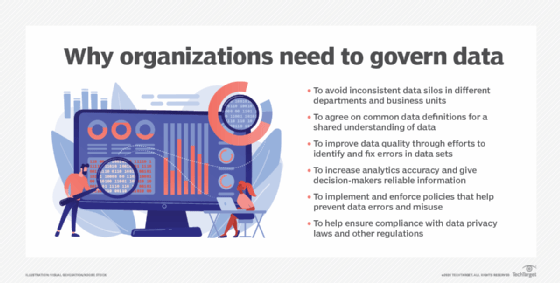 Look for ways that you can use intelligent data management to reduce your storage costs. Just having a simpler management interface helps bring down the spending associated with storage management, but there might also be other ways to cut down on costs. For example, an organization could use global deduplication to significantly reduce the overall storage footprint. Similarly, an intelligent data management product might help identify areas in which data can be migrated to lower-cost or better-performing storage.
Finally, intelligent data management makes it easier to comply with regulatory requirements. A good product gives you the ability to apply policies in a consistent manner, regardless of where the data resides. It can also produce compliance-related reports.
Dig Deeper on Data backup and recovery software
Without a Windows 11 registry backup, IT risks breaking the OS by making edits. Find out how easy it is to back up the Windows 11 registry. Continue Reading
While Google Cloud Storage has several limitations, these three are among the most prevalent -- but users have straightforward ways to get around ... Continue Reading
Unpredictable user behavior and boot storms can cause VDI resource usage fluctuations throughout the day. IT can take steps to identify and curtail ... Continue Reading