Sergey Nivens - Fotolia
Rubrik adds data governance tool in Andes 5.1 update
With capabilities providing data governance, automated disaster recovery failover and failback and continuous data protection, Rubrik Andes 5.1 seeks to consolidate tools and silos.
Rubrik just pushed out a hefty update with Andes 5.1, which introduced a couple of new applications, including a new data governance tool.
Rubrik Polaris Sonar finds and flags personally identifiable information (PII), credit card information and other sensitive data. The application uses machine learning algorithms to look for sensitive data and classify it during the backup process, avoiding any impact on the production environment.
When an organization makes copies of its data, whether for backup, testing and development or training, the copies are still subject to data governance policies. Businesses must still mask PII and otherwise comply with regulations such as GDPR, CCPA and HIPAA.
Shay Mowlem, senior vice president of product and strategy at Rubrik, said without any AI- or machine learning-powered tools, discovering sensitive data is difficult and time-consuming.
"The majority of our customers use very manual techniques. It's expensive and labor-intensive, and its effectiveness is questionable," Mowlem said.
Rubrik has no way to natively obfuscate PII or otherwise directly address the compliance issues Sonar finds. However, Christophe Bertrand, senior analyst at Enterprise Strategy Group, said that looking at the data and identifying what needs to be remediated is a good first step. After understanding what sort of data an organization is dealing with, it can build capabilities around it.
"This is the first step in a series of either partnerships or further capabilities," Bertrand said. "The end user will want to know how to get to the next stage."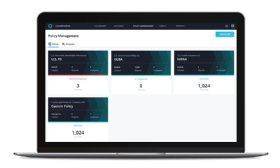 Bertrand predicted Rubrik will engage in a combination of building capabilities into its platform and reinforcing its channel ecosystem with partners who can address compliance and data governance issues.
Another new application is Polaris AppFlows, which converts backup snapshots into Amazon EC2 (Elastic Compute Cloud) instances. The primary uses of this center around disaster recovery (DR): orchestrating failover and application migration during DR scenarios, testing a DR plan to ensure its viability and failing back to an on-premises environment after the disaster. Rubrik's SaaS-based backup protects the EC2 instance so it's not vulnerable while it's being used as a primary.
Rubrik Andes 5.1 also added native continuous data protection (CDP) for VMware. Rubrik had previously only provided journal-based CDP for databases -- other workloads used traditional snapshot-based protection. This update brings that journaling technology to backing up VMware, providing a stream of recovery points to minimize data loss.
These two features will help Rubrik compete with other enterprise backup vendors such as Veritas, Veeam and Cohesity who offer a suite of data management capabilities beyond just backup. Bertrand said DR orchestration and CDP specifically address the enterprise use case of lowering recovery point objectives (RPOs) and recovery time objectives (RTOs).
You can't reuse data unless you're compliant. And the market has a tremendous appetite for this.

Christophe BertrandSenior analyst, Enterprise Strategy Group
"They're really getting into the enterprise hair of other vendors," Bertrand said.
Bertrand said enterprise customers are actively looking for ways to reuse copies of data for things like analytics and testing and development. Data governance and compliance are inextricably connected to data reuse -- an organization should only move forward with using the data once they know it's "clean" from a compliance standpoint.
"You can't reuse data unless you're compliant," Bertrand said. "And the market has a tremendous appetite for this."
Consolidating use cases onto one platform and one interface is something multiple competitors are doing, and Bertrand said it's a good move on Rubrik's part.
As a part of the Andes 5.1 update, Rubrik Datos IO, the vendor's NoSQL data protection and management offering, has been officially rebranded as Rubrik Mosaic and made available on Microsoft Azure Marketplace. Rubrik acquired Datos IO in January 2018 and released Rubrik Datos IO 3.0 seven months later. Aside from being available directly from Azure Marketplace, Rubrik Mosaic 3.1 supports DataStax Search indexes, backup and recovery of MongoDB 4.0 and integration with Ansible, DataDog and Splunk.