Petya Petrova - Fotolia
Cohesity backup software targets ROBOs on Cisco, HPE hardware
The new Cohesity appliance is designed to provide backup at a branch location without IT expertise. The software runs on Cisco or HPE servers, and the central office manages backups.
Cohesity launched a backup appliance designed to put businesses' branch locations all on the same page.

Today, Cohesity launched a hardware-software bundle in partnership with hardware vendors Cisco and Hewlett Packard Enterprise (HPE). This repackaging consists of Cisco or HPE servers loaded with the same Cohesity DataPlatform software used a central data center. Once connected, they back up data locally, but are managed remotely from an organization's central office.

Vendors such as Veeam, Druva and Rubrik have backup products for remote office/branch office (ROBO) locations. However, instead of software that must be installed and configured on site or through a remote connection by IT personnel, Cohesity backup software ships on turnkey appliances consisting of Cisco UCS C220 M5 or HPE ProLiant DL360 Gen10 servers. The appliances run the same Cohesity DataPlatform as the central office rather than a stripped-down version tailored for ROBOs.
Cohesity partners with hardware manufacturers to release appliances pre-loaded with its data management and data protection software. Customers who will buy the Cohesity backup for ROBO product go through Cisco or HPE rather than Cohesity directly. Other software-only backup vendors, such as Asigra, also do this.

Cohesity backup for ROBOs is aimed at enterprises consisting of hundreds of branch offices, such as banks, retailers and restaurants. Raj Dutt, senior director of product marketing at Cohesity, said this appliance targets the pain point of deploying and managing ROBO backup data. Instead of sending an IT team to each branch office site, Dutt claimed the appliances are simple enough that an office manager can handle setup.

"From after setup, it's completely remote," Dutt said.

Dutt stressed that Cohesity ROBO is not designed for small and medium-sized business (SMB) deployments, even though the small form factor and simplicity may give that impression. The remote management component between all the Cohesity DataPlatform deployments is the vendor's cloud-based Helios SaaS application. The appliances should be treated as line extensions of the central office.

Steven Hill, senior analyst at 451 Research, said this Cohesity ROBO appliance can make life easier -- but only for Cisco and HPE customers. Hill had previous experience working for a business doing exactly what Dutt described for ROBO locations. He described a team of eight to 10 IT personnel located at key geographical locations who would be sent out to different sites in order to deploy new products.

Although greater available network bandwidth has allowed remote deployment, Hill said deploying to ROBOs remains a complex task. This is where he said Cohesity adds value: someone in central IT can simply order a server shipped to a ROBO location, and it will be useable as soon as someone plugs it in at the site.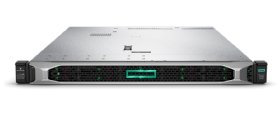 "It just makes life easier. It's already integrated with your existing environment and you'll have all the tools you need at the edge," Hill said.

Hill said Cohesity isn't doing anything new here, as other vendors offer plug-and-play appliances designed specifically for ROBOs. StorageCraft's OneXafe Solo, although aimed primarily at giving managed service providers (MSPs) greater visibility and management of their clients' data, can serve the ROBO use case. Hill said the interesting takeaway is Cohesity and other backup vendors recognizing this need for simple ROBO deployment and forming partnerships with hardware vendors to address it.

Lowering IT burden for backup has been a growing trend, Hill said. Enterprise is about scale, and automation and simplification make products work for organizations with thousands of endpoints and hundreds of offices. The fewer IT resources an organization devotes to backup, the more it can invest in development, testing and business analytics -- areas that are viewed as revenue generation.