Cybrain - Fotolia
StorageCraft MSP offering, OneXafe Solo 300, targets small-biz backup
A new StorageCraft small-business backup and disaster recovery appliance targets managed service providers, which the company said have a chance to standardize their offerings.
StorageCraft, a data protection vendor based in Draper, Utah, is enlisting managed service providers to sell the company's first backup and disaster recovery storage appliance geared to the small-business market.
For StorageCraft MSP partners, the launch of OneXafe Solo 300 creates a bigger target market. The product, which covers single-tenant and Multi-tenant environments, moves StorageCraft's OneXafe appliance line down-market from the midsize enterprises served by the OneXafe 4412, 4417 and 5410 models.
Shridar Subramanian, vice president of marketing and product management at StorageCraft, said the appliance combines small-business backup and disaster recovery into a "very simple and easy-to-deploy package for the MSP market space."
He said many small-business-oriented MSPs provide a software-based offering or build a backup and disaster recovery appliance to be deployed at the customer's site. The OneXafe Solo 300, he said, represents a "plug-and-play" alternative that supports up to 20 servers per appliance.
Streaming to the cloud
The product's cloud component streams data to StorageCraft Cloud Services, the company's disaster recovery as a service (DRaaS) offering. Because customers can go directly to the cloud, there's "no inherent limitation in terms of the number of machines [the appliance and cloud combination] can protect," Subramanian said.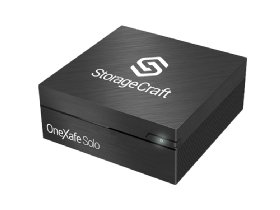 StorageCraft's DRaaS can virtualize a single machine if it fails and, on the other extreme, set up a detailed orchestration so that all the machines in a data center can be restored in the cloud, he said. The latter feature provides protection against natural disasters, as well as ransomware attacks that can take down an entire data center, he said.
The product, scheduled for general availability around October 2019, will be offered on a subscription basis, with pricing at less than $100 per month, per protected machine.
"It's a monthly subscription model that plays to the requirements and strengths of the MSPs market," Subramanian said. MSPs are conducting an increasing share of their business through the recurring revenue model.
OneXafe Solo 300: A standardization play
It's a monthly subscription model that plays to the requirements and strengths of the MSPs market.

Shridar SubramanianVice president of marketing and product management at StorageCraft
OneXafe Solo 300 gives StorageCraft MSP partners the ability to standardize their small-business backup and disaster recovery offerings, according to Jeannine Edwards, senior director of channel marketing at StorageCraft. ShadowXafe data protection software is incorporated into the appliance. The software combines host-based and agent-based data protection, as well as physical and virtual system backup and disaster recovery.
The software "allows partners to have a one-stop shop for whatever a customer's environment needs for data protection," she said.
Edwards said many MSPs maintain more than one business continuity offering to meet customers' requirements. Standardization on a single platform promotes operational maturity, greater efficiency and a more profitable service desk, she added.
StorageCraft's OneSystem console also provides a standardization play, Edwards said, noting that the single-pane-of-glass management tool spans all of the products in the StorageCraft portfolio.
StorageCraft MSP partners can also take advantage of integrations between the small-business appliance and MSP business management platforms from ConnectWise and Datto Inc., which offers the Autotask product set.
Subramanian said StorageCraft plans to continue its Autotask affiliation, even though Datto offers its own backup products. He said StorageCraft aims to play well with ecosystem vendors, noting many MSPs use Autotask. He also cited technology ties between the companies: Datto uses StorageCraft's snapshot driver behind its backup offering.