Datto: Channel firms eye monthly recurring revenue expansion
Managed service providers are aspiring to greater levels of MRR and deeper vertical market expertise, according to new Datto research; other news from the week.
MSPs are continuing their push into monthly recurring revenue and vertical market specializations.
Those are two takeaways from Datto Inc.'s third annual State of the MSP Report, which is based on a poll of more than 1,600 managed service providers worldwide. More than 80% of the MSPs surveyed said they derive a portion of their revenue from MRR, and 44% of respondents reported generating more than half of their revenue from recurring services.
"The channel wants to move as much of their revenue to MRR as possible, and we are seeing a trend in the right direction," said Mike DePalma, channel development manager at Datto, based in Norwalk, Conn. "The trend is certainly going upward toward the MRR model."
He said the move to monthly recurring revenue is in line with customers' preference for predictable fees versus the "peaks and valleys" of the break/fix model.
Focus on vertical markets is another pattern among the MSPs Datto surveyed. DePalma said partners used to shy away from specialization, preferring to take on any client in order to grow the business. But 56% of the MSPs responding to the Datto poll reported specializing in services geared toward a particular industry. Healthcare is the most popular market among MSPs, while finance placed second and legal and nonprofits tied for third, according to the survey.
The channel wants to move as much of their revenue to MRR as possible, and we are seeing a trend in the right direction.

Mike DePalmaChannel development manager, Datto
In other survey results, Datto found an uptick in security concerns. Thirty percent of MSPs identified ransomware and cybersecurity as a top pain point, up from 14% in the 2017 survey. MSPs have been working to improve their customers' ransomware protection, while also grappling with their own security vulnerabilities.
The MSPs' greatest challenge, however, continues to be sales and marketing, with 44% of respondents citing it as an issue. That said, the problem appears to be diminishing as a concern. Fifty-three percent of the MSPs surveyed last year cited sales and marketing as their top pain point.
"It's definitely a trend in the right direction," DePalma said.
Hiring offers another encouraging sign. Datto said 71% of its MSP respondents plan to hire one to five employees in the next 12 months.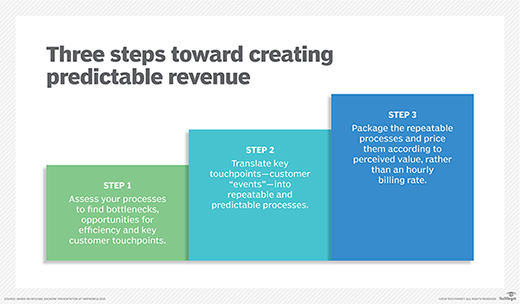 Nakivo spins up MSP program
Nakivo, a virtual machine (VM) backup and site recovery software vendor, has launched a monthly subscription program for MSPs.
Under the program, MSPs can deliver backup, replication and disaster recovery services using Nakivo Backup & Replication software, the company said. The program's subscription licensing is per machine, which can include VMware, Hyper-V and Nutanix AHV VMs. The cost to MSPs is based on usage per VM, starting at $1.60 monthly per VM, Nakivo said.
"With us, [partners will] get simplicity and low cost, which should differentiate us from the competition," said Sergei Serdyuk, vice president of product management at Nakivo, based in Sparks, Nev.
Serdyuk said Nakivo currently has about 3,400 partners worldwide and aims to be a 100% channel-based company. He noted that about 65% of the company's revenue comes from EMEA, 30% from Americas and 5% from Asia. While Nakivo is a U.S. company, he said the company has found the most traction in EMEA but wants to expand in the Americas region.
"We are definitely interested in recruiting more service providers and solution providers" in the Americas, he said.
Serdyuk noted that MSPs can install Nakivo's software in Multi-tenancy mode and give customers self-service options for backup, restores and other capabilities. In addition to protecting VMs, Nakivo plans to expand to physical backups in the coming months, he said.
Other news
Citrix's newly unveiled desktop-as-a-service offering, Citrix Managed Desktops, has a hook for service providers and other partners. "Citrix is working to include a new, built-in multi-tenant management UI that allows channel partners to build services directly on top of Citrix Managed Desktops, enabling customized services for vertical markets," a Citrix blog noted. The Citrix technology, launched at Citrix Synergy, is expected to focus on managing non-Windows-based applications or legacy systems, supplementing Windows Virtual Desktop.
Managed services automation company BitTitan has boosted its presence in China. Under a new alliance, Microsoft service provider Shanghai Blue Cloud Technologies, also known as 21Vianet Blue Cloud, will offer BitTitan's MigrationWiz User Migration Bundle in the Chinese market, BitTitan said. MigrationWiz User Bundle is a tool set for migrating organizations to cloud environments.
Mission, an MSP and consulting firm based in Los Angeles, launched Mission Enterprise Support for AWS environments. The offering is built on the AWS Solution Provider Program, which lets qualified providers resell AWS support and other services.
Cloud distributor Pax8 revealed new North American distributor agreements with Veeam Software and Wasabi. Pax8 said it will provide Veeam offerings, such as Veam Availability Suite, Backup & Replication and Cloud Connect, in addition to Wasabi's cloud storage, to MSPs.
Coronet, a security-as-a-service provider, rolled out an MSP program, which expands upon the company's existing channel partner program. Coronet generates more than 90% of its sales through partners, which include Lenovo and Dropbox.
Mist Systems, a Juniper Networks company based in Cupertino, Calif., has inked a distribution pact with Ingram Micro Inc. The distributor will offer a range of services in the U.S. to support Mist products, including marketing programs, logistics, technical support, financial services, and product aggregation and distribution. The partnership will facilitate the adoption of AI-based wireless networks, according to Mist.
US Signal, a data center services provider based in Grand Rapids, Mich., has expanded its alliance with Veeam Software. Under the arrangement, Veeam Availability Suite 9.5 customers can now back up and replicate to a US Signal data center, according to US Signal. Customers can do so with no additional licensing fee.
Teridion, an internet routing platform provider, is targeting partners with a new branch networking offering. The offering integrates Cisco Meraki's MX appliances with Teridion's public cloud-based WAN service, the company said. "This announcement accelerates the growth of the Teridion Channel Program. Teridion is excited to be working even more closely with Cisco Meraki sales and channel partners, as we continue to expand and build out our channel," noted Kevin Moynahan, director of channel sales at Teridion, in a statement.
ProcessUnity, a risk and compliance management vendor, unwrapped a new partner program. The program aims to help VARs, integrators and MSPs sell ProcessUnity's cloud-based applications. Program benefits include early product access, co-marketing opportunities, and sales and service support, the company said.
Sparkhound, a digital solutions provider based in Houston, said it has obtained Gold Partner status with Kentico, a content management system (CMS) vendor. Kentico's gold-level partners must complete three or more websites using the company's CMS offering.
Agosto Inc., a cloud services and development company based in Minneapolis, has obtained the Application Development specialization with the Google Cloud Partner Program.
Trustwave, a managed security service provider, is providing its cybersecurity offerings through a new partnership with Sure, a telecommunications company covering the Channel Islands and the Isle of Man, both Crown dependencies.
Wallarm, an application and API security company, has launched its Application Security Platform in EMEA and appointed Vlad Nisic as regional VP of channel sales for that region.
KPMG International, a consulting, audit and tax firm, recently hosted its second annual Ideation Challenge. The event, held in Amsterdam, brought together nine teams drawn from 65 universities worldwide. The winning team from the University of Toronto proposed using AI and intelligent automation to reduce the amount of material accumulating in landfills by automating waste segregation at the source.
Market Share is a news roundup published every Friday.