RMM software vendor Pulseway gains traction in MSP market
MSPs can expect Pulseway to add machine learning-based features and third-party integrations to its RMM software in 2019; other news from the week.
RMM software vendor Pulseway has revealed it will continue investing in its MSP market presence this year.
Founded in Dublin in 2011, Pulseway initially targeted IT departments with its remote monitoring and management (RMM) tool before branching out to managed services providers (MSPs) more recently. The company launched its MSP version of the product in 2016. In 2018, the company streamlined its RMM software and rolled out backup and OS patch management engine offerings. Pulseway said it brought on more than 1,200 customers last year, in addition to about 25,000 users of the product's free version.
Marius Mihalec, CEO and founder of Pulseway, said MSPs represented a growing percentage of Pulseway RMM users. He added that feedback from MSPs will shape the tool's roadmap in the year ahead.
For MSPs, Mihalec said the appeal of Pulseway over its many RMM software competitors included its "ease of use" and mobile app.
In 2019, he said, MSP users can expect to see new third-party integrations to the software. This includes integrations with professional services automation (PSA) vendors like Autotask and ConnectWise, he noted.
Additionally, Pulseway is investing in features that use machine learning. One of those features is alerts based on trends analysis. "I think you will see more and more ... RMM providers focusing on [machine learning] and [introducing] more efficiency and automation into the IT environment," he said.
Mihalec said Pulseway will also maintain a focus on helping MSPs develop sales and marketing strategies -- a frequently recognized weak spot among MSP firms. The company currently gives MSPs access to sales and marketing resources such as guides, templates, collateral and digital marketing tools. "What I see with MSPs ... is the fact that they do have a really solid technical background, but their marketing and sales skills are not where they should be to generate sustainable ... and fast-growing business," he said.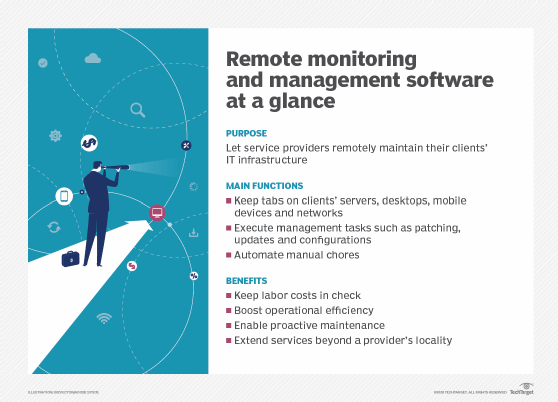 Sectigo aims to build digital certificate channel
Sectigo, a commercial certificate authority and web security vendor, is taking a channel-first approach to digital certificate sales in its newly relaunched partner program.
The Roseland, N.J., company, formerly Comodo CA, rebranded itself as Sectigo in 2018. The updated Sectigo Channel Partner Program is structured in four tiers, which provide incremental benefits, support and discounts. Program features include deal registration, marketing development funds and sales and marketing tools.
The program aims to help partners expand into new cybersecurity market segments -- the digital certificate space, in particular. Heather Bell, vice president of enterprise partners at Sectigo, said many channel partners haven't been able to build a lucrative business around digital certificates.
"This is something partners haven't really had a lot of access to in some markets or some verticals," she said. "This is a new revenue stream, or a broader revenue stream, for a lot of those partners."
Bell said Sectigo has worked with partners in the past, but is pursuing a "channel-first mentality" with its updated enterprise channel initiative. She said the company plans to work with MSPs, consultants and resellers among other types of partners.
Those partners are authorized to resell Sectigo's product portfolio, which includes Certificate Manager, Private CA, IoT Manager, Code Signing Certificates, TLS/SSL Certificates, Secure Email S/MIME Certificates, CodeGuard backup and recovery, and HackerGuardian PCI compliance and website vulnerability scanning.
Bell said the channel program seeks to focus on "strategic partners" with which Sectigo can form strong business relationships. The program aims to understand the partner's business, make sure there's a good fit on both sides and execute a cooperatively developed business plan with the partner, she added.
The components of the Sectigo channel program are based on feedback from partners, Bell said.
"It's designed to support the basic things they need," she said. "They need to be trained and protected in the deals and need marketing support to get the word out."
Sectigo will launch a new partner portal in the first quarter of 2019.
Citrix gets cloud boost from channel
Since retooling its partner program in 2018, Citrix has transacted business with more than 900 new partners, which have helped grow the company's cloud business by more than 300%. That's the word from Craig Stilwell, vice president of worldwide partner strategy and sales at Citrix.
Writing in a Citrix blog post, Stilwell said partners "can enable customers to manage complexity, and embrace hybrid multi-clouds, while supporting legacy technologies."
Citrix concluded its annual partner summit Jan. 9 in Orlando, Fla.
Partners get OpsRamp-ServiceNow integration
OpsRamp, an IT operations platform vendor in San Jose, Calif., said partners specializing in ITSM now have a bridge to operations management through OpsRamp's newly certified integration with ServiceNow.
Mike Munoz, chief revenue officer at OpsRamp, said the integration lets partners augment their ServiceNow practices and provide additional value to customers "without breaking the bank." The OpsRamp-ServiceNow ITSM integration provides bidirectional synchronization and the ability to speed up incident detection and remediation, according to OpsRamp.
Other news
IT management software vendor Continuum bolstered its business intelligence (BI) resources with the purchase of BrightGauge, a BI tool provider targeting IT services firms. The BrightGauge acquisition will help enhance reporting and analytical capabilities within the Continuum platform, Continuum said.
Datto Inc. has appointed Tim Weller as the company's CEO, replacing Austin McChord, who continues as a board member. The Norwalk, Conn., company sells its data protection, business management and networking products exclusively through MSPs.
Accenture has agreed to acquire Orbium, a management consulting and technology services provider in Switzerland. Orbium focuses on the financial services industry.
Services firm DXC Technology, headquartered in Herndon, Va., said it will acquire Switzerland-based digital strategy consultant Luxoft. The Luxoft acquisition would add new digital offerings, vertical market expansion and engineering talent, DXC said. The company said the acquisition is expected to close by June 2019.
RapidFire Tools, a subsidiary of IT management software vendor Kaseya, released a web-based tool for Health Insurance Portability and Accountability Act (HIPAA) compliance. RapidFire said Audit Guru for HIPAA aims to automate MSPs' HIPAA compliance process, including ongoing assessments, risk analyses and documentation generation. The tool can be used to support compliance with European Union's General Data Protection Regulation, the vendor added.
Unified communications vendor Avaya is revamping its Edge Channel Partner Program to capitalize on cloud-based opportunities. Avaya said the updated program will feature a streamlined incentives structure, enhanced enablement and simpler program requirements. More details about the program will be unveiled at the Avaya Engage conference, Jan. 20 to 23 in Austin, Texas, the vendor said.
Distributor Tech Data said it partnered with StratoZen to provide Fortinet-based managed security services to U.S. partners. Security services include network device management and security information and event management, according to Tech Data.
Distributor Telecom Brokerage Inc. has formalized its alliances with Mobile Solutions, a provider of managed mobility services. Based in Chicago, TBI's network of channel partners include IT consultants, MSPs and value-added resellers.
Cytracom, a cloud-based Voice over IP vendor, named Dave Goldie as its vice president of channel. Goldie joins Cytracom from IT Glue, where he served as vice president of channel.
Cloud networking provider GTT Communications named Robert Westervelt as its senior vice president for channel sales for the Americas division. Westervelt was previously GTT's vice president for channel sales for the East division.
Market Share is a news roundup published every Friday.