buchachon - Fotolia
Citrix Ultimate Rewards: Program aims to simplify channel incentives
Citrix Summit 2018: The virtualization and cloud vendor unveiled a new program structure for Citrix partner firms that will pull together five channel incentive programs under one umbrella.
Citrix plans to collapse five partner incentive programs into a single structure that the company said will simplify the way channel companies apply for incentives.
The unified incentive program, dubbed Citrix Ultimate Rewards, was announced at this week's Citrix Summit 2018 and will go live Feb. 10. Paul Fecteau, managing director of partner programs and operations at Citrix, said the move marks a "simplification of our partner program structure and the process involved."
Prior to the restructuring, Citrix operated five program elements: Citrix Advisor Rewards (CAR), CAR Plus, CAR Bonus, Opportunity Registration and Net New Partner-Sourced (NNPS). Fecteau said the components, which have rolled out over the course of 18 years, have all served a purpose in Citrix's partnering initiative, but added a level of complexity. Partners have to apply separately to each of the five programs, for example.
With the new system, partners can register a deal without having to apply for the individual incentives. Instead, partners provide information on the customers, and the systems' built-in intelligence determines the discount elements for which a Citrix partner qualifies, according to Fecteau.
"They can register deals ... without having to understand the intricacies," he said.
Citrix joins Cisco and Microsoft as vendors that have moved to streamline their channel programs in recent months. At its 2017 Partner Summit, Cisco discussed the retooling of channel programs targeting its resale partners. The networking vendor said it is taking steps to simplify its specialization portfolio and deal registration efforts. And at its annual channel meetup in July 2017, Microsoft unveiled measures the company said will simplify partner engagement and go-to-market approaches.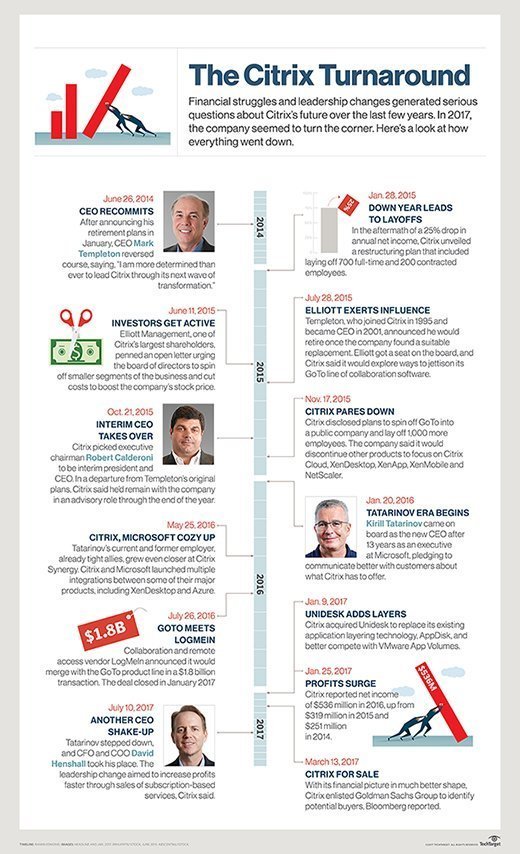 Discount and rebate programs
They can register deals ... without having to understand the intricacies.

Paul Fecteaumanaging director of partner programs and operations at Citrix
As part of the Citrix Ultimate Rewards revamp revealed at Citrix Summit 2018, partner incentives have been recast as two discount programs, Spark and Drive, and one rebate program, called Accelerate. Accelerate provides a quarterly aggregated rebate. Spark, which Fecteau said is akin to NNPS, rewards partners for identifying and registering new selling opportunities that Citrix didn't already know about, Fecteau explained.
Drive, meanwhile, is similar to CAR in that it offers rewards to partners that pursue value-selling activities that result in a sale. Value-selling activities include delivering a solution design, scheduling a customer demo or proof of concept, and providing an implementation schedule.
Beyond program simplification, the Citrix partner program changes also aim to accelerate partners' profit in the cloud, while still rewarding them for on-premises business, Fecteau said. In 2018, partners will earn rebates based on selling Citrix Cloud services and product sales growth.
Fecteau said the cloud-related rebate is the first time Citrix has established a rebate specifically for cloud sales. But any combination of cloud sales expansion and on-premises product revenue growth will earn partners a rebate, he added.
Also at Citrix Summit 2018
Partners attending at Citrix Summit 2018 will hear keynoters, including Citrix President and CEO David Henshall, talk about the company's overall strategy.
Conference sessions are organized around a handful of tracks, including sales, technical, marketing and Citrix service provider.
The Citrix partner conference, held in Anaheim, Calif., concludes Jan. 9.
Dig Deeper on Channel partner programs