Definition
market development funds (MDF)
Market development funds (MDF) are a resource that a vendor grants to its indirect sales channel partners to help the channel with sales and marketing programs. The fund may be monetary or knowledge-based.
Marketers within channel partner companies use market development funds to support a range of initiatives. Planning, close coordination with vendor partners and follow-through on MDF-backed programs are considered important success factors. MDF is one source of vendor funding, with another being co-op funding.
Funding structures
A vendor may allocate financial incentives to a channel partner that has achieved a particular membership status within the channel partner program by meeting the vendor's requirements in terms of revenue and/or certifications. The same vendor may also award financial incentives to a company that has been identified as a potential partner, capable of helping the vendor build business.
Knowledge-based resources may include leads and mailing lists or access to the vendor's own marketing resources. For example, a vendor might provide a channel partner with prepackaged HTML marketing materials, bulk mailers for a direct mail campaign or tools for creating a webinar.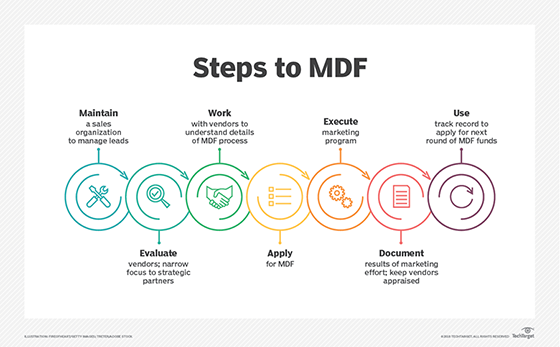 Market development funds: Examples of use
Channel partner companies may use market development funds to increase local awareness of their brands.
Specifically, partners may use MDF to purchase radio spots, fund webinars, purchase booth space at a trade show or launch a marketing event. As for the latter, lunch-and-learn events are a popular form of a client-facing educational program and one that partners may fund through MDF.
In addition, channel partners may use market development funds to defray the cost of sales lead list rentals or to support telemarketing campaigns.
Best practices
The task of obtaining MDF requires time and effort, so a channel partner should focus on a small number of important vendors -- those that make a significant revenue contribution. The partner must learn the particular requirements and processes of the vendors' MDF programs.
Planning is also important when applying for a vendor's market development funds. In the case of a marketing event, for example, it is recommended that channel partners provide the vendor with a simple plan of action that includes the ask (dollars, equipment, speakers, etc.), the action (what the event will be) and the expected results (in terms of return of investment). Channel managers can sometimes help channel partners secure additional resources for specific campaigns or marketing events when needed.
Channel partners also need to follow up on their MDF-backed activities. A partner should designate salespeople to pursue the sales leads generated from a marketing event, webinar or other program. Partners must also follow up with the vendor that provided the MDF dollars. The partner should document the leads and closed sales stemming from an MDF-supported marketing campaign. This helps the vendor evaluate the effectiveness of the partner's campaign and builds the case for providing additional MDF.
In general, demonstrating commitment to a vendor and its products can help a channel partner obtain market development funds. To do that, partners can take steps to show proficiency in the vendor's offerings and obtain the appropriate technical certifications. The partner may also share its sales pipeline with a vendor, highlighting the vendor's contribution.
MDF vs. co-op marketing funds
Market development funds differ from co-op marketing funds. One distinction is that vendors usually grant co-op funds to high-volume sellers, such as distributors.
In addition, those funds are budgeted for a set amount and are used for longer-term marketing activities, such as annual campaigns. A vendor typically provides co-op funds to a channel partner based on a percentage of that partner's product sales with that vendor.
In contrast, MDF dollars are generally used for shorter-term activities, such as webinars or trade show appearances. One similarity between co-op dollars and MDF is that both funding sources may be underutilized if programs are difficult to navigate or channel partners aren't aware of them.
This was last updated in
September 2018
Continue Reading About market development funds (MDF)