Definition
partner account manager (PAM)
A partner account manager is a job title within a vendor organization that uses channel partners to sell its products or services. A vendor may employ one partner account manager or a team of channel managers whose responsibilities include developing marketing strategies and growing partner revenue.
Access to partner account managers may be contingent upon a channel partner's status within the vendor's channel partner program. Vendors may offer access as a perk for partners reaching the higher tiers of a partner program.
What a partner account manager does
The partner account manager acts as a liaison between the vendor and its channel partners and is responsible for building, maintaining and managing long-term relationships with current and prospective partners. Partner account managers can play vital roles in the revenue growth of channel partner organizations.
For example, a partner account manager may play a role at the very beginning of a business relationship, helping to recruit strategic partners. Once partners are recruited, a partner account manager will work with channel companies to develop go-to-market strategies and execute demand-generation activities, such as email marketing campaigns, events for customers and prospects, and webinars. Partner account managers also work with partners to establish and track business goals and performance metrics, such as depth of sales pipeline and revenue generation.
Other typical partner account manager responsibilities include providing channel partners with new business opportunities and leads, product and technical information, and training plans. Overall, the partner account manager serves as the key point of contact for channel partners, marshalling a vendor's sales and technical resources to help partners grow revenue.
Development of the role
The partner account manager's role is evolving as the IT technology landscape shifts and channel partners attempt to adopt different business models. For example, a partner account manager may facilitate support for channel partners transitioning to the cloud computing market. Such changes compel partner account managers to possess deeper industry knowledge and more sophisticated skill sets than would have been previously necessary.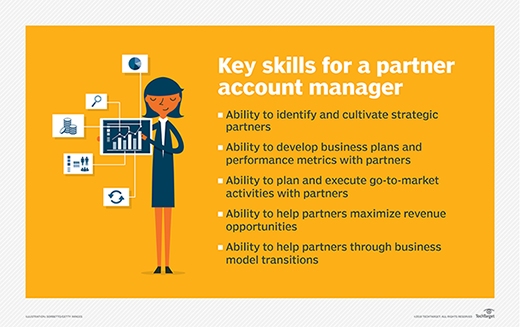 Partner account managers may also be important in developing and maintaining trust between a vendor and its partners and circumventing potential channel conflict.
Reporting structure
Partner account managers typically report to a channel executive within a vendor organization. The reporting relationship may be with a regional channel sales director or a vice president of channels, depending on the vendor.
Regardless of reporting arrangements, partner account managers should be prepared to coordinate their channel activities with a vendor's sales team and marketing department.
This was last updated in
July 2018
Continue Reading About partner account manager (PAM)