Lenovo Data Center Group retools partner program
Lenovo Data Center Group revamped its channel strategy and program, seeking to increase partner engagement and capture more whitespace opportunities; more news from the week.
Lenovo's North American Data Center Group has retooled its partner program, sweetening financial incentives, adding resources for partner support and targeting new accounts where Lenovo hasn't been present.
Steve Biondi, head of partnerships and channels for the group, joined Lenovo in January 2020. Since then, he has focused on making the channel program more growth oriented. "We have a tremendous opportunity to go capture market share and drive solutions into the marketplace in North America, and the program, as it existed, didn't accomplish that," Biondi said.
To make the program more enticing, Lenovo Data Center Group has enabled partners to move from one partner tier to another more easily. For example, the company lowered revenue targets to speed up the transition from the program's entry-level Authorized tier to Silver-partner status. The data center group also boosted the earnings potential for each tier. Platinum-level partners can now earn nearly 40% more for achieving similar year-over-year performance. Gold and Silver partners can expect an earnings increase of closer to 30%, Biondi said.
Other financial incentives include an additional rebate of 5% for Platinum partners that exceed their growth targets. Gold partners can earn an additional rebate of 4% and Silver partners can earn an additional rebate of 3% after exceeding growth targets.
"If [partners] want to sell more of our solutions, they will be a significant uptick in terms of earnings potential," Biondi said.
The program modifications went into effect on April 1, the beginning of Lenovo's 2020-2021 fiscal year.
Coverage, support changes
Lenovo Data Center Group has also revised its partner coverage and support approach. The company's channel account managers previously worked with partners across all levels of the program. Now, the group's distributor partners will work with channel companies that are newer to the program -- firms in the Authorized and Silver tiers. The group has North American distributor relationships with Arrow, Ingram Micro, Synnex and Tech Data.
That change frees the data center group's channel account managers -- and the inside sales team -- to work with partners already familiar with how the partner program works. The approach focuses support on higher-tier partners to help them "move up the food chain," Biondi noted.
In addition, the data center group is boosting its back-office support headcount by 30%. Platinum partners will have a dedicated presales and technical support representative, according to the company.
Pursuing whitespace opportunities
The data center group aims to pursue whitespace opportunities -- organizations that haven't previously purchased Lenovo data center technology or haven't made a purchase in more than 3 years -- and pass the resulting leads to channel partners. "I will have my inside sales organization vet out each opportunity and give it directly to a partner to register and pursue," Biondi said.
Partners that win a deal with a whitespace account will be credited with a new-customer bonus and the resulting revenue will count toward the partner's revenue attainment goal.
Biondi said the group will give partners plenty of "at bats" to sell into whitespace accounts. He noted Lenovo has a channel-neutral compensation policy, in which Lenovo direct salespeople get the same compensation whether they or a channel partner makes the sale.
"We want to show up in whitespace accounts," Biondi said. "There is a lot of room to grow."
We want to show up in whitespace accounts. There is a lot of room to grow.

Steve BiondiHead of partnerships and channels, Lenovo Data Center Group
Lenovo's Data Center Group treats resellers and distributors as distinct partner categories and also operates an OEM and software alliance group. That latter group includes managed service providers (MSPs), global systems integrators and regional systems integrators.
Lenovo purchased IBM's x86 server business in 2014. In 2017, the company established the Data Center Group, which provides servers, storage, networking, software-defined infrastructure, software and services. Prior to joining Lenovo, Biondi was Avaya's global channel chief and had earlier worked for Oracle, VMware and IBM. At IBM, he was responsible for selling hardware -- including IBM's x86 line prior to its sale to Lenovo -- to small and midmarket companies.
Pulseway RMM intros automation workflow feature
Pulseway, a vendor of remote monitoring and management (RMM) software, released a new feature that lets MSPs auto-remediate IT issues.
The RMM feature gives MSPs prebuilt automation workflows that they can use or customize, Pulseway said. Using the workflows, MSPs can set up automated responses when they receive specific alerts from Pulseway's RMM, such as alerts for high CPU, user log in and low disk space. Automated responses include executing a script, starting or stopping a service, and killing processes. The feature is available for free through Pulseway's Automation Engine module within the RMM, according to the company.
"What we are doing is building an extension to [Pulseway's alert notifications] that allows our customers to define complex [workflows] that determine what should happen if an alert is triggered," Pulseway founder and CEO Marius Mihalec said.
He added that the purpose of the feature is to increase the efficiency of MSPs' IT technicians and overall response to customer issues.
As an example of how MSPs would use the automation workflows, Mihalec said if a critical service has stopped, the RMM system can automatically create a help desk ticket, attempt to restart the service, log the work and recheck if the service is up and running again. If so, it will close the ticket. If not, it will escalate the issue and send out an alert to the MSP team.
The automation workflow templates Pulseway initially provides focus on everyday IT issues. MSP can customize the workflows to execute as complex tasks as desired or build workflows from scratch. Mihalec said the interface for building workflows is easy to use without formal training.
Mihalec said Pulseway plans to develop a library for MSPs to share automation workflows they have created.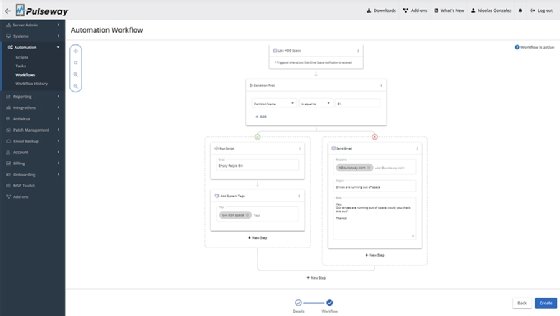 Other news
Vendors are revising their channel program to help partners through the economic uncertainties of the COVID-19 world. Microsoft launched several updates, many of which relate to temporarily easing up its partner competency requirements. Gavriella Schuster, corporate vice president of One Commercial Partner at Microsoft outlined the changes in a blog post. The company also extended several other policy timelines, including the enforcement of the Microsoft Partner Agreement for transacting with Microsoft. Originally set to be enforced this month, Microsoft said it will set a new date for later in the year.
HP Inc. rolled out relief initiatives to support its channel partners and their customers dealing with the COVID-19 fallout. The initiatives include financing and leasing options for end customers, as well as short-term, market and country-specific incentives for partners. HP said it also updated its partner incentives program to offer more predictable and flat-rate rewards and relaxed compensation models. Additionally, the company extended partners' deadlines for submission of proof of performance and reporting. Other benefits include free customer webinars about setting up secure home offices and free versions of HP Sure Click Pro, which offers web-based threat protection, for Windows 10 PC customers.
Chicago-based West Monroe Partners' Managed Services Division has merged with Gratia, an MSP in Cincinnati. The combined managed services company will operate under the name Ascend Technologies and have its headquarters in Chicago. Private equity firm M/C Partners acquired West Monroe Partners' Managed Services Division and Gratia in December 2019.
MSP360, a multi-cloud backup and disaster recovery vendor based in Pittsburgh, is providing its MSP360 Managed Backup for Desktop licenses free for 90 days to MSPs. The offer includes all new Windows desktop operating systems endpoints installed through April 30, the company said. After 90 days, MSPs can either subscribe or opt out of the product. The company's initiative is in response to the COVID-19 pandemic, which also has influenced other vendors' pricing policies.
Onapsis, a business-critical application protection company based in Boston, launched a partner program. The Onapsis nCase Partner Program targets partners assisting customers as they migrate SAP and Oracle applications to the cloud.
Avant Communications will distribute Armor's cloud security and compliance products to its network of channel partners, Armor
Ryan O'Connell has joined Iboss, a cybersecurity company, as vice president of channel sales and alliances. He was previously responsible for national partners in the Americas for Symantec.
Cloud services company Otava named Tim Nielsen its vice president of sales and solutioning. Nielsen will oversee Otava's global partner, enterprise direct, inside sales and pre-sales architects teams, the company said.
Distributor Telecom Brokerage Inc. (TBI) hired Toni Leopoldo as its U.K. director of sales. Leopoldo will serve as TBI's point person for European indirect sales, the company said.
Market Share is a news roundup published every Friday.