Definition
monthly recurring revenue (MRR)
What is monthly recurring revenue?
Monthly recurring revenue (MRR) is income a company can reliably anticipate every 30 days and one of the key metrics for channel partner companies.
MRR has emerged as a key differentiator distinguishing newer, service-oriented channel business models from traditional models -- the value-added reseller (VAR) model, for example -- that focus on product sales and project-based revenue. MRR lets companies operate under a subscription model, as opposed to one based on one-off transactions.
Why MRR is important
MRR is an important component of emerging channel business models and sets them apart from companies that produce revenue through such traditional means as time-and-materials contracting, project-based work and hardware reselling. Those methods are transactional in nature, resulting in one-time, lump-sum revenue-generating events, whereas monthly recurring revenue provides a steadier flow of predictable revenue and encourages an ongoing relationship between the channel company and its clients.
Examples of monthly recurring revenue
Both the managed services and cloud services business models, such as software as a service (SaaS), have MRR as a key component. In the managed services model, for example, the managed service provider (MSP) collects recurring revenue by managing clients' IT systems for a fixed monthly fee. The monthly fee can cover a range of agreed-upon services under an outsourcing agreement -- such as mobile device management (MDM) or managed print services (MPS) -- the MSP delivers to the client. The monthly fee is specified in the managed service contract between the MSP and client.
A cloud-based business, meanwhile, generates monthly recurring revenue when it charges for compute, storage, software or other cloud services. A cloud service company, such as a SaaS provider, operates as a subscription business, charging customers a monthly fee to access its software. This subscription-model approach contrasts with traditional software sales in which a customer pays upfront for a license to use the product.
Benefits of knowing monthly recurring revenue
For channel partners, there are several benefits that are commonly associated with a monthly recurring revenue model, especially when compared with transactional models. A solution provider that creates MRR streams can achieve a steady cash flow, which can protect the company's bottom line more consistently than if the company was subject to fluctuating project-related business.
Additionally, an MRR cash flow can provide predictable revenue that gives MSP and cloud business executives a better handle on budgetary objectives than would be possible if they managed companies relying strictly on transactional business.
Predictable revenue for channel partners translates into predictable costs for their clients. Budget-wise, clients can benefit from paying a fixed fee instead of variable and sometimes unpredictable IT expenses.
Types of MRR
Channel partners can derive monthly recurring revenue from a number of sources, such as managed services subscriptions; service, support and maintenance contracts; and SaaS and infrastructure as a service (IaaS) subscriptions. MRR excludes one-time or adjustable fees, as well as one-time product sales.
The key to perpetuating monthly recurring revenue is subscription renewals. MSPs and cloud service providers (CSPs) aim to boost renewal rates and avoid customer turnover. Existing customers that don't renew subscriptions and abandon the service provider are referred to as churn. Churn rate, one of the more critical subscription business metrics, refers to the percentage of customers who cease subscribing to a service over a particular period of time.
MRR challenges
While the advantages of the recurring revenue model and MRR streams may appeal to transaction-based VARs and other solution providers, companies that decide to transition to an MRR-based model, such as managed services -- or add MRR to their existing revenue model -- can face a number of challenges.
A transaction-based company that shifts to a managed services model must sign up a high volume of managed services customers to make up for revenue the company would have otherwise brought in from hardware/software sales or project work. Transitioning can often demand that companies streamline their technical operations, determine a pricing strategy and restructure their sales teams.
In many cases, companies retain their legacy line of transactional business while gradually switching over into the new line of monthly recurring revenue business.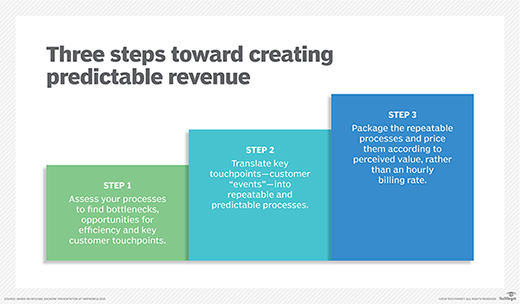 How to grow MRR
When growing MRR for the first time, a channel partner can start by looking for opportunities to package existing offerings as repeatable processes that take a predictable amount of time to deliver to customers. Some experts say this approach provides an incremental transition from hourly billing to monthly recurring revenue and minimizes client disruption.
Examples of a repeatable process include data recovery, IT equipment installation, network topology mapping or IT provisioning for a customer's new employees.
This was last updated in
October 2021
Continue Reading About monthly recurring revenue (MRR)
Dig Deeper on MSP business strategy