itestro - Fotolia
Teridion intros cloud-based WAN for enterprises
Teridion plans to launch next year a cloud-based WAN for enterprises that includes a carrier-grade service-level agreement. The service connects to SaaS, IaaS and branch offices.
Teridion plans to offer enterprises access to its cloud-based overlay network that SaaS providers use to deliver a faster and more reliable service to customers. The enterprise product, which the vendor describes as a cloud-based WAN, will include a service-level agreement for connections to SaaS and IaaS providers, branch offices and private data centers.
The Israeli company's Internet Overlay Network -- used today by SaaS providers that include Atlassian, Box and Salesforce -- reduces packet loss, jitter and latency while also improving the throughput of connections to Teridion subscribers' services.
Starting next year, Teridion plans to use the same technology to provide a cloud-based wide area network (WAN) to enterprises. Organizations can use the service without having to install and maintain software in their facilities. Teridion will run and manage the orchestration portion of the service through software running on Google Cloud.
Connecting to the Teridion service requires an IP security (IPsec) connection to a domain name that takes the customer to the vendor's overlay network, which runs across 25 public cloud providers and their hundreds of points of presence. The providers are Teridion partners.
Customers can connect to the service through an internet gateway or their SD-WAN application. SD-WAN providers that are also Teridion partners include Cisco, Citrix, Silver Peak and VMware.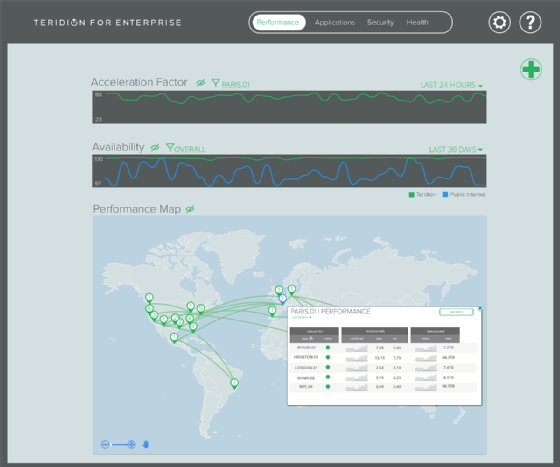 How the Teridion cloud-based WAN works
Based on the traffic destination, the Teridion orchestrator spins up virtual routers in cloud providers' data centers to establish the fastest route. The orchestrator's machine learning algorithm figures out the best route by analyzing performance data fed to it from the thousands of sensors, called measurement agents, installed across each cloud provider's network.
Because network performance fluctuates and traffic congestion on the internet continually shifts, the Teridion orchestrator will discard virtual routers no longer needed and create others in modifying a route.
The Teridion SLA
Teridion provides a customer portal that lets companies set the parameters for the level of service they want, depending on the kind of application they are connecting to. For example, a video service would require a higher performing connection than one used for data backup.
The portal also provides metrics, calculated by third-party tools, that indicate whether Teridion connections are meeting the service-level agreement between it and the customer.
"Our customers can see a baseline of how the internet is performing versus how their Teridion WAN service is performing," said Pejman Roshan, the head of product and marketing at Teridion.
Teridion is testing its enterprise service with select customers and plans to make it generally available in the first quarter of 2019. The company will offer a standard service for $100 per month per connected site and an advanced package for $440 a month.
The standard version, which is available only in North America and Europe, provides site-to-site and site-to-SaaS acceleration. The advanced package, which is available globally, offers a carrier-grade SLA and covers all possible use cases.