Brian Jackson - Fotolia
How is SD-WAN as a service different from managed SD-WAN?
SD-WAN technology is available in a variety of business models, including SD-WAN as a service and managed SD-WAN. But how do the different consumption models compare?
Software-defined WAN offers distributed organizations with branch offices the ability to improve application performance via intelligent traffic routing across multiple WAN circuits, including MPLS, internet, and wireless 4G and 5G.
A wide range of vendors and service providers offer SD-WAN technology with many different business models and methods of consumption, such as appliances, software licenses, SD-WAN as a service and managed SD-WAN services. Each purchasing model has its specific benefits and disadvantages.
Over time, the concepts of managed SD-WAN services and SD-WAN as a service will likely blur as more technology suppliers offer an as-a-service consumption model.
Managed services
A managed network service is a business model in which networking applications and services are fully outsourced to a managed service provider (MSP) or communications service provider (CSP). With managed SD-WAN services, the service provider supplies the hardware, software, networking and transport services required to deliver the appropriate application or service -- such as connectivity for X number of branches -- with appropriate service-level agreements (SLAs) for uptime and performance.
The service provider is responsible for monitoring, managing and securing the WAN service. Pricing is typically via a one-year or multiyear service contract and can be complex based on the number of sites, locations, link speeds and related SLAs.
Managed network services are a popular method for IT organizations to outsource the headaches of providing connectivity to their branches and data centers. SD-WAN technology has enabled a wide range of CSPs, cable providers, MSPs and systems integrators to expand their managed WAN services offerings.
Large CSPs, such as AT&T, CenturyLink, Comcast and Verizon, have added SD-WAN technology to their business services offerings. MSPs -- including CISSDM, CommandLink, GTT Communications, ISS and Step CG -- typically offer managed SD-WAN using SD-WAN technology partners, such as Cisco, CloudGenix, Fortinet, Hewlett Packard Enterprise's Aruba Networks, Riverbed, Silver Peak, Versa Networks and VMware.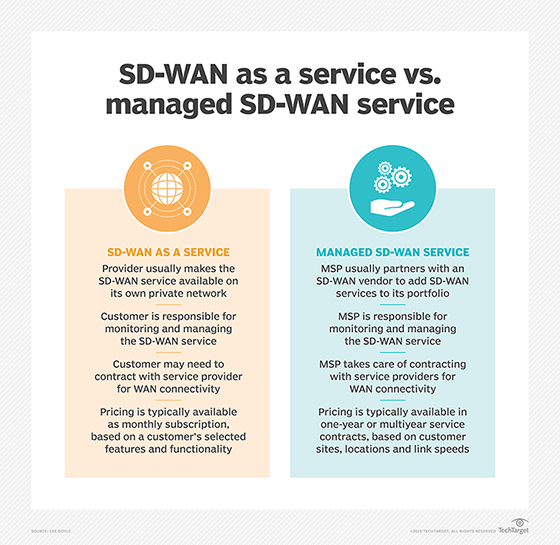 SD-WAN as a service
Software as a service, or SaaS, is a software distribution model in which third-party providers host applications and make them available to customers over a network. SaaS is a technology delivery model usually priced as a monthly subscription.
With SD-WAN as a service, the end customer is typically responsible for monitoring, managing and changing the SD-WAN service via a cloud-based management portal. The end customer may be required to contract with one or more CSPs for WAN connectivity services to its branch locations.
SD-WAN-as-a-service customers receive the benefits of having the latest functionality with easy upgradability via the cloud. Customers pay for the features they use and have the agility to increase or decrease the levels of functionality.
Apcela and Aryaka offer SD-WAN as a service that includes private WAN connectivity, while Mode offers a network-as-a-service offering that can be used along with any SD-WAN vendor. Many other SD-WAN technology providers offer their software via subscription in a SaaS-like model. Doyle Research expects additional as-a-service type offerings to be introduced over the next year or so.
This was last published in
March 2020
When contemplating SD-WAN managed services, organizations should ask questions about network security, infrastructure compatibility and bandwidth ... Continue Reading
Service mesh separates itself from SDN and NFV approaches with its clear focus on managing the communication and forwarding between multiple ... Continue Reading
In a world teeming with IoT devices -- and the resulting data -- SD-WAN and SD-branch can provide the security, visibility and connectivity the IoT ... Continue Reading