fotohansel - Fotolia
SD-WAN with IoT enables the enhanced network edge
In a world teeming with IoT devices -- and the resulting data -- SD-WAN and SD-branch can provide the security, visibility and connectivity the IoT edge requires.
The rapid growth of software-defined WAN has enabled organizations to enhance the quality of application experience for their base of distributed users. Continued developments with SD-WAN and IoT will enable improved connectivity, reduced latency and better security for a wide range of IoT devices. The broad architecture of software-defined branch will further advance ease of operation for distributed devices.
Enterprises of all sizes and verticals are implementing customized IoT systems. These devices and sensors include applications like smart meters, traffic analysis, lighting, security cameras, shipping containers, medical devices, oil and gas exploration, robotics and more. Analytic data derived from the IoT edge and various devices enables organizations to make operations more efficient and provide improved services to their customers.
IoT networking challenges
IoT adoption has been hindered by the difficulties and costs related to offering low-latency connectivity, as well as managing and securing a large number of IoT devices. Centralized IT systems in the private data center or the cloud are not well-suited for many IoT applications -- especially those that require low latency. Large numbers of IoT devices that constantly send high volumes of data -- like surveillance cameras -- can overwhelm existing WAN links.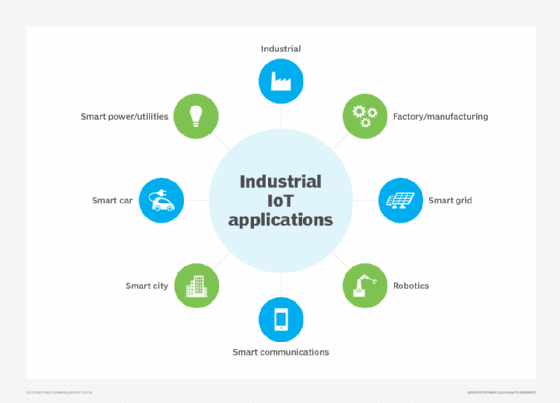 SD-WAN, IoT and the software-defined branch
Software-defined WAN (SD-WAN) provides the intelligence to streamline communications from IoT edge devices to the centralized data center. It can prioritize specific applications and choose the best WAN path for traffic, which minimizes latency and helps reduce WAN costs. It also helps secure sensitive data that runs over potentially unsecure internet links.
SD-WAN provides the intelligence to streamline communications from IoT edge devices to the centralized data center.
Software-defined branch (SD-branch) simplifies network operations by consolidating WAN connectivity -- such as SD-WAN and routing -- network security, LAN and Wi-Fi in a unified platform that is easy to deploy and manage.
For IoT applications, SD-branch can offer advanced security functionality, integrated Wi-Fi connectivity and end-to-end visibility. SD-branch can be delivered with significant compute and storage capacity. This edge computing architecture can provide the intelligence to analyze IoT edge data in near-real time, improve reliability and substantially decrease the amount of sensitive data sent over the WAN.
This was last published in
April 2019
SD-WAN technology is available in a variety of business models, including SD-WAN as a service and managed SD-WAN. But how do the different ... Continue Reading
When contemplating SD-WAN managed services, organizations should ask questions about network security, infrastructure compatibility and bandwidth ... Continue Reading
Service mesh separates itself from SDN and NFV approaches with its clear focus on managing the communication and forwarding between multiple ... Continue Reading