Home SD-WAN will redefine next-generation WAN
The need for home-office SD-WAN won't end when the pandemic does. Learn how best to provide this essential tech to your organization's at-home employees.
The COVID-19 pandemic has accelerated home office adoption, with software-defined WAN powering the next generation of enterprise WAN. After the pandemic, SD-WAN for home offices will continue to grow.
Why home SD-WAN?
The WAN has been turned inside out.
From its inception in the 1980s, the WAN was intended to connect users inside a company location to resources within the same network, such as in a data center or other company locations. But in the last 15 years, a radical shift took place. Now, most enterprise workloads -- 56% on average -- run in an external cloud, according to the "Cloud, Network and Infrastructure: 2019-20 Research Study" produced by Nemertes Research, where I am an analyst. In response to that shift, and to the rise of remote work, the majority of WAN traffic now starts or ends outside the enterprise's walls, according to Nemertes' "Next-Generation Networking 2020-21 Research Study, which was published March 5, 2020," just before U.S. lockdowns began.
The pandemic-driven shift to work from home (WFH) has only accelerated and deepened this change in what the WAN does. Further, Nemertes found fewer than a third of companies plan to go back to the status quo of employees working in a corporate office after the pandemic ebbs. Enterprise IT teams need to think differently about the WAN, embracing it as the network they control that connects users and devices in various places, and even extends to employees' home offices.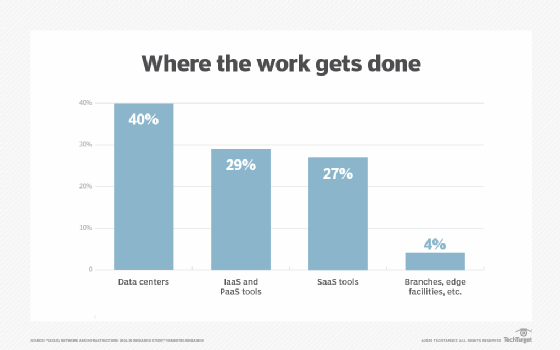 SD-WAN is key to the future of WAN
SD-WAN is at the center of the next-generation WAN because of its ability to meet the following requirements:
Enterprises require centralized, policy-based and highly automated systems to sustainably manage the complexity and variety of connected entities.
The ability to flexibly use multiple pathways for communications is critical for continuous availability.
The ability to treat traffic differently based on source, destination and current network behaviors is crucial to deliver on service-level agreements and ensure security.
These benefits apply directly to managing a permanently enlarged remote workforce. Management by policy and automation makes it possible to increase the number of sites empowering multiple links, e.g., broadband and LTE, adds reliability not otherwise available; and the separate management of traffic that originates on a home network enables better performance for strategic applications as well as additional security controls for WFH traffic streams.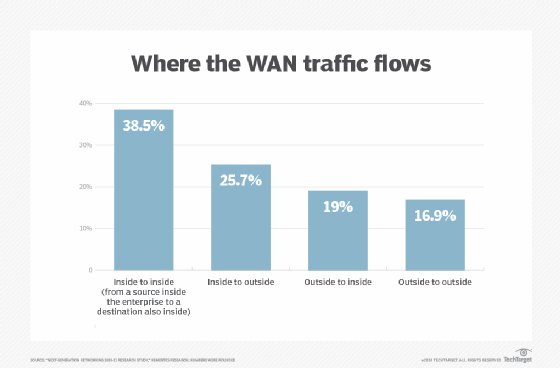 Home SD-WAN: DIY and managed
Enterprises can deploy their own SD-WAN products -- and a little more than half do, according to Nemertes research surveys. A home-based SD-WAN deployment may strain DIY teams, though, even if their product has a solid WFH offering, because deploying even a low-touch SD-WAN can overload a small WAN team when hundreds or thousands of nodes need access. It's easier when the WFH product is software-only, but even then, teams must deploy a lot of overhead.
The remaining enterprises are embracing managed SD-WAN. Most of these services include cloud-based functionality for management, security or other functions. They also offer -- or require -- connectivity from the provider, usually with additional performance guarantees when in use.
Offloading the deployment and operational overhead of managing SD-WAN at home can keep IT staff focused on other strategic concerns. It can also speed deployments, as IT staff attention is no longer a limiting factor.
A managed deployment will more likely integrate smoothly into a broader secure cloud access and policy enforcement (SCAPE) strategy, replacing traditional VPNs with a cloud-modeled access edge as well as the use of private backbones, cloud access security brokers and cloud exchanges to interconnect users and resources. Many managed SD-WAN service providers also offer other SCAPE component services. Editor's note: Nemertes uses SCAPE rather than Secure Access Service Edge (SASE), which they believe is too telecom-centric and obscure.
SD-WAN is at the core of the next-generation WAN, a generation turned inside out by the shift to cloud and the rise of WFH users. Home SD-WAN will power this next generation and will need to reach into home offices to best succeed. The message is clear: The world has changed, and enterprises must change their WANs.