Torbz - Fotolia
Managed SD-WAN providers ranked in new market report
AT&T ranked first in Vertical Systems Group's SD-WAN report that compared more than 30 carrier-managed SD-WAN providers based on market share of installed customer sites.
A little competition is good to stir innovation, improve products and drive market growth. But when referring to the software-defined WAN market, the competition is more expansive than little.
The software-defined WAN market largely comprises two segments: pure-play SD-WAN vendors and managed SD-WAN providers. While SD-WAN vendors sell their technology directly to customers, managed SD-WAN providers partner with vendors to deliver SD-WAN as a managed service -- although some do develop their own technology in-house.
Over the years, multiple research firms have tracked SD-WAN market growth, focusing primarily on SD-WAN vendors. In 2018, IHS Markit listed VMware VeloCloud, Cisco Viptela, Aryaka and Silver Peak as revenue leaders in the market. Similarly, Gartner tapped VMware, Cisco and Silver Peak as leaders of its 2018 WAN Edge Magic Quadrant report, indicating their completeness of vision and high ability to execute.
Recently, Vertical Systems Group -- a market research firm based in Boston -- shifted its attention to the managed SD-WAN segment of the market, marking the firm's first SD-WAN benchmark. In its 2018 U.S. Carrier Managed SD-WAN Services Leaderboard, Vertical compared more than 30 carrier-managed SD-WAN providers. According to Vertical, these providers offer managed SD-WAN services that include the following characteristics:
managed by a network operator;
uses software-defined networking architecture, with a centralized controller and separate control and data planes;
supports two or more underlying WAN connections at each customer site, with automated failover;
uses an SD-WAN appliance or virtual network function at customer edge sites; and
offers real-time monitoring and end-to-end visibility of the network and its applications.
Of the 33 carrier-managed SD-WAN providers Vertical studied, AT&T took the top spot, holding the highest market share of installed customer sites in the U.S. as of 2018. Hughes, Verizon, Windstream, CenturyLink, Aryaka, Fusion and Comcast followed.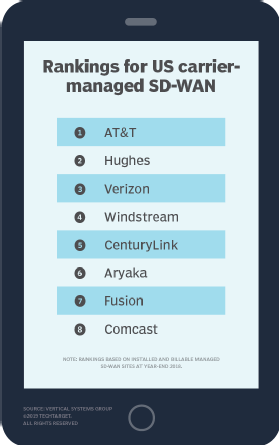 The top 14 managed SD-WAN providers in Vertical's study underpinned their managed services with SD-WAN technology from Cisco Viptela, Silver Peak, Versa Networks and VMware VeloCloud, or they used internally developed technology, Vertical said.
The pros and cons of managed SD-WAN services
Enterprise IT teams often turn to managed service providers to reduce the stress of provisioning, managing and troubleshooting services. This can be especially beneficial for smaller enterprises that lack the budget or resources to ensure proper monitoring and management.
According to a blog post by Rosemary Cochran, principal and co-founder of Vertical, enterprises opt to deploy managed SD-WAN because of its ability to lower costs, offer secure and direct access to private or public clouds, support multiple types of connectivity and improve control. However, enterprises might have a hard time choosing the right provider because so many vendors have crowded the market.
Additionally, managed SD-WAN providers are also facing market challenges. The chief hurdle for managed SD-WAN providers is the lack of standardized SD-WAN interoperability among various vendors, Cochran said. The issue of standardization has driven some providers to develop their own portfolios that include SD-WAN capabilities, she added.
While the managed SD-WAN market has grown over the past few years, Cochran noted that confusion about the technology and the wide range of options available has likely stalled enterprise adoption of SD-WAN.
This was last published in
June 2019