animind - Fotolia
What is the status of VNF deployments among service providers?
Although service providers are undertaking VNF deployments in the network core, they're hard-pressed to deploy them at the network edge due to complexity and cost.
Virtual network functions are the key to network functions virtualization deployments, as they provide application-level...
Continue Reading This Article
Enjoy this article as well as all of our content, including E-Guides, news, tips and more.
intelligence to the virtualized network. VNF deployment has been implemented in a wide variety of use cases, but it's most popular in the network core, which has already migrated to an open compute architecture.
Leading service providers face the challenge of deploying VNFs for services -- e.g., virtual customer premises equipment (vCPE) -- that require interoperability between multiple VNFs.
Each VNF supplier provides its own unique management interfaces, which are not easily rearchitected to seamlessly interoperate with other VNFs, especially if sourced from more than one supplier.
VNFs run at the application layer of network functions virtualization (NFV) architecture. They are the virtual applications that have been abstracted from the underlying hardware, and they can run on a variety of compute platforms, including Intel and ARM.
VNFs can be proprietary or open source, and they can be used in a wide variety of network applications, including Evolved Packet Core (EPC), session border controller (SBC), routing, software-defined WAN (SD-WAN), virtual radio access network, firewalls, application delivery controllers, IP Multimedia Subsystem (IMS) and many more.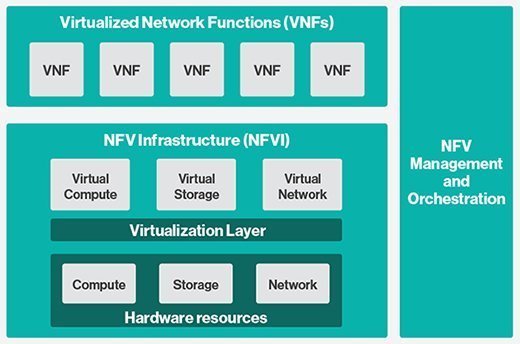 VNF deployment at the network core
VNFs are being deployed at the edge of wired and wireless networks much more slowly than in the core.
VNF deployments are widely implemented at the core of the wired and wireless networks and have replaced physical appliances, including SBCs, IMS and EPCs. These NFV deployments typically run on Intel-based servers, with highly scalable performance.
VNFs have been less successful in replacing bandwidth-intensive elements in the core network, such as routers.
VNF deployment at the network edge
VNFs are being deployed at the edge of wired and wireless networks much more slowly than in the core. Service providers find it challenging to deploy vCPE due to the complexity of application interaction between routing, SD-WAN and security VNFs, and due to the costs of the Intel platform.
As for advanced 4G Long Term Evolution and 5G, the migration has largely been on appliance-based radio access network infrastructure, rather than VNF deployment.
Dig Deeper on Network Infrastructure
SD-WAN technology is available in a variety of business models, including SD-WAN as a service and managed SD-WAN. But how do the different ... Continue Reading
When contemplating SD-WAN managed services, organizations should ask questions about network security, infrastructure compatibility and bandwidth ... Continue Reading
Service mesh separates itself from SDN and NFV approaches with its clear focus on managing the communication and forwarding between multiple ... Continue Reading