Definition
network functions virtualization (NFV)
Network functions virtualization (NFV) is an initiative to virtualize network services traditionally run on proprietary, dedicated hardware. With NFV, functions like routing, load balancing and firewalls are packaged as virtual machines (VMs) on commodity hardware. Individual virtual network functions, or VNFs, are an essential component of NFV architecture.
Multiple VNFs can be added to a standard x86 server and then can be monitored and controlled by a hypervisor. NFV's mission to use commodity hardware is important because network managers no longer need to purchase and manually configure dedicated hardware devices in order to build a service chain that links certain functions to perform a desired sequence. Each dedicated device, by comparison, needs to be manually cabled together accordingly, which is a time-consuming process.
Because NFV architecture virtualizes network functions and eliminates specific hardware, network managers can add, move or change network functions at the server level in a simplified provisioning process.
If a VNF running on a virtual machine requires more bandwidth, for example, the administrator can move the VM to another physical server or provision another virtual machine on the original server to handle part of the load. Having this flexibility allows an IT department to respond in a more agile manner to changing business goals and network service demands.
Benefits of network functions virtualization
The NFV concept was originally presented by a group of network service providers at the SDN and OpenFlow World Congress in October 2012. These service providers wanted to simplify and speed up the process of adding new network functions or applications.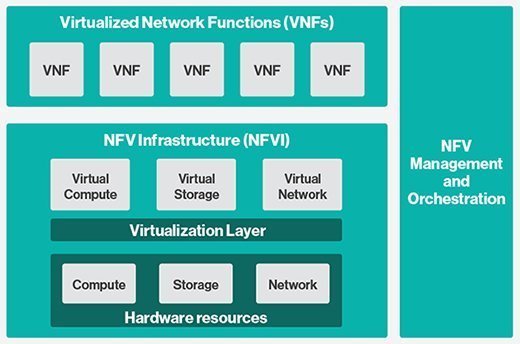 The European Telecommunications Standards Institute (ETSI) Industry Specification Group for Network Functions Virtualization proceeded to spearhead NFV development and standards.
While NFV can benefit enterprises, service providers have a more immediate use case for it. Many see NFV's potential to improve scalability and better utilize network resources. If a service provider's customer requests a new function, for example, NFV enables the service provider to more easily add that service in the form of a virtual machine without upgrading or buying new hardware on the customer end.
Basic NFV benefits also include reduced power consumption and increased physical space, since NFV eliminates most traditional hardware appliances. NFV can then help reduce both operational and capital expenditures.
NFV challenges
NFV deployment has seen relatively slow progress due to a lack of standards in NFV management, automation and orchestration (MANO). MANO provides the framework for provisioning VNFs and managing NFV infrastructure. It also helps components within NFV infrastructure communicate with existing operational and billing support systems (OSS/BSS).
Part of the challenge for NFV adoption is the number of standards and open source projects being conducted to promote NFV development. For example, a short list includes ETSI, Open Platform for NFV, Open Network Automation Platform, Open Source MANO and MEF -- formerly the Metro Ethernet Forum.
With so many competing approaches -- all backed by various service providers and operators -- settling on an approach that offers usable capabilities for the whole industry is problematic. As a result, some service providers are uncertain which standards will be adopted and are more hesitant to invest in them.
Differences between NFV and SDN
Often confused as being the same, NFV and software-defined networking (SDN) are complementary technology initiatives. NFV moves services to a virtual environment but doesn't include policies to automate the environment.
When SDN is combined with NFV infrastructure, however, SDN's centralized management function can forward data packets from one network device to another, while NFV allows routing control functions to run on a virtual machine located in a rack mount server, for example.
This was last updated in
November 2017
Continue Reading About network functions virtualization (NFV)
Dig Deeper on Network virtualization technology