Definition
NFV MANO (network functions virtualization management and orchestration)
What is NFV MANO?
NFV MANO (network functions virtualization management and orchestration), also called MANO, is an architectural framework for managing and orchestrating virtualized network functions (VNFs) and other software components.
The European Telecommunications Standards Institute (ETSI) Industry Specification Group (ISG NFV) defined the MANO architecture to facilitate the deployment and connection of services as they are decoupled from dedicated physical devices and moved to virtual machines (VMs).
Because network components can be deployed in hours rather than months in virtual environments, MANO can reduce confusion by managing and orchestrating resources that include compute, storage, networking and virtual network functions like routing, firewalls and load balancing.
NFV MANO architecture
NFV MANO has three main functional blocks:
NFV orchestrators
VNF managers
virtualized infrastructure managers (VIMs)
Together, these blocks are responsible for deploying and connecting functions and services when they are needed throughout the network.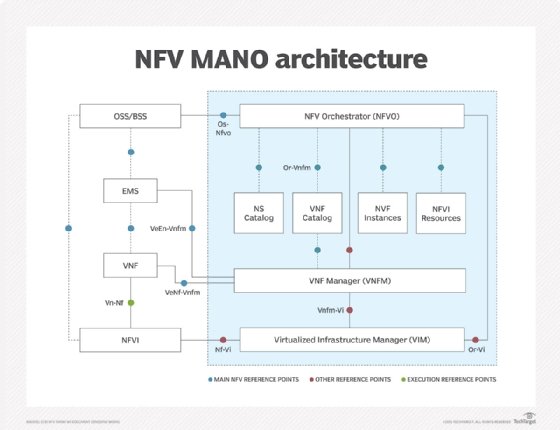 NFV orchestrators consist of two layers -- service orchestration and resource orchestration -- which control the integration of new network services and VNFs into a virtual framework. NFV orchestrators also validate and authorize NFV infrastructure (NFVi) resource requests.
VNF managers oversee the lifecycle of VNF instances.
VIMs control and manage NFV infrastructure, which encompasses compute, storage, network resources.
MANO works with templates for standard VNFs so users can pick from existing NFVi resources to deploy their NFV platform. For NFV MANO to be effective, it must be integrated with application program interfaces (APIs) in existing systems in order to work with multivendor technologies across multiple network domains. Telecommunications providers' operations and billing systems (OSS/BSS) also need to interoperate with MANO.
One of the next steps needed in NFV MANO's evolution is to include SDN controllers in the MANO architecture.
Editor's note: This definition was updated in December 2022 to improve the reader experience.
This was last updated in
December 2022
Continue Reading About NFV MANO (network functions virtualization management and orchestration)