SD-WAN technology eases network operational challenges
Services from SD-WAN vendors provide numerous benefits to organizations worldwide that rely on communications to their branch or remote offices.
Software-defined WAN, or SD-WAN, is a good example of how software is redefining networking. SD-WAN technology...
Continue Reading This Article
Enjoy this article as well as all of our content, including E-Guides, news, tips and more.
uses software to combine multiple physical networks into one logical network. By hiding the physical network with a virtual network overlay, SD-WAN provides a range of intelligence to improve traffic handling and accelerate application performance.
SD-WAN has changed the economics of WAN business services by enabling organizations to use inexpensive circuits, like the internet, to address their growing bandwidth requirements. SD-WAN is touted for its ease of implementation, as it doesn't affect the underlying physical WAN. It also maps new services, such as application prioritization, security and management, on top of existing networks.
What's driving the use of SD-WAN?
Enterprises, government agencies and other organizations have long relied on WANs to connect users at distributed locations to centralized IT resources at headquarter locations. They have typically deployed dedicated links, like Multiprotocol Label Switching (MPLS), from network service providers, including AT&T, Verizon and CenturyLink. The rapid growth in WAN traffic continues to stress many organizations' communications budgets. In addition, the growth of SaaS and other cloud resources has shifted WAN traffic flow from the data center to the cloud. Organizations with traditional WAN architectures now find they have insufficient bandwidth and that backhauling all cloud traffic to central locations creates unacceptable latency for SaaS applications.
Enterprises that rely on communications to their branch offices as a critical part of their IT operations are rapidly adopting SD-WAN to provide reliable, secure and high-speed connections to data center and cloud-based applications. IT organizations have used SD-WAN technology to establish hybrid WAN architectures that maintain existing MPLS connections for secure connectivity from the branch to the data center.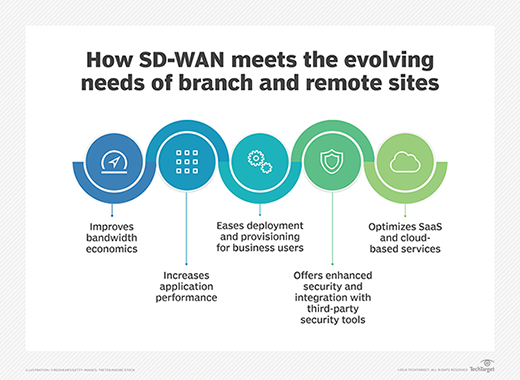 The benefits of SD-WAN technology
SD-WAN enhances IT operations by enabling organizations to gain the benefits of internet economics and accelerated application performance. SD-WAN helps IT teams to prioritize traffic for critical applications. For example, it identifies real-time traffic, like voice over IP and video, and prioritizes this traffic to ensure high-quality communications. SD-WAN constantly monitors the status of each WAN link and can intelligently steer traffic according to WAN traffic conditions, link status and application priority. Additional benefits of SD-WAN include:
Ease of deployment: It's relatively easy for non-IT personnel to install SD-WAN at remote branch offices due to its centralized capabilities.
Centralized management: SD-WAN offers improved capabilities for IT pros to maintain, adjust and troubleshoot WAN links and prioritize applications from a centralized location.
Security: SD-WAN provides the security to use internet links for WAN connections and typically enables integration with other third-party security products, such as firewalls.
Editor's note
Using extensive research into the SD-WAN market, TechTarget editors focused on leading SD-WAN vendors that provide only SD-WAN services to customers. This did not include middleware or options offered by resellers or managed service providers. Our research included data from TechTarget surveys and reports from research firms, including Gartner.
Who uses SD-WAN?
A wide range of organizations worldwide are deploying SD-WAN technology. In the past, the majority of SD-WAN installations were primarily for large North American organizations that had significant IT resources and a large numbers of branches, especially in the retail and financial sectors.
But the technology's development and a vast number of resellers now enable any organization to deploy SD-WAN relatively easily to improve application performance at the branch. Industries with significant SD-WAN deployments include financial services, restaurants, retail, healthcare, manufacturing and government. Large and midsize organizations with a high percentage of remote workers and numerous branch offices have more interest in SD-WAN than smaller organizations or those with only one or two locations. An organization's requirements for SD-WAN depend on its size, location and vertical industry. For example, security and compliance requirements will define installations in healthcare and finance. Organizations with highly mobile workforces will emphasize SD-WAN's ease of deployment and centralized management features.
How SD-WANs are deployed
IT organizations have a wide range of providers to choose from when selecting partners to help them deploy SD-WAN technologies. Large organizations with significant IT resources may choose to evaluate, deploy and maintain SD-WAN technologies at their remote or branch locations. Organizations can consult with traditional network channel partners -- e.g., value-added resellers -- to recommend and deploy SD-WAN but manage the technology internally. In either case, organizations can choose how they pay for SD-WAN technology in terms of buying the physical appliance, buying perpetual licenses or licensing the software on a recurring basis.
IT organizations that want to outsource SD-WAN installation and management will find a wide range of managed SD-WAN service offerings from service providers that offer their own WAN services or from managed service providers (MSPs) that source network resources from other service providers.
SD-WAN technology suppliers
Distributed organizations in all verticals should investigate how SD-WAN can improve their business operations at their remote locations, either by installing the technology themselves or through a managed service.
The market has seen an explosion in the number of SD-WAN providers over the last five years, with at least three dozen suppliers in the market today. The lineup of SD-WAN vendors includes technology startups, like CloudGenix, VeloCloud, Versa Networks and Viptela, and WAN optimization suppliers that added SD-WAN technology. These include Citrix, Riverbed, Silver Peak and Talari. Cisco added SD-WAN capabilities to its branch routers but now favors the Viptela technology it acquired last year. Aryaka and Cato Networks combine their respective technology with global points of presence to offer SD-WAN as a service for distributed organizations. Cradlepoint offers SD-WAN technology with its 4G LTE (fourth-generation Long-Term Evolution) wireless routers to target mobile use cases.
Large technology suppliers with interests in SD-WAN include Hewlett Packard Enterprise Aruba, VMware -- through its VeloCloud acquisition -- Dell and Nokia. The technology has highly distributed market share and will continue to support several dozen suppliers. However, expect mergers and acquisitions to result in new market entrants and changes in ownership.
SD-WAN pricing varies widely depending on the amount of bandwidth required at the branch location, feature set and contact terms, such as software license, appliance, subscription and monthly fees.
SD-WAN technology trends
In the highly competitive market, SD-WAN technology is rapidly advancing with continual announcements of new product features and technology partnerships. For example, SD-WAN suppliers continue to enhance their support for multi-tenancy, offer better security and improve centralized management. Other key areas of SD-WAN technological improvements include:
WAN optimization: SD-WAN vendors often include traditional WAN optimization features as a standard or optional part of their feature set.
Unified communications prioritization: SD-WAN can identify and prioritize voice and video traffic, as well as measure its quality and provide corrective measures.
Enhanced routing: SD-WAN technology now supports enhanced routing features, including Border Gateway Protocol. This enables organizations to eliminate the requirement for routers at certain branch locations.
Centralized management: SD-WAN providers are improving their management and orchestration capabilities, enabling IT to quickly tune application performance.
Security: SD-WAN technology now incorporates basic firewall functionality and typically uses traffic identification to whitelist cloud connections, such as SaaS applications. SD-WAN providers have enhanced their integration with leading security products with functionality including next-generation firewall, unified threat management and antivirus protection.
SD-branch: Many SD-WAN vendors have included migration toward a software-defined branch architecture as part of their roadmaps. SD-branch functionality includes SD-WAN, routing, network security and networking, such as Wi-Fi. It provides IT agility, reduced hardware costs and operational simplification in an all-in-one branch architecture.
SD-WAN is a proven technology that improves WAN bandwidth economics, accelerates application performance and eases branch network operational challenges. Distributed organizations in all verticals should investigate how SD-WAN can improve their business operations at their remote locations, either by installing the technology themselves or through a managed service. IT pros can select SD-WAN products from a large number of suppliers, including startups, medium-to-large networking firms and MSPs. The competitive market environment is driving continued innovation in terms of security, routing, application prioritization and management. In the long term, organizations will benefit from all-in-one branch network options, like SD-branch.