JNT Visual - Fotolia
Visions of software-defined branch begin to take hold
Software-based technologies can apply to the vision of a software-defined branch that converges network elements and centralizes management. But getting there will take time.
Software-based virtualization provides a network abstraction that enables the convergence of network elements and...
Continue Reading This Article
Enjoy this article as well as all of our content, including E-Guides, news, tips and more.
simplifies branch network operations. Emerging from these software-based technologies, the industry is now in the early stages of delivering on the vision of a software-defined branch. An SD-branch platform would be designed to provide easy installation and network upgrades, improved security and reduced operational complexity via centralized cloud management.
The branch network is a critical part of IT infrastructure for many distributed organizations that have dozens, hundreds and even thousands of distinct locations. It is increasingly important that the network delivers reliable, high-quality, low-latency connections to a wide array of devices, including PCs, tablets and smartphones -- and an increasing number of internet-of-things devices.
It's a challenge for IT to deliver more bandwidth in order to support more devices and cloud-based applications at fixed or lower costs. To improve application quality of service (QoS) and reduce WAN transports costs, many enterprises with distributed locations are evaluating and deploying SD-WAN technology. SD-WAN is generally compatible with existing branch infrastructure, including server and storage infrastructure, Wi-Fi, routers and firewalls. In fact, a primary driver of SD-WAN is an enterprise's ability to seamlessly insert the technology with its branch IT framework.
SD-WAN illustrates the power of software-based networking to simplify deployments, centralize management and reduce networking costs, like better WAN prices and performance.
Looking into the software-defined branch
The software-defined branch will use software-based networking technologies that virtualize distinct network elements and capitalize on cloud-based management. SD-branch architectures could provide compelling benefits, including efficient bandwidth utilization, improved application QoS and increased security. SD-branch is being designed to replace dedicated hardware using virtual software. Centralized management allows centrally based IT staff to efficiently troubleshoot, secure and upgrade the network's remote branch locations.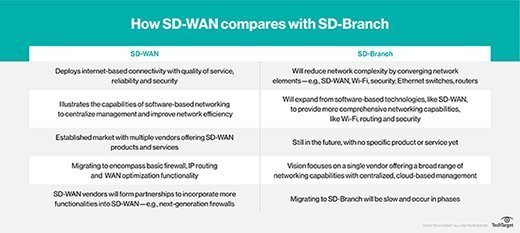 The concept of the software-defined branch is just beginning to take root. The idea is all branch network functionalities can be collapsed onto a single branch network platform. Under this model, wired and wireless functionalities would be combined into a unified and centralized management framework. These functionalities include:
Wireless LAN, like Wi-Fi;
Ethernet switching;
SD-WAN and WAN optimization;
Routing and virtual private networks; and
Firewall and network security.
It will be designed so IT organizations can flexibly deploy and update the appropriate software on the branch network to address their application, QoS and security requirements.
Software-defined branch suppliers
Due to the current distributed functionality in enterprise networks, with lots of specialized boxes at most branch locations, IT leaders will face the difficult task of migrating to a converged software-defined branch. The candidates to provide SD-branch services include:
Independent SD-WAN suppliers, like VeloCloud, Versa Networks, CloudGenix, 128 Technology and Cradlepoint;
Router suppliers, including Cisco, Juniper, Nokia and Huawei;
Ethernet switch suppliers, like Cisco, Hewlett Packard Enterprise and Juniper Networks;
Wi-Fi specialists, including Aruba -- acquired by HPE -- Aerohive Networks, Ruckus Wireless and Xirrus;
WAN optimization suppliers adding SD-WAN capabilities to their products, like Riverbed, Citrix, Silver Peak and Talari; and
Network security suppliers, including Check Point Software, Palo Alto Networks and Zscaler.
Of course, many of the above suppliers provide multiple capabilities across these categories and plan to add new functionality over time. Mergers and acquisitions are likely to alter the supplier landscape, as well.
Migrating from SD-WAN to SD-branch
Migrating to the networking vision of a software-defined branch will be slow and will likely occur in phases.
Software-based networking technology is becoming available to deliver on the SD-branch vision. This vision, which includes SD-WAN functionality, converges network elements and provides for centralized installation, administration and management. The challenge is initial SD-branch architectures will be highly vendor-specific; this means if you want SD-branch, you will need to buy all of the elements from one vendor, usually with a few options from their partners.
The reality is few organizations are likely to throw out significant parts of their existing branch networks. Therefore, migration will take place at pace with a few network elements converging on software platforms, while others do not. This in-between stage will be messy and complex for IT staffs responsible for branch operations.
The popularity of SD-WAN has illustrated the capabilities of software-based networking in terms of intelligent traffic steering, easy remote installation and the benefits of centralized management. These capabilities can be extended to the concept of the software-defined branch. For now, SD-branch architectures are in the slideware stages for development -- as in, a ground-breaking product that exists in PowerPoint presentations, but not yet in reality.
IT leaders should carefully evaluate software-based technologies that provide the starting points for a software-defined branch. These could reduce complexity, improve operations and reduce costs for their branch networks. But IT leaders should also remember migration to the networking vision of a software-defined branch will be slow and will likely occur in phases.
Next Steps
Software-based routing will affect branch routing
The benefits and challenges of software-based networking
This was last published in
September 2017