animind - Fotolia
Netsurion intros low-maintenance SD-branch
Netsurion has introduced a software-defined branch product for retailers, hotels and restaurants. The managed SD-branch, called BranchSDO, includes networking and security.
Netsurion has introduced a managed appliance that provides software-defined branch networking to organizations with multiple sites. The new product, called BranchSDO, supports only broadband and cellular connections.
Launched last week, BranchSDO includes a relatively uncomplicated management console for segmenting traffic, provisioning service and monitoring bandwidth usage. The SD-branch appliance has a cellular modem for companies that want to use 4G Long Term Evolution for a backup connection.
For security, the appliance includes a cloud-based next-generation firewall from partner Fortinet. The NGFW comes with an intrusion prevention system, web filtering and application control.
Netsurion's traffic routing and security in a box will appeal to retail, hotel and restaurant chains, said Bob Laliberte, an analyst at Enterprise Strategy Group, based in Milford, Mass. Those organizations typically need only broadband connections, unlike larger enterprises that also use complicated routing techniques, such as MPLS.
"[Netsurion] seems to be catering to the lower end of the market," Laliberte said. "They're trying to consolidate and make it as easy as possible to deploy the infrastructure at the remote site."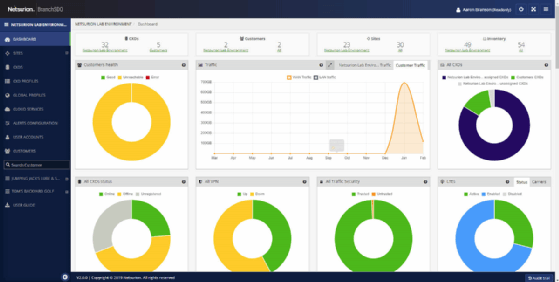 BranchSDO pricing, management
Indeed, Netsurion handles all maintenance after setting up the BranchSDO for $300. The monthly fee, which includes the software license, starts at $55 per site. Netsurion also licenses its software to managed service providers.
The BranchSDO management console for customers includes a dashboard that provides an overview of all locations on the wide area network. The software also shows the connection status and data usage for each site.
Automated features in the console include VPN and virtual LAN setup. The latter is for segmenting traffic flows. So, for example, encrypted credit card data can travel over a VPN isolated from a guest Wi-Fi or less sensitive corporate data.
Privately held Netsurion, based in Fort Lauderdale, Fla., is one of many vendors offering an SD-branch product that simplifies how branch and remote offices communicate with data centers and SaaS and IaaS providers. Instead of selling separate routers, firewalls and switches, the networking suppliers cram necessary features in a single appliance aimed at a market niche.
Companies selling SD-branch products include Cisco, Hewlett Packard Enterprise's Aruba Networks, Cradlepoint, Citrix, Silver Peak and VMware.