Fotolia
Gauge your platform purchasing options before SD-WAN deployment
Finalizing how an organization deploys SD-WAN can be a complex process, especially with the range of available purchasing options. But studying the options is always a good start.
With its traffic prioritization, multi-cloud support and improved security, software-defined WAN is now a must-have technology for distributed organizations. IT organizations need to clearly evaluate how best to consume SD-WAN technology, with its multitude of licensing and platform options.
SD-WAN is the most widely deployed software-based networking technology, according to Doyle Research. It offers proven benefits to many distributed organizations -- both large and small -- across all geographies. It bonds multiple physical WAN connections into one logical network and, thus, improves WAN economics by enabling organizations to use inexpensive circuits, like broadband internet.
SD-WAN deployment improves user experience via traffic prioritization, which accelerates application performance. SD-WAN suppliers continue to innovate and enhance their offerings, with improvements in public cloud connectivity, security and management.
SD-WAN platform options
IT organizations confront a multitude of questions when deploying SD-WAN. They can select technology from several dozen SD-WAN suppliers and must decide whether to implement SD-WAN on their own -- with the help of a channel partner or system integrator -- or select from a wide range of managed service providers for outsourced SD-WAN. Once IT has selected the technology and the partner, it must wade through a number of SD-WAN platform and licensing options, as discussed below.
Appliances. The majority of SD-WAN products are bought as integrated hardware and software platforms -- i.e., as an appliance. One advantage of appliances is the supplier prepackages them, which provides an optimal SD-WAN experience.
SD-WAN appliances come in different sizes and price points to meet various branch performance and feature requirements. Appliance purchases generally include a perpetual software license, but some suppliers offer appliances with a limited-term software license -- e.g., three years -- or via subscription.
Software licenses. The second most popular SD-WAN deployment option is via purchase or subscription to a software license, which may be run on any appropriately resourced Intel-based server -- i.e., it contains adequate processing power and memory. The IT team -- or its technology partner -- is responsible for the hardware, while most SD-WAN software can be installed with little difficulty.
IT organizations will need ongoing software upgrades and support for their SD-WAN deployment, and they should consider these costs as part of the overall decision.
Software can be purchased as a perpetual license, licensed for a specific term -- typically for one, three or five years -- or bought via subscription. Support and software upgrades may cost extra in a perpetual license, but they are typically bundled for term licenses or subscription.
SD-WAN as a service. SD-WAN as a service is an additional easy-to-deploy offering. It offers the ease of a consumption model pioneered by SaaS providers. SD-WAN as a service relies primarily on cloud-based intelligence and traffic handling provided at points of presence run by the SD-WAN provider.
Multifunction network as SD-branch. Software-defined branch (SD-branch) is the newest of the platform options for buyers to consider. SD-branch consolidates network functionality -- like routing, SD-WAN, WAN optimization, network security and often Wi-Fi -- into a unified platform for branch networking.
SD-WAN suppliers are expanding their features and functionality and are partnering with other suppliers -- e.g., network security vendors -- to create integrated network branch options for customers. Network security and Wi-Fi suppliers, on the other hand, are bolstering their offerings with SD-WAN and routing features.
SD-branch offerings do not always have the best functionality for each feature, but they offer significant benefits in terms of ease of deployment and cost.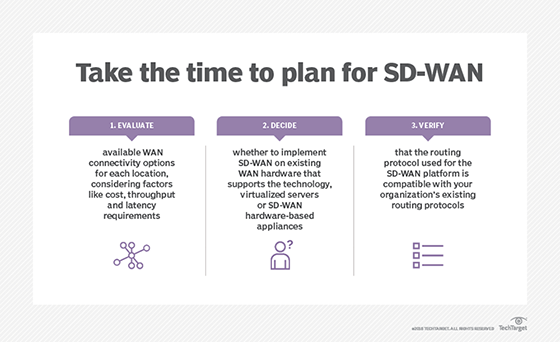 Don't forget software upgrades and support
SD-WAN is becoming the de facto standard for distributed organizations to connect geographically distributed users and branches to applications and data that resides on IaaS, SaaS and private cloud platforms. Selecting an SD-WAN supplier and partner is challenging due to the wide number of vendor options -- each with their unique benefits and challenges.
Once IT teams select an SD-WAN technology partner, they must evaluate the benefits and disadvantages of deploying SD-WAN by appliance, via software or purchasing it as a service. Many organizations are mixing appliance and software licensing purchases to meet the specific requirements of their organizational structure. IT organizations will need ongoing software upgrades and support for their SD-WAN deployment, and they should consider these costs as part of the overall decision.